Eight new planets have been discovered that could hold alien life in the "Goldilocks zone" of orbit – at just the right temperature for water.
Two of the small planets are the most Earth-like found so far, according to scientists at the Harvard-Smithsonian Center for Astrophysics (CfA).
They are orbiting distant stars in the habitable zone that is at the right temperature for liquid water to fuel organisms.
Too much heat from its star and it would boil away as steam. Too little, and the water would freeze solid.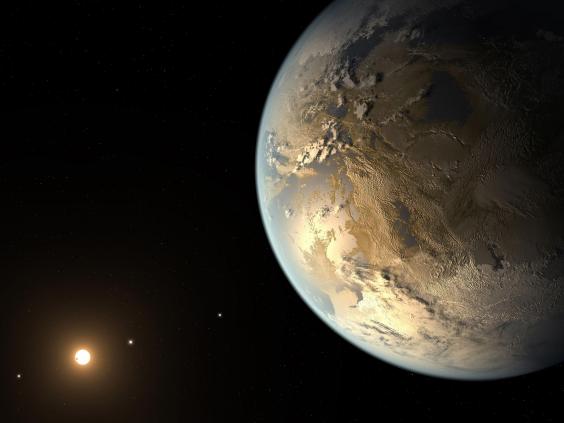 All of the exoplanets are less than half the Earth's size but could be rocky.
The lead author of the report, Guillermo Torres, announced the findings at a meeting of the American Astronomical Society on Tuesday. The research is also published in the Astrophysical Journal.
"Most of these planets have a good chance of being rocky, like Earth," he said. "For our calculations we chose to adopt the broadest possible limits that can plausibly lead to suitable conditions for life."
The two most Earth-like planets are known as Kepler-438b and Kepler-442b. Both orbit red dwarf stars that are smaller and cooler than our Sun.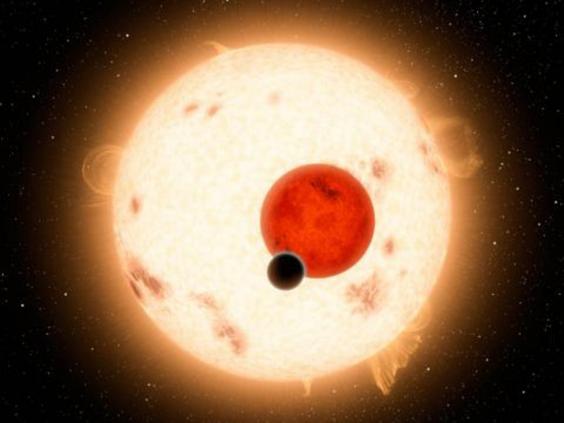 Kepler-438b is 470 light-years from Earth and circles its star every 35 days, while Kepler-442b completes one orbit every 112 days and is 1,100 light-years away.
With a diameter just 12 per cent bigger than Earth, Kepler-438b has a 70 per cent chance of being rocky, the scientists have calculated. Kepler-442b is about one-third larger than Earth, and the likelihood of it being rocky is around 60 per cent.
To be in the habitable zone, an exoplanet must receive about as much sunlight as Earth. Kepler-438b basks in about 40 per cent more light than Earth, giving it a 70 per cent chance of being in the star's habitable zone.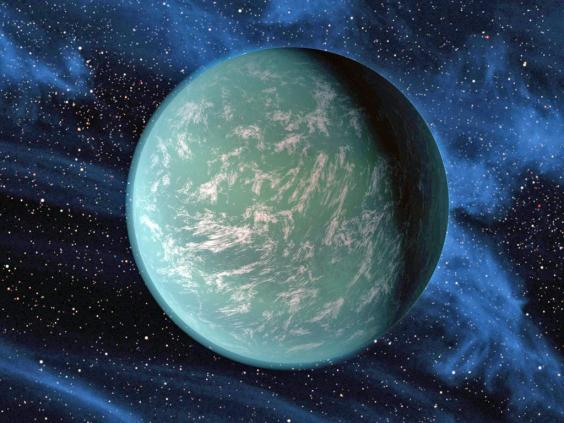 Kepler-442b gets about two-thirds as much light as Earth, raising its chances of being capable of holding alien life at 97 per cent, according to the team's calculations.
"We don't know for sure whether any of the planets in our sample are truly habitable," said co-author David Kipping. "All we can say is that they're promising candidates."
The exoplanets were first identified by the US space agency Nasa's Kepler space telescope, lending them their names.
Where to explore in the solar system
Where to explore in the solar system
1/10 Mars - Olympus Mons

Olympus Mons is the largest volcano in the Solar System. At 22km high Olympus Mons is nearly three times as high as Mt Everest

2/10 Mars - Mount Sharp

Mount Sharp is the current focus point of the Mars Science Laboratory's Curiosity rover. Sitting at the forefront of Martian research this location will hopefully unlock the secrets of Mars's past.

3/10 Ida and Dactyl

Nestled deep within the asteroid belt is the asteroid 243 Ida. During a fly by of the Galileo space probe it was discovered that Ida had a companion. Orbiting around Ida was a tiny moon that was named Dactyl.

4/10 Jupiter - The Red Spot

Getting tired of leisurely cruises through the Caribbean? Why not float a dirigible through one of the oldest known storms in the Solar System. Jupiter's Great Red Spot is large enough to contain three Earths and has been present for over 300 years.

5/10 Moon - Sea of Tranquility

As the landing site of the first ever humans to set foot on the Moon who wouldn't want to walk in the footsteps on Neil Armstrong on the Sea of Tranquility?

6/10 Europa - Underwater seas

Europa's underwater seas are one of the strongest candidates for potential life outside Earth. Scientists are waiting the day we can probe their icy depths.

7/10 Titan - Methane Lakes

Saturn's Moon Titan is home to a nice thick atmosphere. Similar to the Earth it supports a full weather cycle. Unlike the Earth, rather than using water, Titan's cycle is based on methane, often found in gas cookers here on Earth.

8/10 Mimas, the Death Moon

What better location for a holiday snap. The large Herschel crater on Mimas gives this moon an appearance of a certain dark lords ultimate weapon. When viewed from the right angle it appears that the Death Star is in orbit around Saturn.

9/10 Venus

The thick clouds of Venus make it an extremely mysterious place. It also has some of the most extreme weather we can find. Runaway greenhouse gases have shrouded the planet in a thick layer of cloud, heating it to nearly 600°C. It is also home to sulphuric acid rain and crushing atmospheric pressure. Make sure you pack a sturdy umbrella!

10/10 Oceans of Earth

One of the most unexplored places in the Solar System is our own oceans. 70% of the Earth is covered in ocean and as of yet we have only explored around 10% of them. With so much water to explore who knows what we may find lurking in the depths.

NASA
They were all too small to confirm by measuring their masses and had to be validated using a computer program that determined they were statistically likely to be planets.
Four of the eight are in multiple-star systems, although the so-called "companion" stars are distant and do not have a significant influence on the planets, the scientists said.
Before this discovery, the two most Earth-like planets known were Kepler-186f, which is 1.1 times the size of Earth and receives 32 per cent as much light, and Kepler-62f, which is 1.4 times our planet's and receives 41 per cent as much light.
Reuse content