Global sea ice is retreating at unprecedented speed with its impact already being felt across the globe, a leading scientist has warned. 
While ice in the Arctic is close to record lows, the Antarctic has seen sea ice running at lowest ever levels for this time of year since records began.
Professor Peter Wadhams, head of the polar ocean physics group at Cambridge University, said rates of ice growth in winter had slowed and rising temperatures were causing it to melt faster in the summer, causing a dramatic reduction in area and thickness. 
He warned the global repercussions of the reduction of sea ice were already being felt, long before the ice has fully disappeared. 
"As the ice area gets less, you're changing the albedo of the earth, which is the fraction of solar radiation that gets reflected straight away back into space, so you're absorbing radiation which warms the earth quicker creating a feedback effect as the ice retreats," he told The Independent. 
"The only secure way of stopping the sea ice to retreat is stopping warming the climate and that is really by reducing our carbon dioxide emissions."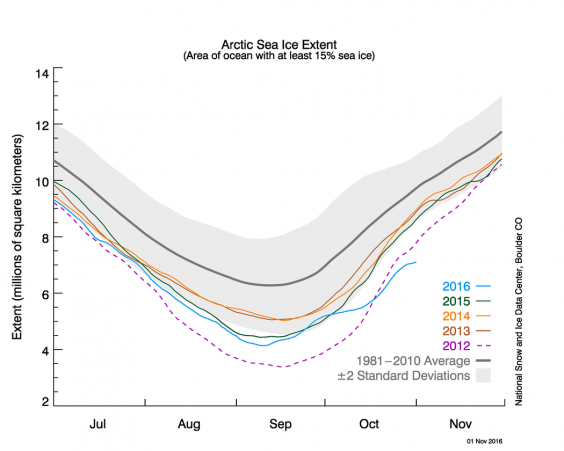 He also warned of the disastrous implications melting sea ice had for rising sea levels across the world. 
According to a new study, sea water levels have risen by almost 7.8 inches due to ice melting since 1870, causing flooding of low-lying coastal communities and displacement of fish populations fleeing increasingly warm waters. 
"As the ice retreats you get warmer air over the Arctic and that warmer air spreads out to places like Greenland's ice cap causing it to melt faster in the summer than it did in the past, which is contributing to global sea level rise," he said.
10 photographs to show to anyone who doesn't believe in climate change
10 photographs to show to anyone who doesn't believe in climate change
1/11

A group of emperor penguins face a crack in the sea ice, near McMurdo Station, Antarctica

Kira Morris

2/11

Amid a flood in Islampur, Jamalpur, Bangladesh, a woman on a raft searches for somewhere dry to take shelter. Bangladesh is one of the most vulnerable places in the world to sea level rise, which is expected to make tens of millions of people homeless by 2050.

Probal Rashid

3/11

Hanna Petursdottir examines a cave inside the Svinafellsjokull glacier in Iceland, which she said had been growing rapidly. Since 2000, the size of glaciers on Iceland has reduced by 12 per cent.

Tom Schifanella

4/11

Floods destroyed eight bridges and ruined crops such as wheat, maize and peas in the Karimabad valley in northern Pakistan, a mountainous region with many glaciers. In many parts of the world, glaciers have been in retreat, creating dangerously large lakes that can cause devastating flooding when the banks break. Climate change can also increase rainfall in some areas, while bringing drought to others.

Hira Ali

5/11

Smoke – filled with the carbon that is driving climate change – drifts across a field in Colombia.

Sandra Rondon

6/11

A river once flowed along the depression in the dry earth of this part of Bangladesh, but it has disappeared amid rising temperatures.

Abrar Hossain

7/11

Sindh province in Pakistan has experienced a grim mix of two consequences of climate change. "Because of climate change either we have floods or not enough water to irrigate our crop and feed our animals," says the photographer. "Picture clearly indicates that the extreme drought makes wide cracks in clay. Crops are very difficult to grow."

Rizwan Dharejo

8/11

A shepherd moves his herd as he looks for green pasture near the village of Sirohi in Rajasthan, southern India. The region has been badly affected by heatwaves and drought, making local people nervous about further predicted increases in temperature.

Riddhima Singh Bhati

9/11

A factory in China is shrouded by a haze of air pollution. The World Health Organisation has warned such pollution, much of which is from the fossil fuels that cause climate change, is a "public health emergency".

Leung Ka Wa

10/11

Water levels in reservoirs, like this one in Gers, France, have been getting perilously low in areas across the world affected by drought, forcing authorities to introduce water restrictions.

Mahtuf Ikhsan

11/11

Not a symptom or a cause of climate change, but a cloud lit by the sunset to create the impression of a giant fireball over Tunisia.

Majed Noumi
He also warned of the release of the powerful greenhouse gas methane from the seabed as the ice melts, a gas that scientists recognise as a key driver of climate change. 
"We are now seeing huge plumes of methane coming up to the surface from methane being released from the seabed," he told The Independent. 
"The ice in summer has shrunk back from all the seas around the edges of the arctic and without the sea ice, those seas around the edge can now warm up because the water is shallow which allows this warmer water to bathe the seabed. 
"The seabed at the moment is covered with permafrost, frozen ground, hiding a large volume of methane underneath. As soon as the warmer water starts to act on the seabed the permafrost melts and the methane is released."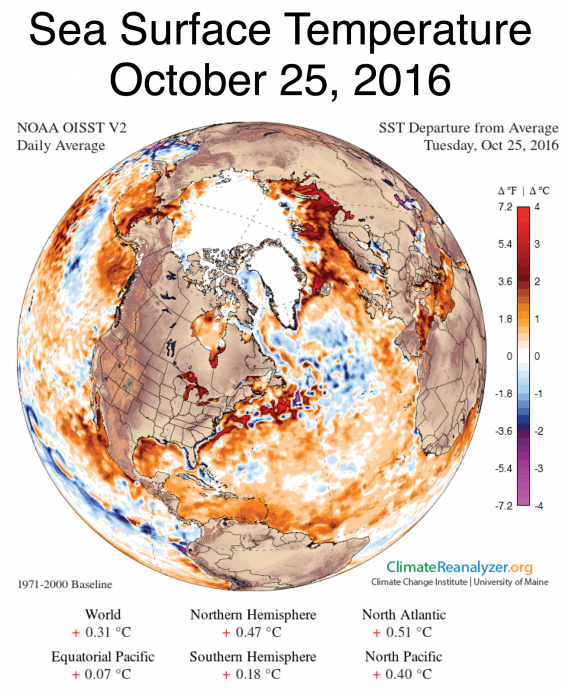 Concern is also growing among the scientific community over Donald Trump's election as US president. 
Last week, what is hoped will be one of the biggest ever environmental campaigns was launched by a group of scientists and environmentalists in an effort to convince the President-elect that global warming is real. 
Professor Wadhams warned that Mr Trump's stance as a climate change denier could be "a disaster and a catastrophe for the world". 
"I recently attended the Marrakech climate change conference and there was enormous concern because the US delegation who signed the Paris agreement is still Obama's administration," he said.
"Legally the US is taking part fully in the Paris accords but as John Kerry was saying, his administration would only be in office for the next two months. There's general gloom everywhere, you quiver with fear with the rest of the globe for the future."
However, Professor Wadhams, who recently published a book on the shrinking of sea ice, A Farewell to Ice, said there was hope for the future if the proper measures were put in place. 
"One measure to stem the methane emissions from the seabed would be a kind of fracking method that the oil industry suggests which would be to drill down through these sediments, open up cavities which would then be filled with methane when you pump it out," he said. 
"Global warming and climate change is not going to be easy to reverse, especially sea level rise as that just seems to continue inexorably. The only way that's been suggested that might work is 'marine cloud brightening', a form of geoengineering where you inject very fine water particles into the bottom of low cloud, these particles evaporate and it makes them brighter which will reflect more solar radiation.
"If that could work, it could potentially offset global warming, but we need to try it first."
Reuse content