This has turned into Gravity Week here in Washington. Loads of journalists (many in town for the annual meeting of the American Association for the Advancement of Science) crammed into the National Press Club on Thursday morning for a news conference to discuss an experiment called LIGO, which stands for Laser Interferometer Gravitational-Wave Observatory.
Scientists announced that they have succeeded in detecting gravitational waves from the violent merging of two black holes in deep space.
But, in the meantime, let's mull gravity and why it's been such a mysterious force for so long.
Gravity is invisible, as you may have noticed, and a little bit spooky, because it seems to reach across space to cause actions at a distance without any obvious underlying mechanism. What goes up must come down, but why that is so has never been obvious.
Physicists tell us there are four fundamental forces in the universe: Gravity, electromagnetism, the strong nuclear force and the weak nuclear force. Of these, gravity is the most anemic, and yet over cosmic expanses it has shaped the universe. In our solar system, it governs the planets and moons in their orbits. On Earth, it motivates the apple to fall from the tree. You can feel it in your bones.
Aristotle believed that an object fell to Earth because it sought its natural place. Heavier objects, Aristotle believed, fell faster; weight was an inherent property of the object.
In the late 16th and early 17th centuries, Galileo brought scientific experiments into the conversation, and he discovered that a heavy object and a light object actually fall at the same speed. One biographer claimed that he proved this by dropping two spheres from the Leaning Tower of Pisa, but the story may be apocryphal. (In 1971, Apollo 15 moonwalker David Scott did his own version of the experiment, dropping a geologist's hammer and a feather and showing that they hit the lunar surface simultaneously.)
Galileo also discovered that objects always fall with constant acceleration and along a parabolic curve. "Galileo's observation that all falling objects trace a parabola is one of the most wonderful discoveries in all of science," physicist Lee Smolin writes in his book "Time Reborn."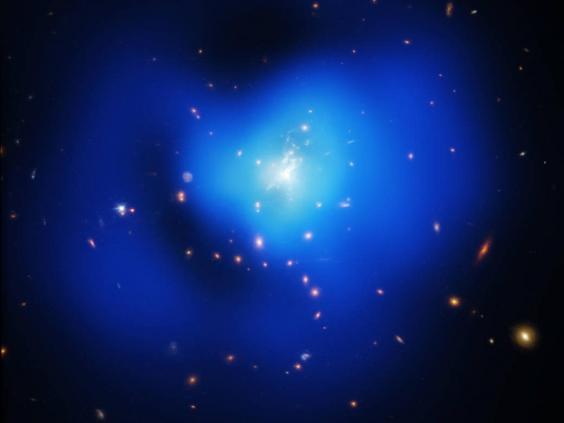 Then came Isaac Newton. In the second half of the 17th century, he developed a universal law of gravity. He calculated that the attraction between two bodies was equal to the product of their masses divided by the square of the distance between them. This is true on Earth as well as in space. It explains the tides. It explains the motions of the planets around the sun. This is a basic law of nature, true anywhere in the universe.
But even Newton admitted that he didn't understand the fundamental nature of this force. Newton could describe gravity mathematically, but he didn't know how it achieved its effects.
In the early 20th century, Albert Einstein finally came up with an explanation, and it's rather astonishing. First he grasped that gravity and acceleration are the same thing. His General Theory of Relativity, formulated in 1915, describes gravity as a consequence of the way mass curves "spacetime," the fabric of the universe. It's all geometry. Objects in motion will move through space and time on the path of least resistance. A planet will orbit a star not because it is connected to the star by some kind of invisible tether, but because the space is warped around the star.
"Gravity, according to Einstein, is the warping of space and time," Brian Greene wrote in his book "The Elegant Universe."
Nasa's most stunning pictures of space
Nasa's most stunning pictures of space
1/30 Earth from the ISS

From the International Space Station, Expedition 42 Flight Engineer Terry W. Virts took this photograph of the Gulf of Mexico and U.S. Gulf Coast at sunset

Nasa

2/30 Frosty slopes of Mars

This image of an area on the surface of Mars, approximately 1.5 by 3 kilometers in size, shows frosted gullies on a south-facing slope within a crater. The image was taken by Nasa's HiRISE camera, which is mounted on its Mars Reconaissance Orbiter

Nasa

3/30 Orion Capsule splashes down

The Orion capsule jetted off into space before heading back a few hours later — having proved that it can be used, one day, to carry humans to Mars

Nasa

4/30 The Soyuz TMA-15M rocket launch

The Soyuz TMA-15M rocket launches from the Baikonur Cosmodrome in Kazakhstan on Monday, Nov. 24, 2014, carrying three new astronauts to the International Space Station. It also took caviar, ready for the satellite's inhabitants to celebrate the holidays

Nasa

5/30 Yellowstone from space

NASA astronaut Reid Wiseman shared this image of Yellowstone via his twitter account

Nasa

6/30 Black Hole Friday

Nasa celebrated Black Friday by looking into space instead — sharing pictures of black holes

Nasa

7/30 NuSTAR

X-rays stream off the sun in this image showing observations from by NASA's Nuclear Spectroscopic Telescope Array, or NuSTAR, overlaid on a picture taken by NASA's Solar Dynamics Observatory (SDO)

Nasa

8/30 Saturn

This near-infrared color image shows a specular reflection, or sunglint, off of a hydrocarbon lake named Kivu Lacus on Saturn's moon Titan

Nasa

9/30 Worlds Apart

Although Mimas and Pandora, shown here, both orbit Saturn, they are very different moons. Pandora, "small" by moon standards (50 miles or 81 kilometers across) is elongated and irregular in shape. Mimas (246 miles or 396 kilometers across), a "medium-sized" moon, formed into a sphere due to self-gravity imposed by its higher mass

Nasa

10/30 Solar Flare

An X1.6 class solar flare flashes in the middle of the sun in this image taken 10 September, captured by NASA's Solar Dynamics Observatory

Nasa

11/30 Solar Flare

An image from Nasa's Solar Dynamics Observatory (SDO) shows a 200,000 mile long solar filament ripping through the Sun's corona in September 2013

Nasa

12/30 Cassiopeia A c

A false colour image of Cassiopeia A comprised with data from the Spitzer and Hubble Space Telescopes and the Chandra X-Ray observatory

Nasa

13/30 Large Magellanic Cloud galaxy

An image of the Large Magellanic Cloud galaxy seen in infrared light by the Herschel Space Observatory. Regions of space such as this are where new stars are born from a mixture of elements and cosmic dust

Nasa

14/30 Mars Rover Spirit

Nasa's Mars Rover Spirit took the first picture from Spirit since problems with communications began a week earlier. The image shows the robotic arm extended to the rock called Adirondack

Nasa

15/30 Morning Aurora From the Space Station

Nasa astronaut Scott Kelly captured this photograph of the green lights of the aurora from the International Space Station

16/30 Launch of History - Making STS-41G Mission in 1984

The Space Shuttle Challenger launches from Florida at dawn. On this mission, Kathryn Sullivan became the first U.S. woman to perform a spacewalk and Marc Garneau became the first Canadian in space. The crew of seven was the largest to fly on a spacecraft at that time, and STS-41G was the first flight to include two female astronauts

17/30 A Fresh Perspective on an Extraordinary Cluster of Galaxies

Galaxy clusters are often described by superlatives. After all, they are huge conglomerations of galaxies, hot gas, and dark matter and represent the largest structures in the Universe held together by gravity

18/30 Veil Nebula Supernova Remnant

Nasa's Hubble Space Telescope has unveiled in stunning detail a small section of the Veil Nebula - expanding remains of a massive star that exploded about 8,000 years ago

19/30 Hubble Sees a Galactic Sunflower

The arrangement of the spiral arms in the galaxy Messier 63, seen here in an image from the Nasa Hubble Space Telescope, recall the pattern at the center of a sunflower

20/30 A Hubble Cosmic Couple

The spectacular cosmic pairing of the star Hen 2-427 — more commonly known as WR 124 — and the nebula M1-67 which surrounds it

21/30 Pluto image

Four images from New Horizons' Long Range Reconnaissance Imager (LORRI) were combined with colour data from the Ralph instrument to create this enhanced colour global view of Pluto

22/30 Fresh Crater Near Sirenum Fossae Region of Mars

The HiRISE camera aboard Nasa's Mars Reconnaissance Orbiter acquired this closeup image of a "fresh" (on a geological scale, though quite old on a human scale) impact crater in the Sirenum Fossae region of Mars. This impact crater appears relatively recent as it has a sharp rim and well-preserved ejecta

23/30 Earth Observations From Gemini IV in 1965

This photograph of the Florida Straits and Grand Bahama Bank was taken during the Gemini IV mission during orbit no. 19 in 1965. The Gemini IV crew conducted scientific experiments, including photography of Earth's weather and terrain, for the remainder of their four-day mission following Ed White's historic spacewalk on June 3

24/30 Nasa Celebrates 50 Years of Spacewalking

For 50 years, NASA has been "suiting up" for spacewalking. In this 1984 photograph of the first untethered spacewalk, NASA astronaut Bruce McCandless is in the midst of the first "field" tryout of a nitrogen-propelled backpack device called the Manned Maneuvering Unit (MMU)

25/30 Hubble Peers into the Most Crowded Place in the Milky Way

This Nasa Hubble Space Telescope image presents the Arches Cluster, the densest known star cluster in the Milky Way

26/30 An Astronaut's View from Space

Nasa astronaut Reid Wiseman tweeted this photo from the International Space Station on 2 September 2014

27/30 Giant Landform on Mars

On Mars, we can observe four classes of sandy landforms formed by the wind, or aeolian bedforms: ripples, transverse aeolian ridges, dunes, and what are called "draa"

28/30 Expedition 39 Landing

A sokol suit helmet can be seen against the window of the Soyuz TMA-11M capsule shortly after the spacecraft landed with Expedition 39 Commander Koichi Wakata of the Japan Aerospace Exploration Agency (JAXA), Soyuz Commander Mikhail Tyurin of Roscosmos, and Flight Engineer Rick Mastracchio of NASA near the town of Zhezkazgan, Kazakhstan

29/30 Jupiter's Great Red Spot Viewed by Voyager I

Jupiter is the largest planet in the solar system and perhaps the most majestic. Vibrant bands of clouds carried by winds that can exceed 400 mph continuously circle the planet's atmosphere

30/30 Chandra Observatory Sees a Heart in the Darkness

This Chandra X-Ray Observatory image of the young star cluster NGC 346 highlights a heart-shaped cloud of 8 million-degree Celsius gas in the central region
The physicist John Wheeler had a famous saying: "Mass grips space by telling it how to curve, space grips mass by telling it how to move."
Einstein's great theory has been tested and retested and has always come out on top. Most famously, the British astronomer Arthur Eddington observed a solar eclipse in May 1919 and concluded that starlight passing close to the sun was, indeed, bent in a manner consistent with Einstein's theory. Eddington's endorsement triggered global publicity for Einstein that made him a celebrity and the personification of scientific genius.
One of the predictions of Einstein's equations (though Einstein himself wasn't ready to buy in fully) was the existence of gravitational waves – ripples in the spacetime fabric. Scientists in subsequent decades looked for such waves to no avail. The University of Maryland physicist Joseph Weber built gravitational-wave detecting devices and claimed to have discovered such waves, but his claims were disputed and ultimately discredited. But there were physicists who were not ready to give up the quest, and they ultimately persuaded the National Science Foundation to fund the creation of LIGO, which has two facilities, one in Livingston, La., and the other in Hanford, Wash.
LIGO had its detractors from the very start because it was going to be expensive and might detect nothing at all. These waves, if they existed, would be extremely subtle. It's not like picking up the vibration from a passing truck. The gravitational waves, in theory, should contract or expand space by an almost infinitesimal amount. A detector a couple of miles long might become longer or shorter by less than the width of a subatomic particle.
Gravitational waves pass through everything and can't be directly captured. So the two LIGO facilities use a laser beam to try to deduce the passing of a gravitational wave. The beam is split in two, with each part bouncing off mirrors perched at the end of perpendicular, airless tubes about 2.5 miles long. When those cleaved beams again converge, they should align perfectly — unless some invisible gravitational waves have come trundling through the building, stretching one tube or compressing another and thereby changing the distances traveled by the beams.
One of the controversies over LIGO was simply about the name. Was it really an "observatory"? Some astronomers weren't ready to go there. Astronomy has always been a science built around light. When astronomers talk about observing in the optical, the infrared, or with radio waves or gamma rays or X-rays, they are talking about different wavelengths of light, each creating its own visual picture of the universe.
But gravitational waves, if confirmed, would represent a new form of cosmic information. It would be a new way of seeing the universe — or, to use a better metaphor, of hearing the universe. Physicists say this would be like adding sound to what we can already see.
The movie of the universe has always been spectacular, but it would be even better with sound.
Copyright: Washington Post
Reuse content