Scientists have moved closer to being able to stop a huge asteroid colliding with the Earth and potentially wiping out human life.
Researchers at the University of Tennessee have discovered that blowing the space rock up could make the collision worse by causing several devastating impacts.
Instead, small changes could be made to its surface to disrupt the forces keeping it together and cause it to break up in outer space.
They were studying asteroid 1950 DA, which first became infamous in 2002 when astronomers estimated it had a one in 300 chance of hitting the planet on 16 March, 2880. However, the odds of a collision were later revised to a more reassuring one in 4,000.
The asteroid has a diameter of one kilometre and is travelling at nine miles a second relative to the Earth, which it would hit at 38,000 miles per hour.
The impact would have a force of around 44,800 megatonnes of TNT and cause a huge explosion, tsunamis and change the climate of the globe, devastating human life.
But with 35 generations to go until its possible arrival, scientists are confident that the disaster can be averted.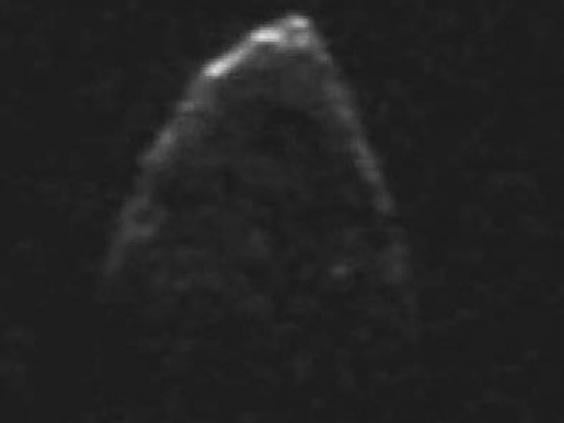 The University of Tennessee researchers said 1950 DA is rotating so quickly it "defies gravity" and is held together by cohesive forces, called van der Waals, never before detected on an asteroid.
The findings, published in the science journal Nature, could prompt a change in tactics defending our planet.
Previous research has shown that asteroids are loose piles of rubble held together by gravity and friction but by calculating 1950 DA's thermal inertia and bulk density, the team detected the action of cohesive forces that stop it breaking up.
Video: The effect of an asteroid collision
Ben Rozitis, a postdoctoral researcher, said if only gravity were holding it together, the spinning would cause it to fly apart.
The rotation is so fast that at its equator, 1950 DA effectively experiences negative gravity and if an astronaut were to attempt to stand on the surface, he or she would be thrown off into space.
The presence of cohesive forces has been predicted in small asteroids but definitive evidence has never been seen before.
NASA: Space in pictures
NASA: Space in pictures
1/12 NASA

A false colour image of Cassiopeia A comprised with data from the Spitzer and Hubble Space Telescopes and the Chandra X-Ray observatory

Nasa

2/12 NASA

The Barred Spiral Galaxy (NGC 6217) in the Ursa Minor constellation is pictured in Space

3/12 NASA

A team of astrophysicists has detected so-called gravitational waves – predicted by Albert Einstein a century ago – which are the first tremors of the Big Bang when time and space began about 13.7 billion years ago

Rex Features/Mood Board

4/12 NASA

The barred spiral galaxy M83, also known as the Southern Pinwheel. The Hubble photograph captures thousands of star clusters, hundreds of thousands of individual stars, and 'ghosts' of dead stars called supernova remnants

5/12 NASA

Acosmic creepy-crawly known as the Tarantula Nebula in infrared light

6/12 NASA

A spiral galaxy ESO 373-8 - together with at least seven of its galactic neighbours, this galaxy is a member of the NGC 2997 group

7/12 NASA

A massive galaxy cluster Abell 2744, according to NASA these are some of the faintest and youngest galaxies ever detected in space

8/12 NASA

A giant cloud of solar particles, a coronal mass ejection, explodes off the sun, lower right, captured by the European Space Agency and NASA's Solar and Heliospheric Observatory

9/12 NASA

Current conditions of the quiet corona and upper transition region of the Sun

10/12 NASA

First color image of the Earth taken by the Apollo 8 astronauts in 1968

11/12 NASA

Fog forming over the the US Great Lakes area and streaming southeast with the wind. A swirling mass of Arctic air moved south into the continental United States

12/12 NASA

Astronaut Mike Hopkins, Expedition 38 Flight Engineer, is shown in the second of two spacewalks designed to allow the crew to change out a faulty water pump on the exterior of the Earth-orbiting International Space Station
"Following the February 2013 asteroid impact in Chelyabinsk, Russia, there is renewed interest in figuring out how to deal with the potential hazard of an asteroid impact," Dr Rozitis said.
"Understanding what holds these asteroids together can inform strategies to guard against future impacts."
An estimated 1,500 people were injured when an undetected meteor exploded over the city of Chelyabinsk, releasing more than 30 times the explosive energy of the Hiroshima bomb.
It ripped through the atmosphere at 19 kilometres per second and was equivalent to between 500,000 and 600,000 tons of TNT, scientists found.
People directly under the flight of the meteor were knocked off their feet and many others suffered sunburn or eye damage as they looked at the intense fireball.
A shockwave following the impact knocked out thousands of windows and destroyed parts of buildings, injuring anyone nearby with flying debris.
* This article was updated with information regarding the odds of the asteroid colliding with Earth
Reuse content