Pollution levels in London were worse than in Beijing at points this week.
The air in the Chinese capital is notoriously contaminated, but on Monday readings from the Air Quality Index showed particulate matter was concentrated at 197 micrograms per cubic metre in London, and 190 in Beijing.
It's the first time London has pushed higher than Beijing on this key measure, according to the Telegraph, though nitrogen dioxide levels did spike higher in 2014.
London smog: Then and now
London smog: Then and now
1/18 London

A London policeman wearing a mask for protection against the thick fog which hit most of the country and turned to smog in the city

2/18 London

A cyclist wears a mask with an air filter as he cycles through Hyde Park

3/18

Heavy smog in Piccadilly Circus, London, 1952

4/18 London

The Shard and St Paul's Cathedral from Hampstead Heath in London

5/18 London

A couple of office workers wearing masks to protect them from the dangerous smog in London, 1953

6/18 London

A cyclist wears an anti air pollution mask as she cycles along The Mall

7/18 London

A London bus makes its way along Fleet Street in heavy smog,1952

8/18 London

A view of London skyline covered in smog.The environment department confirmed that the air pollution level could reach the top rung on its 10-point scale

9/18 London

Morning traffic at Blackfriars, London almost at a standstill because of the blanket smog,1952

10/18 London

Dust settled on a vehicle in South Kensington, which has blown up from the Sahara desert

11/18 London

A tugboat on the Thames near Tower Bridge in heavy smog, 1952

12/18 London

A view of the Tower Bridge as the country continues to experience 'very high' levels of pollution

13/18 London

A couple wearing masks to protect them from the smog in Blackfriars,1954

14/18 London

Tourists wear face masks

15/18 London

A woman wears mask in London, 1953

16/18 London

A woman wearing an anti-pollution mask rides a bicycle at Hyde Park Corner

17/18 London

Smog masks have become all the rage in London due to the life threatening levels of air pollution with result in severe smog or 'pea soupers', 1953

18/18 London

A couple stands on the viewing platform of a skyscraper
As the English capital was choked by smog, pollution levels were particularly acute in the City, Westminster, Kensington and Camden.
Particulate levels in London have returned to a maximum of 108 in Kingston-upon-Thames, and around 100 in the centre of the city, while rates in Beijing have surged back towards the 300 mark.
These figures refer to PM2.5, or fine particles of dust smaller than 2.5 micrometers in diameter. They're produced by all types of combustion, from power plants and industrial processes to motor vehicles and residential wood burning.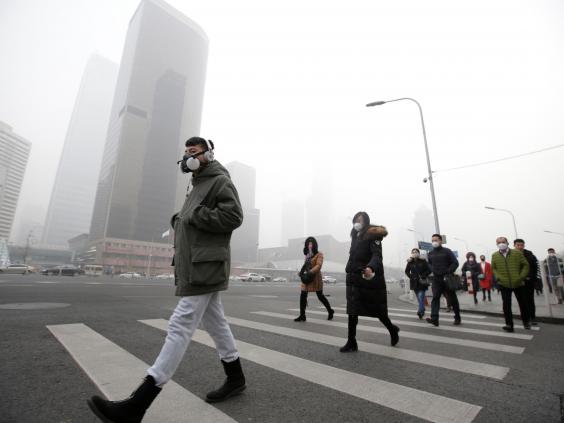 This week, certain areas of London were put on 'black' alert, the highest pollution warning level. In a tweet, Mayor Sadiq Khan said: "The shameful state of London's toxic air today has triggered a 'very high' air pollution alert under my new air quality warning system."
The weather at the moment is still and cold, meaning pollutants are not being dispersed. Last week, a cloud of toxic air produced by factories in Germany moved over London, combining with vehicular pollution from London's congested roads.
A text message warning from City Hall sent to people in affected boroughs read: "High air pollution forecast for Thursday. Consider spending less time outdoors, take medication. If unwell contact GP."
Underground station, bus stop and river pier signs all broadcast warning messages to commuters, while road-side display boards warned drivers to cut their engines when stuck in traffic to reduce emissions.
High levels of pollution have also been recorded in South Wales and elsewhere across the UK.