A "magic island" has mysteriously appeared out of nowhere in one of the hydrocarbon seas on Saturn's giant planet-like moon, Titan, only to later disappear.
Described as a bright "transient feature" by scientists, it is not clear what the object is, or how it appeared there. Theories include that it could be the result of waves or bubbles, or even buoyant solid matter.
The sea had appeared flat and completely devoid of features, including waves prior to 2013. But then the object, dubbed "magic island" by scientists, suddenly materialised before vanishing in later images.
The object was spotted in Ligeia Mare, Titan's second-largest sea, by radar images. The Cassini space probe which captured it has been exploring the Saturnian system since 2004.
NASA: Space in pictures
NASA: Space in pictures
1/12 NASA

A false colour image of Cassiopeia A comprised with data from the Spitzer and Hubble Space Telescopes and the Chandra X-Ray observatory

Nasa

2/12 NASA

The Barred Spiral Galaxy (NGC 6217) in the Ursa Minor constellation is pictured in Space

3/12 NASA

A team of astrophysicists has detected so-called gravitational waves – predicted by Albert Einstein a century ago – which are the first tremors of the Big Bang when time and space began about 13.7 billion years ago

Rex Features/Mood Board

4/12 NASA

The barred spiral galaxy M83, also known as the Southern Pinwheel. The Hubble photograph captures thousands of star clusters, hundreds of thousands of individual stars, and 'ghosts' of dead stars called supernova remnants

5/12 NASA

Acosmic creepy-crawly known as the Tarantula Nebula in infrared light

6/12 NASA

A spiral galaxy ESO 373-8 - together with at least seven of its galactic neighbours, this galaxy is a member of the NGC 2997 group

7/12 NASA

A massive galaxy cluster Abell 2744, according to NASA these are some of the faintest and youngest galaxies ever detected in space

8/12 NASA

A giant cloud of solar particles, a coronal mass ejection, explodes off the sun, lower right, captured by the European Space Agency and NASA's Solar and Heliospheric Observatory

9/12 NASA

Current conditions of the quiet corona and upper transition region of the Sun

10/12 NASA

First color image of the Earth taken by the Apollo 8 astronauts in 1968

11/12 NASA

Fog forming over the the US Great Lakes area and streaming southeast with the wind. A swirling mass of Arctic air moved south into the continental United States

12/12 NASA

Astronaut Mike Hopkins, Expedition 38 Flight Engineer, is shown in the second of two spacewalks designed to allow the crew to change out a faulty water pump on the exterior of the Earth-orbiting International Space Station
Planetary scientist Jason Hofgartner, from Cornell University in New York City, said: "This discovery tells us that the liquids in Titan's northern hemisphere are not simply stagnant and unchanging, but rather that changes do occur.
"We don't know precisely what caused this 'magic island' to appear, but we'd like to study it further."
Titan is the only object in the universe other than Earth which is known to have proven bodies of stable surface liquid.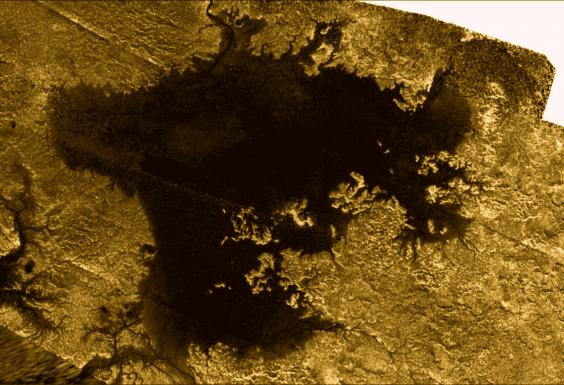 Rather than water, the seas and lakes are however made up of liquid ethane, methane, and propane, and are thought to hold hundreds of times more natural gas and other hydrocarbons than the entire known oil and natural gas reserves on Earth.
Beneath Titan's thick, hazy atmosphere, scientists have also discovered icy mountains and dunes made from organic "sand". Like Earth, Titan has seasonal weather systems, with wind and rain carving out landscapes similar to that on our planet.
It is from this changing in seasons which astronomers believe strange feature may arise.
The main theories argue that the island like object is the result of waves formed by heavy winds, bubbles formed by gases pushing out from the sea floor or floating solids.
"Likely, several different processes - such as wind, rain and tides - might affect the methane and ethane lakes on Titan," said Mr Hofgartner. "We want to see the similarities and differences from geological processes that occur here on Earth.
"Ultimately, it will help us to understand better our own liquid environments."
Huygens, a European Space Agency probe deployed from Cassini, landed on Titan in January 2005 - the first spacecraft landing ever accomplished in the outer Solar System. The craft touched down on a flat, damp, sandy plain covered with ice pebbles.
Details of the "magic island" discovery are published in the journal Nature Geoscience.
Reuse content