Cassini has sent back images from its second stunning dive through Saturn's rings. And they're even more beautiful and eerie than before.
The dive was one of 22 journeys the spacecraft is making through the rings as part of its "Grand Finale". That will end in September when engineers fly the craft into Saturn's atmosphere and destroy it — necessary to ensure that any life that attached itself to Cassini doesn't populate other worlds.
But before its fiery end, Cassini is going to send back some of the best pictures we have ever seen of Saturn and its stunning rings. And the new images more than fulfil that brief.
Cassini's mission to Saturn
Cassini's mission to Saturn
1/9

In this handout image released on April 30, 2013 by NASA, the spinning vortex of Saturn's north polar storm is seen from NASA's Cassini spacecraft on November 27, 2012 in the Saturnian system of space. The false-color image of the storm resembles a red rose surrounded by green foliage which was made by using a combination of spectral filters sensitive to wavelengths of near-infrared light at a distance of approximately 261,000 miles from Saturn

NASA via Getty Images

2/9

The planet Saturn is seen in the first color composite made of images taken by NASA's Cassini spacecraft on its approach to the ringed planet, October 21, 2002. The probe's arrival is still 20 months away. The planet was 285 million kilometers (177 million miles) away from the spacecraft, nearly twice the distance between the Sun and Earth, when Cassini took images of it using various filters

NASA/Getty Images

3/9

Nasa's Cassini spacecraft is shown diving through the plume of Saturn's moon Enceladus in 2015

Nasa/JPL-Caltech/Reuters

4/9

NASA's Cassini spacecraft captured this view of planet Earth as a point of light between the icy rings of Saturn

NASA/JPL-Caltech/Space Science Institute

5/9

The giant plumes of ice on Enceladus seen by the Cassini spacecraft in 2009

Nasa

6/9

The image of Titan is actually a composite of a number of pictures taken by Cassini during the flyby

7/9

The unique six-sided jet stream at Saturn's north pole known as "the hexagon" taken by NASA's Cassini mission is seen in this still handout image from a movie released December 4, 2013

REUTERS/NASA/JPL-Caltech/SSI/Hampton/Handout

8/9

The Cassini spacecraft took this mosaic of the planet Saturn and its rings backlit against the Sun on October 17, 2012 using infrared, red and violet spectral filters that were combined to create an enhanced-color view, in this handout image courtesy of NASA

REUTERS/NASA/JPL-Caltech/Space Science Institute/Handout

9/9

A handout photograph shows the first flash of sunlight reflected off a lake on Saturn's moon Titan taken by NASA's Cassini spacecraft on July 8, 2009 and released by NASA to Reuters December 17, 2009. The glint off a mirror-like surface is known as a specular reflection. It confirmed the presence of liquid in the moon's northern hemisphere, where lakes are more numerous and larger than those in the southern hemisphere

REUTERS/NASA/JPL/University of Arizona/DLR/Handout
They show the stunning, streaking rings that surround Saturn in unprecedented detail.
The images were taken when Cassini dived into the mysteriously and shockingly empty space between Saturn and its rings, during a flyby on 2 May. The ship has been sending back the raw images from that journey since.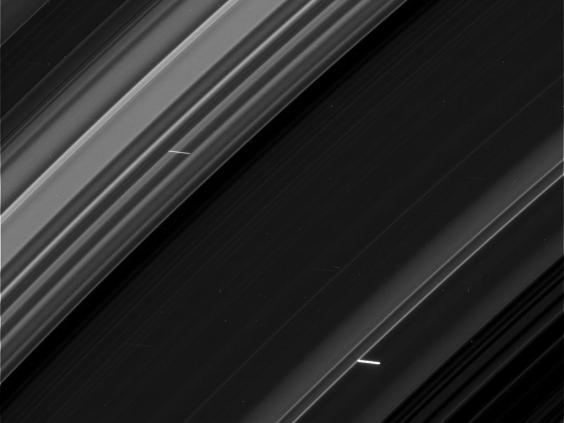 Nasa expects the images will get better over time, as engineers learn more about how best to use the cameras that are mounted onto Cassini.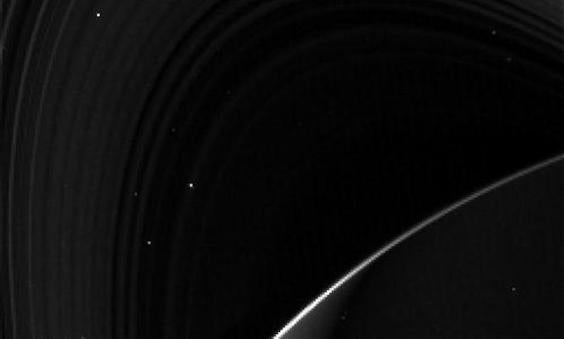 "The images from the first pass were great, but we were conservative with the camera settings. We plan to make updates to our observations for a similar opportunity on June 29 that we think will result in even better views," said Andrew Ingersoll, a member of the Cassini imaging team based at Caltech in Pasadena, California.
Nasa also released a video made up of the images that were taken on Cassini's first big dive.
It shows the view from the ship as it swooped over Saturn, plunging from 45,000 miles above the planet to 4,200 miles above it.
Reuse content