Astronomers have discovered the closest rocky planet outside our solar system, which is larger than Earth and a "potential gold mine of science data".
Using Nasa's Spitzer Space Telescope, scientists managed to confirm the existence of the planet, in a major milestone in space research.
Unfortunately, unlike Kepler 452b, the incredibly Earth-like planet that was discovered recently, this new planet, the catchily-named HD 219134b, is far too close to its star to sustain life.
Although it's far too hot to visit, it's significantly closer to earth than Kepler, only 21 light years away compared to 1,400 - although that's still incredibly far away.
To put that in perspective, Nasa's New Horizons probe, famed for taking recent stunning pictures of Pluto, left Earth's orbit at 36,373mph, faster than any other spacecraft before it.
If you were on a spaceship going this fast, it would take you just over 387,000 years to get to HD 219134b from Earth.
HD 219134b can't be seen directly, even by telescopes, but the star that it orbits can be seen by the naked eye in the Cassiopeia constellation, near the North Star.
The sheer closeness of HD 219134b to Earth makes it ripe for research by space-based telescopes.
Michael Werner, the project scientist for the Spitzer mission at Nasa said that "this exoplanet will be one of the most studied for decades to come."
Kepler 452B, or Earth 2.0
Kepler 452B, or Earth 2.0
1/10 Kepler 452B

The sweep of NASA Kepler mission's search for small, habitable planets in the last six years

Nasa

2/10 Kepler 452B

A graphic of the crafts that have carried out Exoplanet missions

Nasa

3/10 Kepler 452B

This size and scale of the Kepler-452 system compared alongside the Kepler-186 system and the solar system

Nasa

4/10 Kepler 452B

Since Kepler launched in 2009, twelve planets less than twice the size of Earth have been discovered in the habitable zones of their stars.

Getty

5/10 Kepler 452B

Today Kepler-452b is receiving 10 percent more energy from its parent star than the Earth is from the Sun

Nasa

6/10 Kepler 452B

Twelve Exoplanet discoveries from Kepler that are less than twice the size of Earth and reside in the habitable zone of their host star.

Nasa

7/10 Kepler 452B

There are 4,696 planet candidates now known with the release of the seventh Kepler planet candidate catalog - an increase of 521 since the release of the previous catalog in Jan. 2015

Nasa

8/10 Kepler 452B

Highlighted are new planet candidates from the seventh Kepler planet candidate catalog that are less than twice the size of Earth and orbit in the stars' habitable zone—the range of distances from a star where liquid water could exist on the surface of an orbiting planet

Nasa

9/10 Kepler 452Bg

A unique feature of the seventh Kepler candidate catalog is that it is the first to fully automate the assessment of transit-like signals.

Nasa

10/10 Kepler 452Bg

A artist's comparison of Kepler-452b and 51 PEG b

Nasa
He also explained that: "Transiting exoplanets [planets that pass in front of their star] are worth their weight in gold because they can be extensively characterised."
The planet has also been tipped as a perfect observation subject by Nasa's James Webb Space Telescope, which launched in 2018.
The James Webb is the most prominent in the latest generation of space telescopes, and will be the successor of the Hubble Space Telescope. It will be able to look at distant planets and other bodies in more detail than ever before.
Complex observations into the planet have revealed that it is around 4.5 times heavier than Earth, and orbits its star once every three days.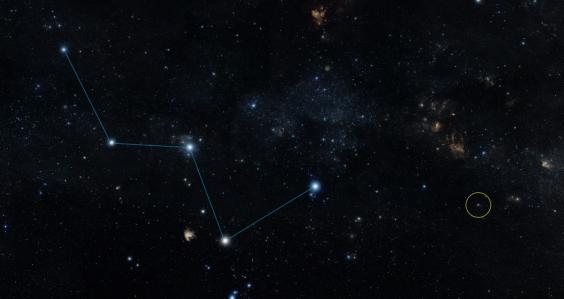 It's also around 1.6 times larger than Earth, and by combining the estimated size and mass, scientists have figured out its density, concluding that the planet is rocky, like our planet - and not icy, or gaseous.
Even though the planet is millions of miles away, scientists could soon be able to figure out the ingredients of its atmosphere.
By observing the planet when it passes in front of its star, scientists can observe minor changes in the light, caused by the differing reflections of different chemicals in its atmosphere.
Planets like this one belong to a growing list of planets called 'super-Earths' - planets that are similar in make-up but slightly larger than our own planet, a category that includes Kepler 452b.
Reuse content