Scientists in the UK will be allowed to genetically modify human embryos for the first time in history, after they received a licence to go ahead with groundbreaking research into the early stages of human life.
Permission has been granted to alter the DNA of embryos in the first seven days after fertilisation, and could provide clues in the short term as to what causes miscarriage in women.
It remains illegal for the scientists to implant the altered embryos into women, but the decision represents a huge landmark in the use of revolutionary gene-editing technology known as Crispr-Cas9.
The licence was granted by the UK's independent Human Fertilisation and Embryology Authority (HFEA). The committee added a caveat that no gene editing can take place until the research receives separate approval from an ethics panel, which could be achieved by March.
The project is being led by Dr Kathy Niakan at the Francis Crick Institute in London, and colleagues said they were "delighted" her licence application had been approved.
Much of Dr Niakan's application was dedicated to addressing the ethical issues surrounding the editing of human embryos. After the passing of the Human Fertilisation and Embryology Act in 2008, the UK has some of the strongest legislation in the world in this field.
The research will see scientists cutting into the genetic code of embryos, isolating individual segments of DNA and assessing how they contribute to the early growth and behaviour of the embryos.
An embryo only has around 250 cells at the seven-day point of development, and a high proportion are simply absorbed into the placenta. Understanding which genes dictate this could dramatically improve IVF success rates in future.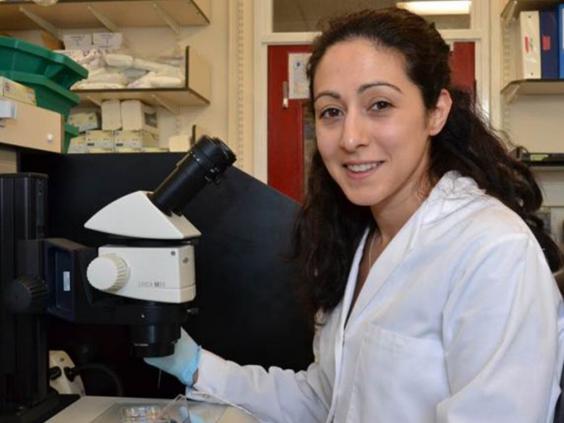 The project will use surplus embryos from IVF treatment which would have been destroyed anyway, and women will be required to give specific consent for them to be used in this way.
Crispr-Cas9 is an immensely powerful technique invented three years ago which allows DNA to be "cut and pasted" using molecular "scissors".
It could lead to huge leaps forward in science and medicine but critics have warned that the pace of change is too fast.
They fear misuse of such technology could lead to potentially dangerous treatments and "designer babies".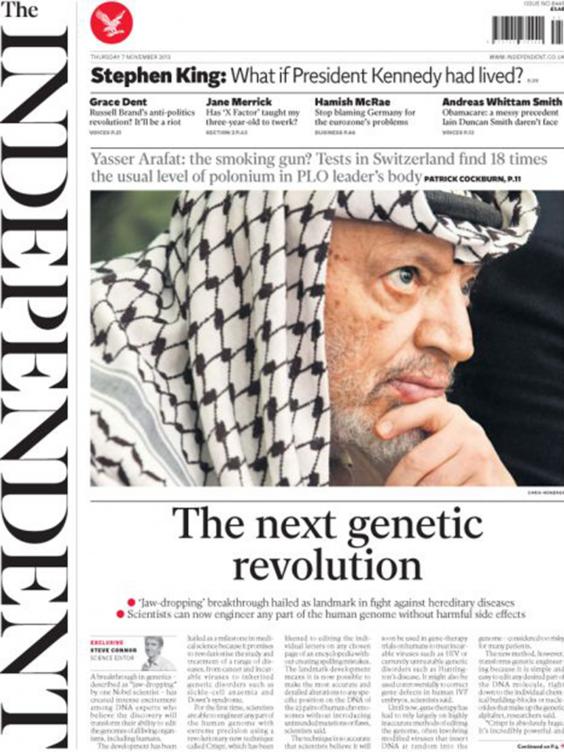 One major concern is that making changes to embryonic DNA could have unknown harmful effects throughout an individual's body. There is also the risk of passing genetic "mistakes" on to future generations.
But scientists hailed the decision on Monday as an "encouraging step" in the road to Crispr-Cas9 producing clinical results.
Professor Peter Braude, an expert in obstetrics and gynaecology from King's College London, said: "I am delighted to hear that the HFEA have had the good sense to approve this important project.
"Gene editing tools will allow fresh insights into the basic genetic mechanisms that control cell allocation in the early embryo.
"These mechanisms are crucial in ensuring healthy normal development and implantation, and when they go wrong might result in failure to implant or miscarriage. I await results with interest."
Bruce Whitelaw, professor of animal biotechnology at the Roslin Institute, University of Edinburgh, said: "This project, by increasing our understanding of how the early human embryo develops and grows, will add to the basic scientific knowledge needed for devising strategies to assist infertile couples and reduce the anguish of miscarriage.
"More broadly, this approval is another example of the lead position UK scientists are taking in evaluating the exciting new genome editing technology - which ranges from advances in human reproduction, to controlling the spread of insect-borne diseases, to precision breeding in plant and livestock agriculture."
Recent scientific discoveries that will change how you see the world
Recent scientific discoveries that will change how you see the world
1/14 1. Bowhead whale genome, linked to cancer resistance, DNA damage repair and increased longevity, mapped by scientists

In a UK-based study, scientists working together with scientists in Alaska, Denmark, Ireland, Spain and South Korea successfully mapped the genome of the bowhead whale - the longest-living mammal - identifying a number of genes that are linked to cancer resistance, DNA damage repair and increased longevity.

PA

2/14 2. Researchers develop 'imaginary meal' pill

An 'imaginary meal' pill called fexaramine has been developed by researchers at the Salk's Gene Expression Laboratory.

3/14 3. Scientists prolong lifespan of flies

Scientists at the Institute of Cell Biology, in Switzerland, have successfully managed to prolong the lifespan of flies, activating a gene that destroys unhealthy cells.

4/14 4. Green tea can help cure oral cancer

Green tea can help kill off cancerous cells, say researchers.

5/14 5. Mars once had a large ocean covering a large portion of its northern hemisphere

Almost half of the northern hemisphere of Mars was once covered by a large ocean that held 20 million cubic kilometres of water: more than the Artic Ocean.

6/14 6. Offices playing natural sounds can boost worker moods and improve cognitive abilities

Researchers at Rensselaer Polytechnic Institute learned that offices which play natural sounds such as ocean waves, trees and bird calls can boost the moods of workers and improve their cognitive abilities, as well as providing privacy (by masking speech).

7/14 7. Impact glass may exist on Mars

Brown University researchers found that spectral signals indicate the existence of "impact glass" on the surface of Mars, with specific deposits conserved in craters.

8/14 8. Fathers experience weight gain

Fathers have been found to experience weight gain and a rise in their body mass index (BMI), according to a research conducted by Northwestern University's Feinberg School of Medicine. The study, which followed over 10,000 men throughout a 20 year period, also revealed that the men who didn't become fathers actually lost weight.

9/14 9. Scientists create "intelligent" mice that do not experience fear or anxiety

Scientists participating in a joint University of Leeds and Mount Sinai Hospital study managed to alter a gene within mice; improving their intelligence and reducing their ability to feel anxious or fear. The discovery could prove instrumental in research into age-related cognitive decline, such as Alzheimer's or schizophrenia.

10/14 10. Paralysed man walks again

The 'brain-computer interface' system will be improved by developing an implantable version, say experts A 26-year-old male who had suffered a spinal cord injury which had paralysed him from the waist down was given the ability to walk again by scientists, who rerouted brain waves to electrodes on his knees. The doctors responsible said that he was the first person with paraplegia caused by a spinal injury given the ability to walk without relying on manually controlled robotic limbs.

11/14 11. Virtual reality can revolutionise healthcare

Cardiologists at the Institute of Cardiology in Poland have successfully used virtual reality to restore blood flow to a blocked artery, leading the way for it to revolutionise certain aspects of healthcare, in surgical procedures and during training. Using wearable virtual reality equipment, similar to that of Google Glass, developed specifically for the surgical procedure, doctor completed the difficult procedur

12/14 12. Puppies born by IVF in the US

After years of failed attempts, scientists at Cornell University successfully bred the world's first puppies born through IVF, allowing for research into the conservation of endangered breeds and protection of those that are at risk of disease.

13/14 13. Cancer is caused by environmental factors

Research into the causes of cancer concluded that, on the whole, it is due to environmental factors, not, as was previously thought, "bad luck".

14/14 14. Fusion reactors could become economically viable

Researchers at Durham University and the Oxfordshire Culham Centre for Fusion Energy have found fusion reactors could become economically viable ways of generating electricity in just a few decades, telling politicians and policy makers to begin the process of planning for their introduction and the replacement of nuclear power stations. Analysis by these researchers has found that the costs associated with fusion power shows its feasibility, when compared with traditional fission reactors, generating electricity at a similar price.
And Dr Sarah Chan, chancellor's fellow at the Usher Institute for Population Health Sciences and Informatics, University of Edinburgh, said: "This is an encouraging step as it demonstrates that good science and effective ethical oversight can go hand in hand.
"Dr Niakan's research into the biology of early human development is valuable both for scientific knowledge and the therapeutic applications it may eventually produce, for example in treating infertility and in stem cell therapies.
Reuse content