The 41st anniversary of the discovery of 'Lucy' has been celebrated with a Google Doodle.
'Lucy' is a collection of fossilised bones that once made up the skeleton of a hominid from the Australopithecus afarensis species. She lived in Ethiopia 3.2 million years ago.
First discovered in 1974, the discovery was remarkably 'complete' - 40 per cent of her skeleton was found intact, rather than just a handful of incomplete and damaged fossils that usually make up remains of a similar age.
Shortly after being dug up, it became apparent that Lucy was a significant find with researchers saying she belonged to a previously unknown species.
In honour of 'Lucy', here are five things you may not know about her:
1. She was named after The Beatles song 'Lucy in the Sky with Diamonds'
After making the discovery, paleoanthropologist Donald Johanson headed back to his campsite with his team.
He put a Beatles cassette in the tape player, and when Lucy in the Sky with Diamonds came on, one of the group said he should call the skeleton Lucy.
"All of a sudden, she became a person," Johanson told the BBC.
Google Doodles
Google Doodles
1/39 Bessie Coleman

Google Doodle honours the first African American woman to get an international pilot licence on her 125th birthday

Google

2/39 Caroling

Google Doodle celebrates Christmas caroling

Google

3/39

Today's Google Doodle features activist Steve Biko

Google

4/39 Walter Cronkite

Google celebrates Walter Cronkite's 100th birthday

5/39 Ladislao José Biro

Google celebrates Ladislao José Biro 117th birthday

6/39 Google

Google celebrates its 18th birthday

7/39 The history of tea in Britain

Google celebrates the 385th anniversary of tea in the UK

8/39 Autumnal equinox 2016

Google marks the start of fall

9/39 Paralympics 2016

Google marks the start of the Paralympic Games 2016

10/39 Nettie Stevens

Google celebrates Nettie Stevens 155th birthday

11/39 Father's Day 2016

Google celebrates Father's Day

12/39 Elizabeth Garrett Anderson

Google celebrates Elizabeth Garrett Anderson 180th birthday

13/39 Earth Day 2016

Google celebrates Earth Day

14/39 Ravi Shankar

Google marks Pandit Ravi Shankar's 96th birthday

15/39 Olympic Games in 1896

Google are celebrates the 120th anniversary of the modern Olympic Games in 1896

16/39 World Twenty20 final

Google celebrates the 2016 World Twenty20 cricket final between the West Indies and England with a doodle

Google

17/39 William Morris

Google celebrates William Morris' 182 birthday with a doodle showcasing his most famous designs

Google

18/39 St Patrick's Day 2016

Googlle celebrates St Patrick's Day on 17 March

19/39 Caroline Herschel

Google marks Caroline Herschel's 266th birthday

Google

20/39 Clara Rockmore

Google celebrates Clara Rockmore's 105th birthday

21/39 International Women's Day 2016

#OneDayIWill video marks International Woman's Day on 8 March

22/39 St David's Day 2016

Google marks St David's Day

Google

23/39 Leap Year 2016

Google celebrates Leap Day on 28 February 2

Google

24/39 Lantern Festival 2016

Google celebrates the last day of the Chinese New Year celebrations with a doodle of the Lantern Festival

Google

25/39 Stethoscope Inventor, René Laennec

Google celebrate's René Laennec's 235th birthday

26/39 Valentine's Day 2016

Google celebrates Valentine's Day with a romantic Doodle

27/39 Dmitri Mendeleev

Google celebrate Dmitri Mendeleev's 182nd birthday

28/39 "The televisor" demonstartion

Google Doodle celebrates 90 years since the first demonstration of television or "the televisor" to the public

29/39 Professor Scoville

Google marks Professor Scoville's 151st birthday

30/39 Sophie Taeuber-Arp

Google marks Sophie Taeuber-Arp's 127th birthday

31/39 Charles Perrault

Google celebrates author Charles Perrault's 388th birthday

32/39 Mountain of Butterflies discovery

Google celebrates the 41st anniversary of the discovery of the Mountain of Butterflies

33/39 Winter Solstice 2015

Google celebrate the Winter Solstice

34/39 St Andrew's Day 2015

Google marks St Andrew's Day with doodle featuring Scotland's flag and Loch Ness monster

35/39 41st anniversary of the discovery of 'Lucy'

Google marks the 41st anniversary of the discovery of 'Lucy', the name given to a collection of fossilised bones that once made up the skeleton of a hominid from the Australopithecus afarensis species, who lived in Ethiopia 3.2 million years ago

36/39 George Boole

Google marks George Boole's 200th birthday

37/39 Halloween 2015

Google celebrates Halloween using an interactive doodle game "Global Candy Cup"

38/39 Prague Astronomical Clock

Google celebrates the 605th anniversary of the Prague Astronomical Clock, one of the oldest functioning timepieces in the world

39/39 Autumnal Equinox 2015

Google marks the autumnal equinox on 23 September
2. Lucy walked upright
One of the most important things about Lucy is the way she walked. By studying her bones, in particular the structure of her knee and spine curvature, scientists were able to discover that she spent most of her time walking on two legs - a striking human-like trait.
3. No one knows how she died
The few clues we have about Lucy's cause of death can only rule things out, rather than provide solid answers.
There's not much evidence of teeth marks anywhere on her skeleton, suggesting she was not killed and scavenged by other animals after she died.
However, there is one tooth mark from a carnivore on the top of her left pubic bone - but it's not known whether this happened before she died, or whether she was bitten after.
4. Lucy still lives in Ethiopia, near to where she was found
The skeleton of Lucy lies hidden away from the public in a specially constructed safe in the National Museum of Ethiopia in Addis Ababa, not far from where she was discovered.
Only a plaster replica of her skeleton is available to be seen by the public.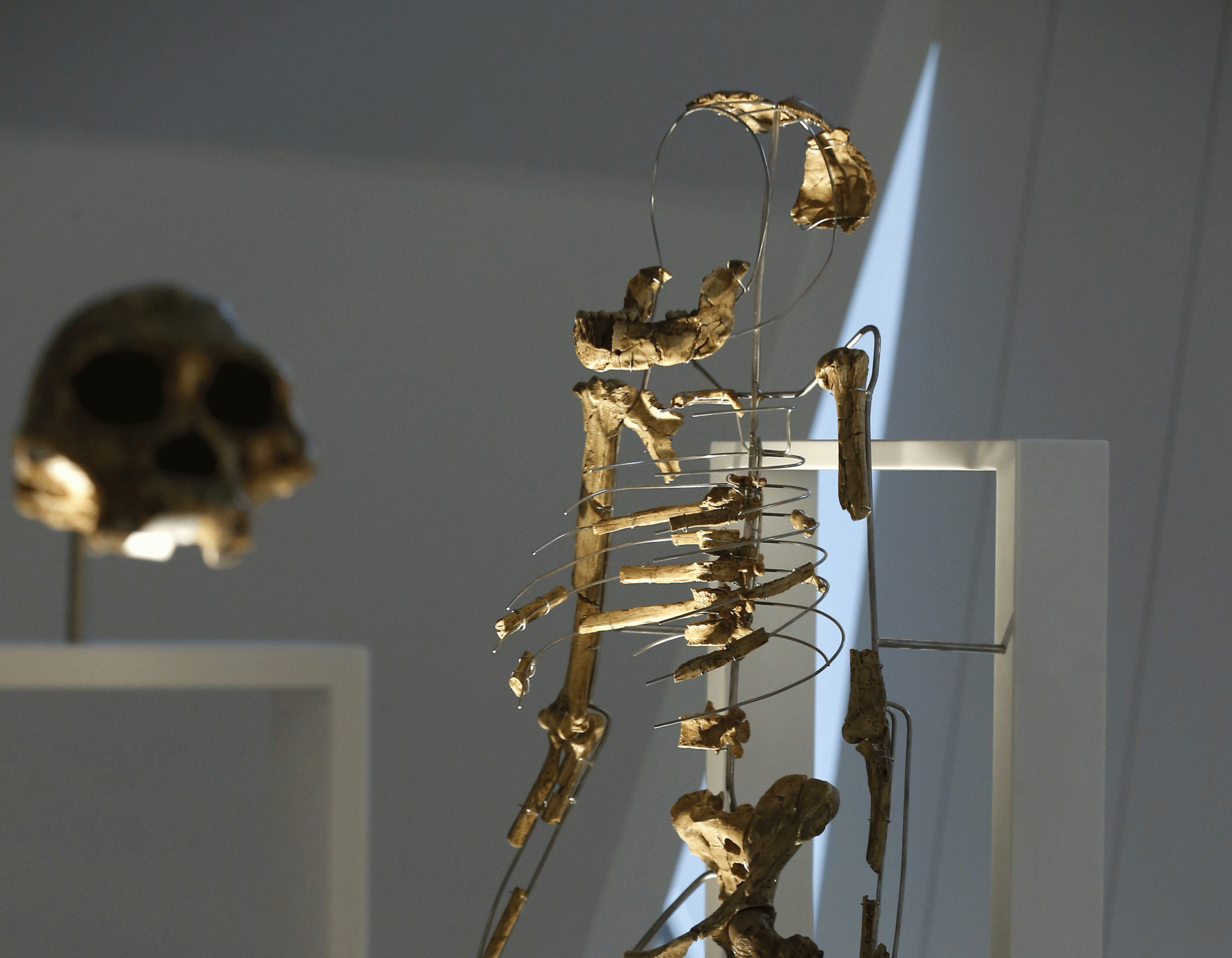 However, the real skeleton was taken on a tour of the US from 2007-2013, despite fears that the tour would damage it.
A number of other plaster casts of Lucy's remains are dotted around the world.
5. She was pretty short
Australopithecus afarensis may have walked upright and looked somewhat human-like, but they were much smaller than we are.
Lucy died as a young but fully grown adult, and stood only 1.1m (3.7ft) tall and weighed in at a paltry 29kg (64lb).
Reuse content