A volunteer firefighter stopped a teenager who shot two students and a teacher outside a South Carolina primary school after killing his father at their home, authorities said. 
Anderson County Sheriff John Skipper said the shooter was apprehended Wednesday afternoon outside rural Townville Elementary School before he could get inside the building. 
Firefighter Jamie Brock, a 30-year veteran of the Townville Volunteer Fire Department down the road from the school, "just took him down," the sheriff said. He said the fire station is close to the school and Mr Brock arrived before others officers responding to the dispatch. 
Mr Brock has said he doesn't want attention for his actions. 
He "wants to remain humble and quiet about it" as he believes "he did nothing any of the other volunteer firefighters wouldn't have done," said Scott Stoller with Anderson County Emergency Management. 
Regardless, he said, "Firefighter Brock is absolutely a hero." 
School and University mass shootings in America
School and University mass shootings in America
1/12 Craghead County, Arkansas - 24 March, 1998

Students Mitchell Johnson,13, and Andrew Golden, 11, killed four students and one teacher, wounding ten others at Westside Middle School

Reuters

2/12 Springfield, Oregon - 21 May 1998

After killing his parents at home, 13- year-old Kip Kinkel drove to Thurston High School where he shot and killed two students and a teacher at a school dance, wounding 23 others.

Getty

3/12 Columbine, Colorado - 20 April 1999

Eric Harris, 18, and Dylan Klebold, 17, killed twelve students and one teacher at Columbine High School. They wounded 23 others before committing suicide.

Getty

4/12 Santee, California - 5 March 2001

Charles Andrew Williams, 15, opens fire on at Santana High School, killing two students and wounding thirteen others.

Getty

5/12 Red Lake, Minnesota - 24 September 2005

Jeffrey Weise, 16, kills his grandfather before driving to Red Lake Senior High School. He proceeded to shoot and kill five students, one teacher and security guard before committing suicide. Seven others were wounded.

Getty

6/12 Nickel Mines, Pennsylvania - 2 October 2006

Charles Carl Roberts IV,a 32-year-old milk truck driver, shot to death five Amish girls and wounded five more in an Amish school in the hamlet of Nickel Mines before committing suicide.

Getty

7/12 Blacksburg, Virginia - 16 April 2007

Seung-Hui Cho, 23, shot and killed 32 students and faculty members and wounded 17 others at Virgina Tech University. It is the deadliest attack by a lone gunman in US history.

Getty

8/12 DeKalb, Illinois - 14 February 2008

Steve Kazmierczak, 27, killed 6 and wounded 21 at Northern Illinois University before committing suicide.

Getty

9/12 Oakland, California - 2 April 2012

Gunman One L. Goh, 43, shot shot and killed seven students in a classroom at Oikos University, a small Christian college. Goh was deemed unfit for trial in January 2013 after being diagnosed with paranoid schizophrenia.

Getty

10/12 Newtown, Connecticut - 14 December 2012

Adam Lanza, 20, killed 26 people at Sandy Hook Elementary School. He first killed his mother before taking her guns and driving to the school. He killed 20 children in the first grade along with six adults before killing himself.

Getty

11/12 Santa Monica, California - 7 June 2013

John Zawahri, 23, shot and killed five people on, or near, the campus of Santa Monica College.

Getty

12/12 Isla Vista, California - 23 May, 2014

22 year-old-Elliott Rodger went on a stabbing and shooting rampage just outside of the main campus of University of California, Santa Barbara. He killed 7 people and wounded 13 more.

Getty
Authorities said the shooting spree began at the teen's house about 2 miles from the school, where he gunned down his 47-year-old father, Jeffrey Osborne. Authorities have not released the suspect's name or age beyond saying he's a teen.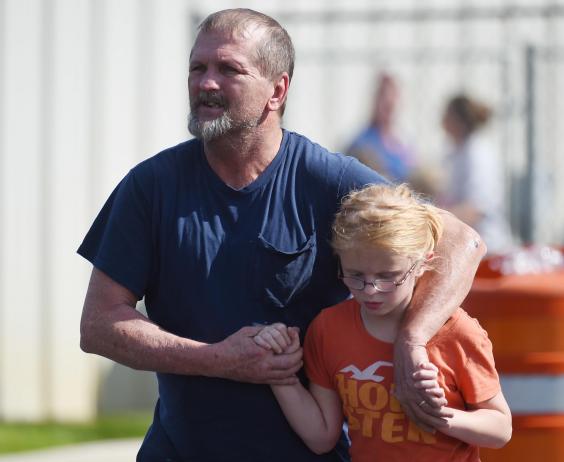 Crying and upset, the teen called his grandmother's cellphone at 1:44 pm, Anderson County Coroner Greg Shore said. The grandparents couldn't understand what was going on, so they went to his home just 100 yards away. When they got there, they found Osborne dead and their grandson gone. 
About one minute later, authorities received a 911 call from a teacher at the school in this rural town about 110 miles northeast of Atlanta. 
The shooter drove a truck into the school parking lot and immediately started firing as he got out and moved toward the school, Mr Skipper said. He did not know who the truck the teen drove was registered to and declined to say how many shots were fired.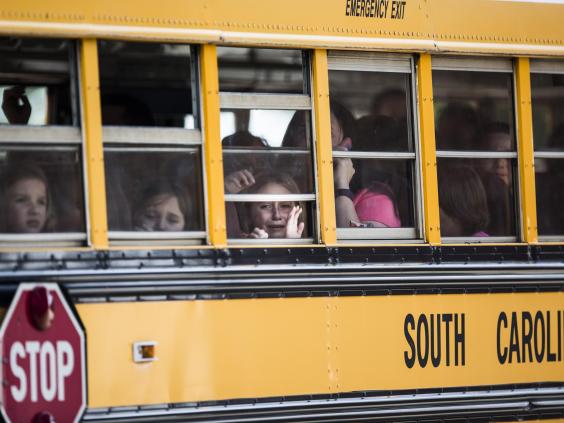 One student was shot in the leg and the other in the foot, sheriff's Capt Garland Major said. Both students were male. The female teacher was hit in the shoulder.
"We are heartbroken about this senseless act of violence," said Joanne Avery, superintendent of Anderson County School District 4. She cancelled classes at the school for the rest of the week. 
Television images showed officers swarming the school after the report of an active shooter. Some were on top of the roof while others were walking around the building. Students were driven away on buses accompanied by police officers to a nearby church.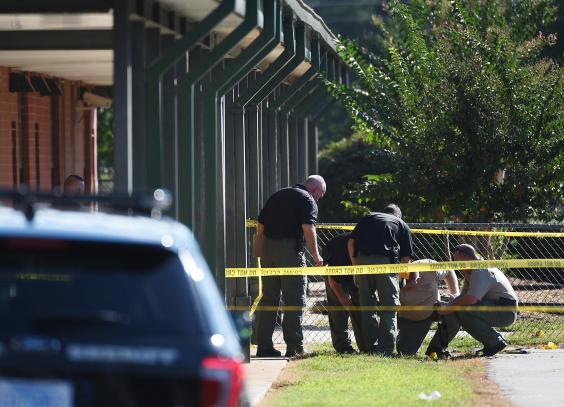 Authorities said they don't yet know a motive for the shooting and they were not sure if the students and teacher were targeted. The sheriff said the teen had been homeschooled. 
"There are no racial undertones there. There's no terrorism involved," Mr Major said. "We're confident we have the sole shooter and no one else is involved." 
Mr Skipper said the teen's mother was at work at the time of the shooting. 
One of the students and the teacher were released from the hospital Wednesday evening, AnMed Health spokeswoman Juana Slade said. Greenville Health System spokeswoman Sandy Dees said the other student, Jacob Hall, remained in critical condition. 
The school surrounded by working farms has about 300 students in its pre-kindergarten to sixth-grade classrooms. About 90 percent of the students are white, according to state records. 
"This is the country," Brandi Pierce, the mother of a sixth-grader, told The Associated Press as she began to cry. "You don't have this in the country." 
Jamie Meredith, a student's mother, said some of the children went into a bathroom during the shooting. 
"I don't know how they knew to go in the bathroom, but I know her teacher was shaken up. I know all the kids were scared. There was a bunch of kids crying. She didn't talk for about five minutes when I got her," she told WYFF-TV, Greenville. 
South Carolina Gov. Nikki Haley released a statement from her and her husband after the shooting. 
"As we work together with law enforcement to make sure they have the support they need to investigate what happened in Townville, Michael and I ask that everyone across South Carolina join us in praying for the entire Townville Elementary School family and those touched by today's tragedy." 
The town is situated along Interstate 85 near the Georgia-South Carolina state line. 
Reuse content