A rape victim did not get compensation from her attacker because of the Government's controversial new court charge, MPs have been told.
A Crown Court judge in south London is said to be "deeply distressed" at having to waive compensation for a sexual assault victim because he believed that a mandatory £900 criminal court charge was already beyond the defendant's means. 
The case came to light in a Justice Select Committee hearing over the criminal courts charge – dubbed a "tax on justice". 
Ben Summerskill, director of the Criminal Justice Alliance, told MPs he had "seen evidence to suggest [the charge] is impacting on sentencing behaviour". He added: "I spoke to a Crown Court judge last night who sits in south London and was deeply distressed because he had just awarded a £900 court charge and consequently felt entirely unable to award a compensation order to a victim of sexual assault because he simply felt there was no realistic prospect of that amount being recovered. That is a crystallised example of an unintended consequence of [the charge]."
The compulsory levy is fixed at £150 if someone pleads guilty to a criminal offence, whereas it can rise to £1,200 if they deny wrongdoing only to be found guilty.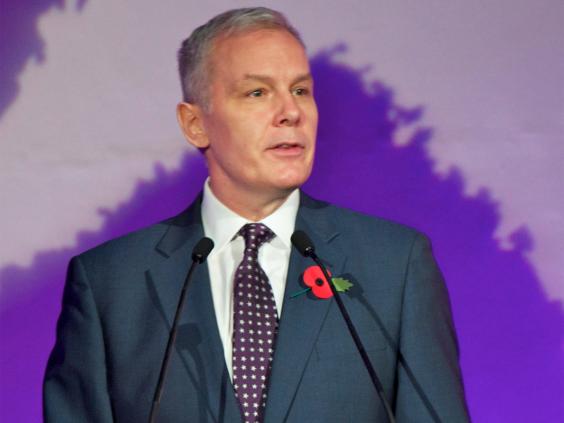 Experts warned again that it encouraged innocent defendants to plead guilty because they were worried about the cost. The Independent has previously revealed cases of poor people being hit with bills for hundreds of pounds for minor offences, such as shoplifting a chocolate bar while homeless, under the charge labelled "unjust" by the Howard League for Penal Reform.
Speaking about the impact of the charge on pleas, Richard Monkhouse, chairman of the Magistrates' Association, told the committee: "We have anecdotal evidence that some magistrates have refused to accept an equivocal plea – in other words, a plea that is 'I'm not guilty but I'm pleading guilty'. The frequency of that seems to be increasing."
Discussing the more than 50 magistrates who have now resigned over the charge, Mr Monkhouse said: "As chairman I get a lot of emails and letters from magistrates who have specifically quoted this, maybe not as the only reason but as the final straw. There are some who have said 'No this is it, I cannot bring myself to do this'." 
UK news in pictures
UK news in pictures
1/30 25 September 2016

A young pearly princess (2R) looks toward her aunt Charlotte Bennett (L), the Pearly Princess of Woolwich, during the Pearly Kings and Queens Harvest Festival service at Guildhall in the City of London. Pearly kings and queens are a working-class charitable tradition in London. The "pearly" tradition was started by a 19th century street sweeper who decorated his suit with "pearl" buttons to draw attention to his charity fund raising activities. Since then many groups and associations were formed to carry forward the charitable "pearly" tradition with each London borough having its own pearly king or queen to act as a focal point for fund raising and charitable giving. The harvest festival celebrates the autumn harvest and is a major date in the pearly calendar

AFP/Getty Images

2/30 25 September 2016

Victorian re-enactors Vicky and Keith Biddlecombe arrive at the Guildhall for the Pearly Kings and Queens Harvest Festival in the City of London

AFP/Getty Images

3/30 25 September 2016

Participants in the annual North East Skinny Dip run into the sea at Druridge Bay. About 500 people swam naked in the North Sea in aid of charity

REUTERS

4/30 24 September 2016

A Manchester United fan embraces the side of Old Trafford stadium ahead of the English Premier League football match between Manchester United and Leicester City at Old Trafford in Manchester

AFP/Getty Images

5/30 23 September 2016

Fiona MacKeown, the mother of murdered British schoolgirl Scarlett Keeling, is escorted as she leaves the Childrens Court in Panaji. A court in India cleared two men accused of the rape and homicide of 15-year-old British schoolgirl Scarlett Keeling whose bruised and semi-nude body was found on a Goa beach eight years ago. Friends and relatives of the two accused, Samson D'Souza and Placido Carvalho, cheered as the verdict was read out in the state capital Panaji

AFP/Getty Images

6/30 22 September 2016

A stag calls out at Richmond Park in London. Today marks the first day of autumn, also known as the autumn equinox, where night and day are equal

Getty Images

7/30 21 September 2016

An activist adjusts US flag bunting attached to a "Stop Trump" battle bus in London in a campaign run by campaign group Avaaz to mobilise US expatriots in the UK to register to vote in the US presidential election

AFP/Getty Images

8/30 20 September 2016

Prince Harry does 'the dab' with children from the Streetsport initiative during a visit to Robert Gordon University in Aberdeen, Scotland

9/30 19 September 2016

Some 2500 life jackets worn by refugees who made the sea crossing from Turkey to the Greek island of Chios are displayed in what the organisers called a "Lifejacket Graveyard" in Parliament Square, London, backdropped by the Houses of Parliament. The display was organised by Snappin' Turtle Productions and supported by refugee charities to coincide with the first ever United Nations Summit for Refugees and Migrants taking place in New York

AP

10/30 18 September 2016

The Reverend Stephen Mason (L) mounts a horse before leading a church service during the Hyde Park Horseman's Sunday in London. The 49th annual Hyde Park Horseman's Sunday event sees around 60 horses and riders join a congregation for a church service outside St John's Church in Hyde Park, complete with members of the clergy mounted on horses. The annual event began as a way to raise awareness of the local stables situated along Hyde Park and of working horses in central London

Getty Images

11/30 17 September 2016

Members of the public gather to watch a giant peach as it is moved through the centre of Cardiff as part of a street performance to mark the start of City of the Unexpected, a celebration of the author Roald Dahl in Cardiff. The celebrated author was born in Cardiff 100 years ago this month and to celebrate the Welsh capital is hosting a series of events this weekend

Getty Images

12/30 16 September 2016

Judges manouvere giant cabbages to be weighed in the Giant Vegetable Competition on the first day of the Harrogate Autumn Flower Show at the Great Yorkshire Showground, in Harrogate

AFP/Getty Images

13/30 15 September 2016

NCP is renaming one of its carparks to the Sarah multi-Storey Car Park to honour the sporting achievement of one of Britain's true #superhumans after her record breaking endeavours at the Paralympic Games in Rio

14/30 14 September 2016

Swimmers enjoy an early morning dip shortly before sunrise in the Serpentine in Hyde Park in London. Areas in the South East of England continue to enjoy seasonable weather

Getty Images

15/30 13 September 2016

British Labour party Leader Jeremy Corbyn stands with campaigners outside the Houses of Parliament in central London, during a protest calling for an inquiry into the Battle of Orgreave and the policing of the miners strikes. The campaigners are calling for an inquiry into the way that police handled events outside the Orgreave coking plant, near Sheffield, north-east England, in 1984

AFP/Getty Images

16/30 12 September 2016

President of the Zoroastrian Trust Funds of Europe Malcolm Deboo addresses guests during an appeal by senior faith representatives at the Liberal Jewish Synagogue for more action to be taken by the Government on the issue of refugees, in London. Over 200 leaders of the UK's major religions and faiths have signed a letter to British Prime Minister Theresa May, asking to unblock the rules that currently prevent families from being reunited

Getty Images

17/30 11 September 2016

Athletes enter the water at the swim start during Ironman Weymouth in Weymouth

Getty Images

18/30 11 September 2016

People dressed in vintage clothes attend the Goodwood Revival at Goodwood in Chichester

Getty Images

19/30 10 September 2016

Artem Silchenko of Russia dives from the 27.5 metre platform at the Blue Lagoon during the sixth stop of the Red Bull Cliff Diving World Series, Pembrokeshire, Wales

Red Bull via Getty Images

20/30 10 September 2016

Debutantes and their escorts rehearse ahead of the Queen Charlotte's Ball at 'One Whitehall Place, The Royal Horseguards Hotel' in London. Queen Charlotte's Ball is the pinnacle event in the London Season. The London Season is rich in history and was formed over two hundred years ago when the custom of returning to London at the end of the hunting season was celebrated with glittering balls and high society events. The modern group of meticulously selected debutantes continue the tradition and celebrate their year of charity fund raising, etiquette classes and debut at The Queen Charlotte's Ball

Getty Images

21/30 9 September 2016

Farmers buy and sell at Kelso Ram Sale in Kelso, Scotland. Kelso is the biggest on day sale of Rams in the world, with between five and six hundred consignors attending the event, which dates back to 1836. 5,145 rams will be sold today and last year's sale total reached over two and a half million pounds, with the average ram fetching £610. The last few years has seen rams being exported to countries including Eire, Germany and Holland

Getty Images

22/30 8 September 2016

Britain's Prime Minister Theresa May (L) greets European Council President Donald Tusk in Downing Street in London

REUTERS

23/30 7 September 2016

The tower of Grain Power Chimney comes down in Isle of Grain. The 244m (801ft) chimney of Grain Power Station, a former oil-fired power station and the second tallest chimney in the UK was demolished by experts Brown and Mason at 11 am

Getty Images

24/30 6 September 2016

'The Faraway Treehouse' in Norwich has been titled the UK's Top Treehouse, as judge and adventurer Steve Backshall has revealed the winner found as part of Center Parcs' nationwide search. The winning treehouse was built by the Jennings' family, from Norwich, as a joint project between dad Matthew and his six-year-old daughter Ruby, who got inspired by an Enid Blyton classic 'The Faraway Treehouse'

PA

25/30 5 September 2016

Runners covered in coloured powder enjoy themselves as they ran through the streets of London during the anticipated mass 'Color Throw'. The Color Run Presented by Skittles is an untimed 5k fun run, aiming to bring together fitness and fun, with the ultimate goal being that participants cross the line with a huge smile on their face

26/30 4 September 2016

A replica of 17th-century London on a barge floating on the river Thames burns in an event to mark the 350th anniversary of the Great Fire of London

AFP/Getty Images

27/30 3 September 2016

Enthusiasts in vintage clothing take a stroll in the rain along Morecambe promenade during Vintage By The Sea event in Morecambe. Vintage By The Sea is a celebration of 20th century design, fashion and entertainment. Now in it's fourth year Vintage By The Sea is hosted in the seaside resort of Morecambe

Getty Images

28/30 2 September 2016

Scottish First Minister Nicola Sturgeon and leader of the Scottish National Party (SNP) speaks at a press conference in Stirling. Sturgeon launched a new survey on independence, saying the Brexit vote had changed the conditions that existed when Scotland voted against secession in 2014

AFP/Getty Images

29/30 1 September 2016

People gather on the beach to take advantage of the fine weather at West Bay in Dorset

Getty Images

30/30 1 September 2016

Mayor of London Sadiq Khan and Tara Arts founder and director, Jatinder Verma offically open the doors at Tara Theatre in London. The theatre is the new state of the art home in South London for the acclaimed Tara Arts, the oldest diverse multicultural theatre company in the UK

Getty Images for Tara Arts
Malcolm Richardson, deputy chairman of the Magistrates' Association, told the cross-bench committee that his organisation had not taken a position on the principle of the charge. But he added: "We certainly wouldn't stand in the way of anyone who wanted to abolish it."
Mr Richardson said in many cases it was unrealistic to expect to collect a fine from defendants at all, explaining: "We're talking about people here who have chaotic lives and are lucky to get from one benefit payment to the next without going to a loan shark."
We have anecdotal evidence that some magistrates have refused to accept an equivocal plea – in other words, a plea that is 'I'm not guilty but I'm pleading guilty'
Pointing out the triviality of cases that are subject to a minimum £150 courts charge, Mr Richardson said: "A colleague told me of a single court dealing with fare evasion for London Transport, dealing with one case a minute, which I worked out means she was imposing £9,000 in criminal courts charge and £7,500 in contributions to Crown Prosecution costs in an hour. These were about £1.50 evasions. That's the sort of case you think, 'Why has it come to a courtroom?'"
The charge was introduced by Chris Grayling and is levied on court cases for all crimes committed since April. More than 50 magistrates have resigned over it and The Independent revealed earlier this month that Michael Gove, Mr Grayling's successor as Justice Secretary, is considering reforming the policy.
Giving evidence about the disproportionate nature of the charge, Frances Crook, chief executive of the Howard League for Penal Reform, said: "We've got a medieval system. A 19-year-old having a court charge on him for begging when he didn't know begging was illegal is medieval.  It's not even Victorian."
£180
The amount an asylum seeker was ordered to pay last month. A magistrate resigned after being suspended for offering to help pay
Ms Crook said many of those subject to the charge were pushed to crime through poverty. "A lot of people don't choose to commit crime. A lot of people have been begging because they're hungry; it's not a life choice."
Last month a magistrate who had served on the bench in Leicestershire for 16 years resigned after offering to pay towards the levy when a penniless asylum-seeker was ordered to pay £180. Nigel Allcoat was suspended and an investigation was launched after he attempted to pay part of the convict's costs.
A Ministry of Justice spokesman said: "There is clear guidance in place to ensure sentences are not affected by the criminal courts charge. The charge should not impact on the amount of financial penalties ordered." However, when the Magistrates' Association's deputy was asked at the select committee hearing whether the charge had any impact on sentencing, Mr Richardson replied there was anecdotal evidence of this.
Compensation for victims: How it works
When an offender is convicted of a crime against a person, the court may order them to pay compensation to the victim. This can cover anything from personal injury to theft, medical expenses or pain and suffering. The maximum amount of compensation that can be awarded by magistrates is £5,000.
Victims need to have told the police about any loss or damage suffered, and this information is then referred to the Crown Prosecution Service, which make the request in court.
Any compensation is limited to what the offender can afford and depends on the sentence the court has already passed.
The compensation may not cover the full cost of damage or loss, and often the offender will be able to pay it in instalments, which are passed from the court to the victim. Separately to this, any victims of violent crime can apply to the Government's Criminal Injuries Compensation Scheme. In this case, the money comes from the state and the compensation is proportionate to the crime rather than the perpetrator's means. This can be paid out even if the offender has not been caught
Reuse content