Thirteen people have been arrested as far-right and anti-fascist groups protest in Dover.
Extra police officers had been provided to prevent a repeat of violent clashes in January, which saw bricks and smoke bombs thrown between the opposing groups.
Anti-immigration protesters from the East Kent Alliance marched to protest against the arrival of refugees, some chanting "no more refugees" and waving St George flags.
One protester wearing a jumper reading "FCK ISIS" burned an EU flag.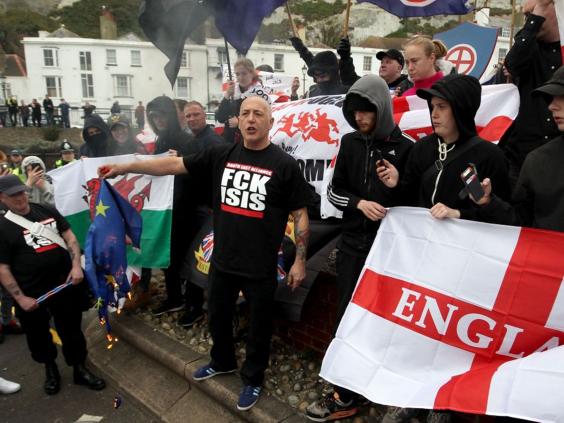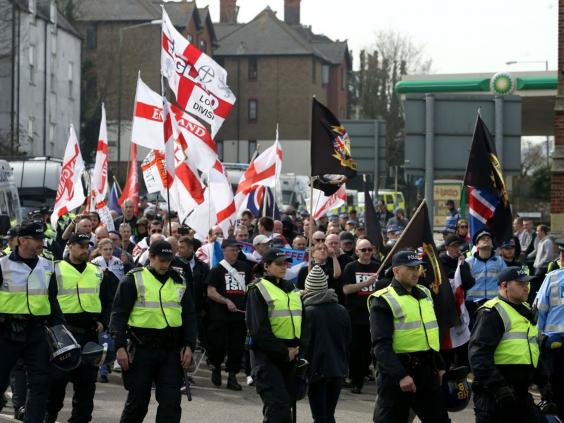 Anti-fascist demonstrators from Kent Anti-Racism Network held posters reading "no to racism" and chanted "refugees are welcome here".
Police stopped the two sides coming in to contact with each other. 
Earlier, Kent Police said eight people had been arrested in Marine Parade for failing to comply with conditions regarding the right to assembly, which include a prohibition on wearing masks. 
They had earlier warned those wearing masks would be asked to reveal their faces. 
Three others were arrested in connection with the violent protest in January. One was arrested for possession of offensive weapons, while another was arrested on suspicion of theft of a police baseball cap. 
Far right and anti-fascists clash in Dover, January, 2016
Far right and anti-fascists clash in Dover, January, 2016
1/6 Dover

Police separate anti-fascists and right-wing protesters

PA

2/6 Dover

Right-wing protesters and anti-fascist demonstrators clash

PA

3/6 Dover

Anti-fascists break through police lines

PA

4/6 Dover

Far-right protesters march on the streets of Dover

PA

5/6 Dover

Diane Abbott MP speaks to anti-fascists in Dover

PA

6/6 Dover

Police hold back far-right demonstrators

PA
Conservative MP Charlie Elphicke was criticised after tweeting to say the anti-fascist demonstrators are "unwelcome" in his town.
After he was condemned on social media, he wrote to say fascists were "equally unwelcome", accusing both groups of being "damaging to our nation's economy".
Roads have been closed and police have lined the streets as the demonstrators march separate routes through the port town of Kent.
A sign reading "#RefugeesWelcome" was projected onto the White Cliffs of Dover ahead of the march.