Senior leaders of a prolific international gang of rhino-horn thieves known as the Rathkeale Rovers have been convicted of museum raids that netted £57m. The convictions represent a major police success against a brutal criminal organisation.
Key planners from the gang – blamed for dozens of burglaries across Europe dating back to 2009 –  were convicted of two smash-and-grab raids in Britain within eight days. These targeted Chinese antiquities and each landed bigger hauls than the £14m Hatton Garden safety deposit heist.
The convictions of six members of one family deal a significant blow to the Irish Traveller gang whose criminality led to a pan-European police operation and sparked demands for action from the top of the UK Government. 
UK news in pictures
UK news in pictures
1/28

Anti-Brexit protesters, one wearing a giant Theresa May head, hold placards outside Parliament on the day the Prime Minister will announce that she has triggered the process by which Britain will leave the European Union

Reuters

2/28

Members of Britain's UK Independence Party (UKIP) including MEP Margot Parker, MEP David Coburn and MEP Ray Finch celebrate the official triggering of Article 50 of the Lisbon Treaty, dubbed 'Brexit', at the Old Hack Pub in front of the EU Commission in Brussels, Belgium

EPA

3/28

Supporters of jailed former British soldier Alexander Blackman, Marine A, arrive at The Royal Courts of Justice in London, to attend the result of his sentence

Getty Images

4/28

Claire Blackman,wife of Alexander Blackman,celebrates outside the High Court, after Sergeant Blackman's appeal was successful. The court heard that will be free within 2 weeks

Rex

5/28 29 March 2017

Faith Leaders head up a vigil including members of the public and police officers on Westminster Bridge exactly one week after the attack

Getty Images

6/28 29 March 2017

Police officers holds roses on Westminster Bridge during a vigil to remember the victims of last week's Westminster terrorist attack

Getty Images

7/28 29 March 2017

Members of Ahmadiyya Muslim Association pay their respects in Parliament Square, London, exactly a week since the Westminster terror attack took place

PA wire

8/28 29 March 2017

People attend a vigil to remember the victims of last week's Westminster terrorist attack

Getty Images

9/28 29 March 2017

A police badge topped with a white rose is placed during a vigil on Westminster Bridge in London

PA wire

10/28 29 March 2017

A police officer holding a flower stands in front of Muslim girls holding placards as they join people on Westminster Bridge during an event to remember the victims of the Westminster attack

Reuters

11/28 29 March 2017

People wearing #IAMAMUSLIM t-shirts hold a banner reading 'Love for all, hatred for none' on Westminster Bridge as they attend a vigil

Getty Images

12/28 29 March 2017

A Police officer holds a white rose on Westminster Bridge during a vigil to remember the victims of last week's Westminster terrorist attack

Getty Images

13/28 29 March 2017

British ambassador to the EU, Sir Tim Barrow leaves after delivering the official notice under Article 50 of the Lisbon Treaty to European Council President Donald Tusk in Brussels, Belgium

EPA

14/28 29 March 2017

EU Council President Donald Tusk holds British Prime Minister Theresa May's Brexit letter which was delivered by Britain's permanent representative to the European Union Sir Tim Barrow in Brussels, Belgium, as part of the process that starts the formal proceedings of United Kingdom leaving the European Union

EPA

15/28 27 March 2017

A Tate Britain staff member poses for photographers underneath "Forms in Space...by Light (in Time)" a light installation by Welsh artist Cerith Wyn Evans, during a photo call in the Duveen Galleries at Tate Britain gallery in London

AP

16/28 27 March 2017

The recently redeveloped National Army Museum

Getty Images

17/28 27 March 2017

The National Army Museum in London

Getty Images

18/28 27 March 2017

Police walk past floral tributes to the victims of the Westminster terrorist attack outside the Palace of Westminster, London

PA wire

19/28 26 March 2017

Floral tributes to the victims of the Westminster terror attack are seen in Parliament Square in central London

Getty Images

20/28 26 March 2017

A aerial view of Derwentwater near Keswick in the Lake District, Cumbria, with snow capped mountains in the foreground and background, as the warm weather continues for many in the UK

PA wire

21/28 24 March 2017

British Conservative Party politician Tobias Ellwood (C), who gave first aid to the fatally wounded police officer Keith Palmer, one of the casualties of the March 22 London terror attack, shakes hands with an armed police officer as he arrives at the Houses of Parliament in London

Getty Images

22/28 24 March 2017

Armed police outside Westminster underground station in central London following the terrorist attack which claimed the lives of four innocent victims

PA wire

23/28 23 March 2017

A flower left in tribute to the victims of the March 22 terror attack is seen next to the Palace of Westminster

Getty

24/28 23 March 2017

Mayor of London Sadiq Khan speaks as Home Secretary Amber Rudd MP and acting Commissioner of the Metropolitan Police Craig Mackey look on during a candlelit vigil at Trafalgar Square

Getty Images

25/28 23 March 2017

People gather during a candlelit vigil at Trafalgar Square

Getty Images

26/28 23 March 2017

A man lays flowers during a candlelit vigil at Trafalgar Square

Getty Images

27/28 23 March 2017

The funeral procession leaves St Columba's Church Long Tower with the coffin after the funeral of former Northern Ireland Deputy First Minister Martin McGuinness in Derry, Northern Ireland

Getty Images

28/28 23 March 2017

Martin McGuinness's wife Bernie leaves St Columba's Church Long Tower, in Londonderry

PA wire
It can now be reported for the first time that senior planners from the Rathkeale Rovers were among 14 people convicted over roles in nine attempted or planned raids in Britain. The raids included two at Durham's Oriental Museum and the Fitzwilliam in Cambridge: Chinese antiquities worth up to £57m were stolen. Two-thirds of the haul has never been recovered and is believed to have been shipped out of the country to Far Eastern buyers.
"If you think the Hatton Garden break-in was big, this will blow that out of the water," said Detective Superintendent Adrian Green, who led the investigation. "Because of the variations which can be given by auction houses the total value of the items targeted comes to anywhere between £18m and £57m. This illustrates just how massively profitable this trade was."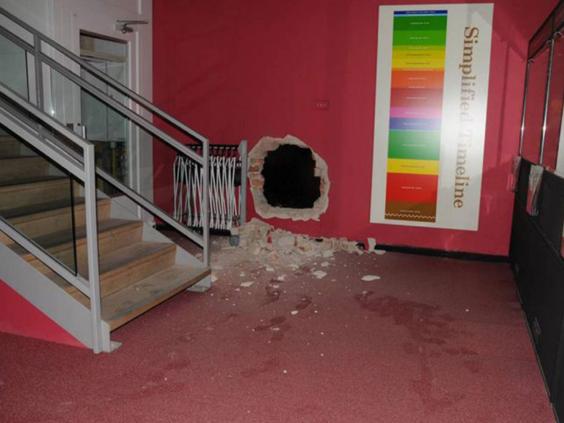 The gang, with strong links to the Irish town in Co Limerick from which it takes its name, has been linked to museum or auction house raids in at least 16 nations across Europe, rhino poaching in Southern Africa, and attempts to smuggle horn from the United States. At least eight of those convicted had links to the town.
Rhino horn can bring a higher profit than gold or cocaine, fuelled by strong demand from countries such as Vietnam and China, where it is prized for its supposed medicinal qualities. It has been known to command prices of around £45,000 a kilo. Investigators estimate nearly 100 rhino horns were stolen in just a few years to 2013.
The gang's senior members – said to be from a small group of families from the nomadic community – escaped detection by remaining in the shadows while paying career criminals and the vulnerable to carry out the raids, and ensuring their silence with at times brutal violence.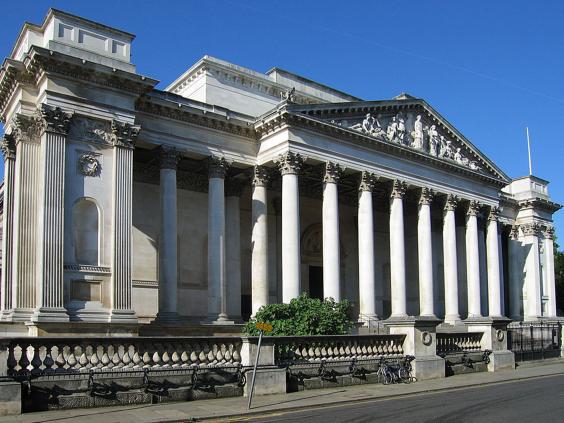 Members of the extended Irish "Kerry" O'Brien family were identified through telephone data during a series of panicked calls after their hired hands "lost" a £16m haul from the Durham Oriental Museum in April 2012. After failing to find the antiquities that they stashed on waste ground on the outskirts of Durham, the gang stole 18 precious items from the Fitzwilliam Museum in Cambridge just over a week later to fulfil an order for a jade bowl for a Far Eastern buyer. Those items, worth up to £40m, have never been recovered.
Dr Noah Charney, the founder of the Association of Research into Crimes against Art, said: "Theft on commission is largely a fictional concept – but it's an exception when dealing with the Far East and China in particular."
Along with the senior leadership, a Hong Kong middle-man, Chi Chong Donald Wong, who garnered orders for Far Eastern customers, and a raft of low-level criminals have also been found guilty after three trials that could not be reported until now for legal reasons. The convictions represent a rare series of victories against the gang, also believed to have been involved in fraud, fake goods, drug smuggling and violence.
With the world's rhino population cut by 90 per cent since the 1970s, the gang focused on dead creatures in museums, which for years had failed to understand the value of their stocks before beefing up security in response to the raids. "They are a bit like banks where people can come in and touch the money," said Supt Green.
Timeline: The Rathkeale Rovers' raids
The Rathkeale Rovers have been linked to major rhino horn and antiquities hauls of the last six years. The following cases are a snapshot of the dozens of raids on auction houses, museums and private collections in more than 16 countries across the continent, and in South  Africa, some of which have been directly linked to the Rovers.
• April 2009, Cape Town, South Africa Two 19th century white rhino horns stolen from Iziko  Museum in Cape Town.
• December 2010, Munster, Germany Rhino horn stolen from zoo.
• April 2011, Coimbra, Portugal Two rhino horns stolen from Museum of Science, days after group of Irishman were given tour. Calls made at the time of the raid were linked to a phone belonging to the wife of a Rathkeale Rover. 
• June 2011, Hamburg, Bamberg and Gifhorn, Germany Horns and a rhino jaw are taken from several targeted German museums. 
• June 2011, Florence, Italy Thieves locked themselves in museum of natural history overnight before escaping with three horns.
• July 2011, Brussels, Belgium Rhino head stolen from natural history museum. 
• July 2011, Czech Republic Hunting trophies are taken from a Czech castle during a nightly tour.
• July 2011, Blois, France  Rhino head stolen from the Museum of Natural History in Blois.
• July 2011, Gothenburg, Sweden Horn stolen from Gothenburg's Museum of Natural History, with thieves sawing it off an exhibit during opening hours.
• December 2011, Paris, France Raiders use stun gun against guards before escaping with horn from the Museum of Hunting and Nature.
• January 2012, Durham The Durham Oriental Museum is targeted by an  Irishman who uses decorators' tools in an apparent  attempt to prise open a  cabinet and steal a Ming Dynasty ceramic sculpture. The glass shatters and he is caught as he tries to  escape.
• February 2012, Norwich Four men walk into Castle Museum and try to carry off a rhino head. It's too heavy, they drop it and they flee empty-handed. The criminal team hired by members of  the Rovers are convicted.
• March, 2012, Lewes The Rathkeale Rovers target Gorringes auction house in Lewes to steal a £60,000 rhino libation cup. Hired criminals from the Custom House gang leap over the counter of a showroom, grab the wrong item, and are  wrestled to the ground outside.
• April 2012, Durham and Cambridge Two raids net the gang up to £31m in Chinese antiquities. In the first raid against the Durham Oriental Museum, the gang escaped with a haul estimated at £2m-£16m but lose it after hiding it on  waste ground at the edge of the city. They hit the Fitzwilliam Museum in Cambridge within eight days to find direct replacement items for Far Eastern buyers.
Reuse content