Top of the Pops put young girls at risk and was effectively a "picking-up" opportunity for predators like Jimmy Savile, a report into the culture of the BBC has found.
In the long-awaited report into the scandal, Dame Janet Smith's review found there was a culture of "reverence and fear" towards celebrities at the corporation and that "an atmosphere of fear still exists today in the BBC".
The report finds that Savile carried out sex attacks on 72 victims in "virtually every one of the BBC premises in which he worked". 
It states that no senior manager at the BBC "ever found out about any specific complaint relating to Savile's inappropriate sexual conduct in connection with his work for the BBC".
However, it says some junior and middle-ranking staff were aware of Savile's "inappropriate sexual behaviour". In total, 117 witnesses who had worked at the BBC had "heard rumours" of Savile's activities.
the report also details criticisms of one of the corporation's flagship programmes fronted by Savile - Top of the Pops.
Dame Janet says in the rpeort: "It seems to me obvious that those girls were at real risk of moral danger. I cannot think that it was acceptable for the BBC as a public service broadcaster to run a programme which effectively provided a 'picking up' opportunity."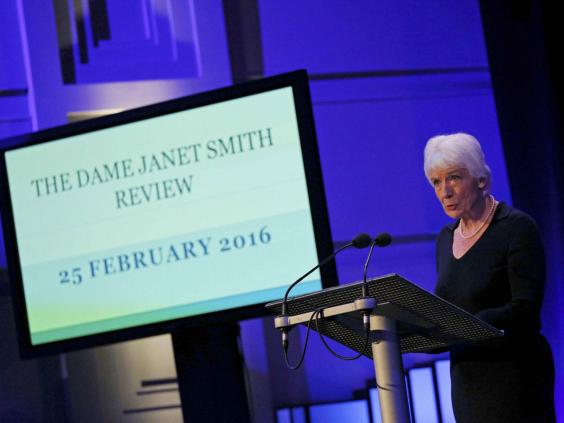 One of Savile's victims was a 12-year-old girl from Scotland who persuaded her aunt to take her to see the show.
The girl had travelled to London to visit the relative, who agreed to accompany her to the studios in December 1973.
She and a 10-year-old boy ended up being taken to a dressing room to meet Savile, who still had on the Womble costume he had worn to present the show.
The woman, who now lives abroad, told the review that after chatting for around 15 minutes Savile raped the boy before sexually assaulting her.
Afterwards the presenter put an arm round each of them and told them that what had happened was a "secret".
The victim said she remembers walking to the Tube station and telling her aunt they had seen Slade and had had pop and biscuits with Savile.
The report said: "She did not tell anyone what had happened.
"She thought it was her fault and that she might go to hell for what she had done."
Jimmy Savile: Life in pictures
Jimmy Savile: Life in pictures
1/15 July 1964

Jimmy Savile poses next to his Rolls-Royce car

2/15 February 1965

Jimmy Savile stands by a portrait of himself, painted by a friend, while enjoying his regular breakfast of coke and a cigar in the Bloomsbury hotel room which he has made his home

3/15 February 1965

Jimmy Savile with his new Rolls Royce Silver Cloud III Drop Head Coupe and bicycle

4/15 1965

English radio disc jockey, television broadcaster and charity worker Jimmy Savile on his new motorcycle at Brand's Hatch

5/15 December 1969

Jimmy Savile in his motor home

6/15 February 1972

Jimmy Savile holds a newly-printed 'Lucky Jim' poster, outside BBC TV Centre, London

7/15 March 1972

Jimmy Savile with his mother ('the Duchess') at Buckingham Palace, London

8/15 1972

Jimmy Savile arrives in London, on his way to Buckingham Palace where he is to be awarded an OBE

9/15 1972

Jimmy Savile sporting his OBE after his investiture at Buckingham Palace, London

10/15 May 1976

Jimmy Savile with members of the London Fire Brigade at Fire Show

11/15 September 1978

English disc jockeys Kid Jensen (left) and Jimmy Savile (right) present the prize for 'Britain's Top Young DJ' to 21-year-old Graham Thornton, during the final of the 'Sounds Alive with Tea' competition at the Empire Ballroom, Leicester Square, London

12/15 February 1980

Jimmy Savile poses for a photograph with British Prime Minister Margaret Thatcher at an NSPCC (National Society for the Prevention of Cruelty to Children) fundraising presentation

13/15 September 2003

Jimmy Saville during the BUPA Great North Run held in Newcastle

14/15 September 2004

Jimmy Saville meets fans as he passes over the Tyne Bridge during The Bupa Great North Run in Newcastle

15/15 October 2006

Jimmy Saville prepares for The Bupa Great North Run in Newcastle
Savile was a regular visitor to Scotland and owned a cottage in Glencoe which was sold after his death.
The woman came forward after seeing a newspaper advertisement placed by a firm of solicitors, inviting victims of Savile to make contact.
The man who had been in Savile's dressing room with her had instructed the same firm and one testimony supported the other, with Dame Janet Smith saying "I accept their accounts as true".
The review heard evidence that Savile would on occasion bring an entourage of middle-aged men with him to the studios.
Describing the man who escorted the two children to his room, the report said: "If the man with the earring was one of the entourage, it would explain first why a boy of 10 and a girl of 12 were let into the studio.
"Second, if the man with the earring was keeping guard outside the dressing room, the risk which Savile took by behaving as he did with these two children would be much reduced."