When honeymooners Shrien and Anni Dewani were ambushed by car-jackers as they drove through a dangerous South African township, it appeared to be a random attack.
But police soon developed a different theory centring on her husband, who had escaped unharmed.
This is the timeline of the case:
2010
November 13 - Shrien and Anni Dewani's cab is hijacked as their chauffeur Zola Tongo drives them through the rough township of Gugulethu on the outskirts of Cape Town on their honeymoon. Dewani escapes but his wife, 28, is driven off and killed.
November 14 - Anni's body is found the next morning in the back of the abandoned vehicle. A subsequent post-mortem examination finds she was shot in the neck.
November 16 - Dewani leaves South Africa. Xolile Mngeni, from the township of Khayelitsha, is arrested by Western Cape Police.
November 17 - Mngeni is charged with the hijacking and murder.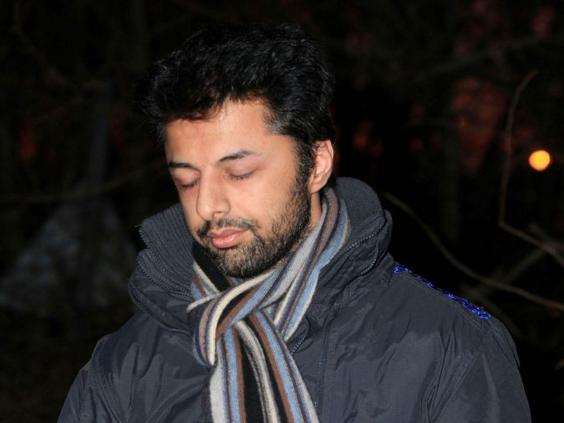 November 18 - Police arrest a second suspect, Mziwamadoda Qwabe, also from Khayelitsha.
November 20 - Police arrest a third suspect, the couple's taxi driver Tongo, from Cape Town.
November 23 - Dewani rejects speculation that he was somehow involved in the car-jacking, telling The Sun: "People who suggest this could not have seen us together."
December 7 - Tongo is jailed for 18 years after making a plea agreement with prosecutors. The taxi driver claims Dewani offered him 15,000 rand (less than £1,000 at the time) to have his wife killed - something strongly denied by the British businessman's family. Dewani is arrested in Bristol under a South African warrant on suspicion of conspiring to murder his wife.
December 8 - Dewani, originally from Westbury-on-Trym, near Bristol, appears at City of Westminster Magistrates' Court in London and is remanded in custody as the South African authorities fight to extradite him.
2011
March 3 - Dewani, who is said to be suffering from severe post-traumatic stress disorder, is sent to the Priory Hospital in Bristol.
April 20 - Dewani is compulsorily detained under the Mental Health Act at Fromeside Clinic, a secure hospital in Bristol.
May 3-5 - Dewani's extradition hearing begins at Belmarsh Magistrates' Court in London. Prosecutors cite an unnamed witness who claims Dewani confessed he needed to "find a way out of" his marriage months before the wedding.
August 10 - District Judge Howard Riddle rules that Dewani can be extradited to South Africa to stand trial.
September 20 - Wynberg Regional Court in South Africa hears claims that Dewani approached an airport shuttle service operator and sought a hitman to murder his wife almost immediately after the couple arrived at a five-star hotel in Cape Town.
September 28 - Home Secretary Theresa May signs an order for Dewani to be extradited to South Africa.
September 30 - Dewani lodges a High Court appeal against Mrs May's decision.
Honeymoon crime: Shrien and Anni Dewani
Honeymoon crime: Shrien and Anni Dewani
1/8 Honeymoon crime

Shrien Dewani and wife Anni on their wedding day

PA

2/8 Honeymoon crime

The couple pictured together

3/8 Honeymoon crime

Mrs Dewani is believed to have been shot three times

4/8 Honeymoon crime

Xolile Mngeni was sentenced to life after being convicted for the murder of Mrs Dewani in November 2012

Rex

5/8 Honeymoon crime

Mngeni, convicted of killing Anni Dewani, had a brain tumour and died in prison in October

Getty Images

6/8 Honeymoon crime

Mr Dewani, who has consistently maintained his innocence, broke down in tears as graphic footage and images of his wife's dead body were shown in a South African court

7/8 Honeymoon crime

Vinod Hindocha, left, the father of murdered Mrs Dewani, has said he was not aware of his son-in-law's sexuality prior to his daughter's marriage to the British businessman

AFP

8/8 Honeymoon crime

Here, Mr Hindocha, breaks down at a news conference on the eve of the murder trial's start

AP
2012
February 10 - The Western Cape High Court in South Africa hears that Dewani is to be added as the fourth accused when the murder trial eventually gets under way.
March 30 - The High Court temporarily halts Dewani's extradition, ruling that it would be "unjust and oppressive" to order his removal. But the court said it was plainly in the interests of justice that he should be extradited "as soon as he is fit" to be tried.
August 8 - South Africa's National Prosecuting Authority announces that Qwabe has pleaded guilty to murdering Mrs Dewani along with charges of kidnapping, robbery and the illegal possession of a firearm. He is jailed for 25 years. In a statement as part of his plea deal, Qwabe said that after he and Mngeni staged the fake hijacking, he drove the car as Mngeni kept a pistol pointed at Mrs Dewani in the back seat before shooting her.
November 19 - Mngeni is found guilty of premeditated murder at the Western Cape High Court. He is also convicted of robbery with aggravating circumstances and illegal possession of a firearm and ammunition. But he is acquitted of Mrs Dewani's kidnapping.
December 3 - Dewani is allowed to switch from Fromeside to Blaise View mental health hospital in Bristol, described as a more "open, relaxed and calm environment", after a court hears he is a "husk" of his former self and "adapted poorly" to treatment.
December 5 - Mngeni is jailed for life for shooting Mrs Dewani.
2013
February 13 - Dewani is admitted to hospital suffering chest pains, his family say.
April 11 - Dewani's mental health is said to have improved "significantly," a court hears.
May 15 - His QC Clare Montgomery tells another court update that his mental health has deteriorated.
July 1 - The full extradition hearing begins at Westminster Magistrates' Court.
July 24 - Chief Magistrate Howard Riddle rules Dewani should be extradited to South Africa. Lawyers acting for Dewani immediately announce their intention to appeal.
September 13 - Mrs Dewani's uncle, Ashok Hindocha, accuses BBC Panorama filmakers of interfering in the South African justice system ahead of a programme raising questions about the case against her alleged killer.
September 19 - The documentary, suggesting Dewani could be innocent, is transmitted despite outrage from his former bride's family.
October 22 - Dewani's extradition is delayed as a panel of High Court judges decides the murder suspect can have a further hearing as there are outstanding legal issues the court must decide.
2014
January 31 - Dewani, compulsorily detained in hospital under the Mental Health Act, loses his latest High Court bid to block his extradition after assurances about the suspect's treatment by South African authorities.
February 21 - The Judicial Office confirms Dewani is applying to the High Court to try to get his extradition case heard by the Supreme Court, the highest in the land, in an effort to delay her removal from the UK.
March 3 - Three High Court judges reject Dewani's current grounds of appeal, further paving the way for his extradition.
March 23 - South African officials confirm Dewani will be extradicted on April 7.
April 7 - Hours before Dewani's departure, Anni Dewani's brother tells of the family's anguish in their quest for answers. Anish Hindocha tells ITV: "We are just focusing on this case at the moment and it is hard to even start making the grieving process final yet because there are so many questions we need answers to."
April 8 - Dewani arrives in Cape Town at around 8.15am ahead of a court hearing, having flown out of Bristol Airport the previous night. He is later sent to a psychiatric unit. His family say in a statement: "Shrien remains committed to proving his innocence in a court of law and uncovering the truth behind his wife's murder."
May 12 - Staff at the Valkenberg Hospital in Cape Town where Dewani is being treated say the murder suspect's condition has improved. He will remain at the unit for further treatment, they confirm.
June 20 - Dewani's defence counsel Francois van Zyl tells Western Cape High Court his client will be "fit to plead" at the start of his trial on October 6, if he is found fit by a mental health panel.
September 9 - Defence lawyers ask for the phone bills and prison records relating to two men already jailed in connection with the killing to be made available to them. It is not, Mr van Zyl says, a "fishing expedition".
October 5 - On the eve of the trial, Anni Dewani's family say they are looking for "closure" before they can finally mourn.
October 6 - The murder trial opens, with Dewani's witness statement confirming allegations he is bisexual. It states the defendant used gay prostitutes and could be controlling and intense - but it denies Dewani was involved in killing his wife.
October 7 - The trial adjourns for a day, though the previous day's evidence makes the front page in several South African newspapers.
October 8 - Prosecution witness Qwabe, one of the men already jailed for Anni's murder, comes face to face with her family for the first time as he says: "There was a husband who wanted his wife to be killed." A list of admissions released by the court also shows Dewani surfed gay porn and fetish websites on his honeymoon and within 48 hours of his wife's death.
October 9 - Hotel porter Monde Mbolombo, a fixer given immunity by investigators, knew all about the plot to kill Anni, Qwabe says. The court is adjourned at lunchtime for the rest of the week after both Qwabe and Dewani complain of stomach cramps.
October 13: Qwabe denies defence allegations that he pulled the trigger on Mrs Dewani, and not his accomplice Mngeni.
October 14 - Judge Jeannette Traverso rules evidence about Dewani's sexuality to be inadmissible. Prosecutor Adrian Mopp said the content of emails showed Dewani was "conflicted" about whether to get married or not.
October 18 - Lifer Mngeni dies in the hospital wing of Cape Town prison, officials confirm. He had recently undergone surgery on a brain tumour.
October 20 - Sneha Mashru, Anni's cousin and confidante, says the new bride privately wanted to divorce Dewani. She tells the court: "After the wedding, when they came back from India, Anni and I were talking about a divorce because she felt like she could not live with Shrien,"
October 21 - Defence counsel Mr van Zyl says medical notes show Anni was trying to conceive in the days before her death.
October 27 - Evidence by German prostitute Leipold Leisser is cut shot by the judge who rules it irrelevant. The witness, 43, had said Dewani confided in him about the Dewanis' relationship. Prosecutor Adrian Mopp says that Dewani had disclosed to Mr Leisser that he was about to be engaged to Anni, and could not find a way out without being disowned by his family.
October 29 - Taxi driver Tongo, convicted of Anni's murder, admits he made mistakes in relaying to police how the new bride was murdered.
November 3 - Tongo says he agreed a fee with Dewani to help murder Anni, but but admits he did not ask Dewani when he would be paid.
November 6 - Mbolombo, a hotel receptionist granted immunity for his part in the murder, is told he may yet face prosecution by judge Traverso.
November 7 - Giving evidence the following day, Mbolombo admits inconsistencies in his tesitmonies over the course of the last four years.
November 10 - Mbolombo says Dewani "knows everything" about the plot to kill Anni. He tells the court: "I also want to state it here that Mr Dewani is lying. He knows everything from the beginning to the end."
November 17 - At the conclusion of the state case, defence counsel Mr van Zyl says they will make an application to the judge return a not-guilty verdict if she feels there is insufficient evidence to convict.
November 24 - Judge Traverso begins hearing the arguments for and against throwing the case out. She eventually decides to adjourn until December 8 in order to make up her mind on whether the case should progress.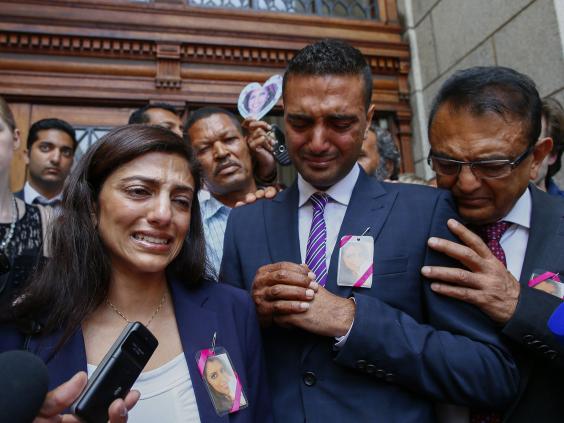 December 1- In an interview with Mail Online, Anni's parents say they are prepared to sue their accused son-in-law for not disclosing his bisexuality before marrying their daughter.
December 3 - Anni's brother, Anish Hindocha, calls a press conference on behalf of his family at which he begs Dewani to "tell the world what happened the night she died".
December 8 - Judge Traverso criticises the prosecution case and orders Dewani be found not guilty.
Reuse content