Two people are now believed to be missing after an explosion at a fireworks warehouse in Stafford.
A 53-year-old man has been arrested in connection with the blaze that started at SP Fireworks on Thursday evening, Staffordshire Police said.
A specialist team was searching the premises this morning as police worked to trace people who were at the factory shortly before the explosion.
One person was initially believed to be missing but police have now said two people remain unaccounted for.
"Police are unable to give any further details about those involved at this point, whilst the investigation progresses," a spokesperson said.
"The family members of those unaccounted for are being fully supported by family liaison officers."
Dramatic footage showed thick plumes of smoke and bursts of fireworks exploding in all directions from the warehouse.
Witnesses to the blaze described "sky-high" flames and ash raining down.
Christina Harrison told BBC News: "My friend said 'Oh, something has fallen on my head'. It turned out to be ash falling on us.
"As we got closer the smoke got worse and worse. You could just hear explosions and fireworks going off."
Brian Little, a nearby resident, told Sky News: "It was horrendous…the flames were sky-high."
At the height of the blaze, which broke out at 5.15pm and took three hours to bring under control, there were 50 firefighters, eight engines and four specialist appliances at the scene, the fire service said.
Tim Hyde, the manager, of Staffordshire Fire and Rescue Service told ITV News that his team's priority was accessing and searching an area of the premises for missing people.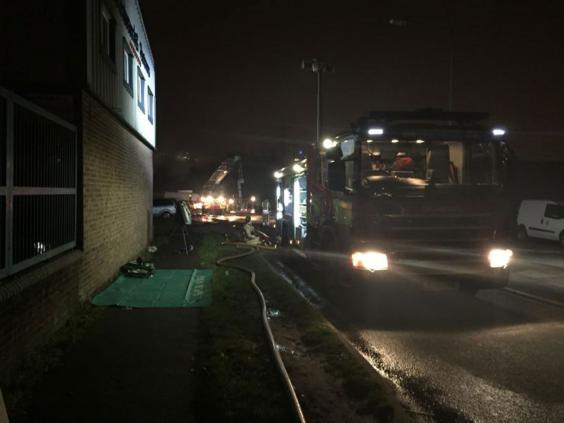 He said: "There is a small area where if somebody is there and they have just fallen over and been knocked out, they would be able to survive.
"We are making access into that right now and we are going to search the area to confirm they are not in there.
"If they are there, we will rescue them and our ambulance colleagues will treat them immediately."
Asked if the outcome looked good for a missing person trapped in that location, he said: "At this stage, no I'm afraid it doesn't."
Superintendent Ian Coxhead, from Staffordshire Police, said: "We have a great deal of sensitive and challenging work to complete in order to allow us to establish the cause of the explosion and following fire.
"We understand the unit was storing a significant volume of fireworks which appear to have been completely destroyed during the blaze last night.
"This makes the ongoing examination of the scene particularly challenging and we expect to be at the scene for some time."
Two people were taken to hospital after being injured in the blaze. One person is in a condition described as "poorly" by police, while the second is stable following treatment.
The cause of the blaze has not yet been confirmed.
Additional reporting by PA
Reuse content