A rooftop protest by a convicted killer has sparked claims that conditions inside Manchester's Strangeways prison are at "boiling point" – 25 years after the jail erupted in a bloody riot.
Stuart Horner, 35, who was jailed in 2012 for shooting dead his uncle with a sawn-off shotgun, vowed to continue his protest for "40 days and nights" after scaling the roof on Sunday afternoon.
In scenes that echoed the riot of April 1990, Horner stripped to his underwear, was seen teetering along the apex of one of the prison's wings, smashing windows and tearing away pieces of metal.
On the second day of the protest, Horner was heard to shout: "Tell my mam, I'm all right." Other prisoners rattled their cell windows and one shouted: "They are treating us like animals." Now union officials representing prison officers have warned that conditions inside the Category A prison are at risk of boiling over due to what they describe as a staffing crisis. They say six members of staff and 23 prisoners have been assaulted in the past five weeks and there have been 19 incidents of self-harm.
Watch the convicted killer's protest below:
Glyn Travis, of the Prison Officers Association, told The Independent: "Manchester is a cause for the most concern within the high-security estate. It's at boiling point.
"When the riot started there in 1990, it spread to other prisons. There is a real possibility that protests like this will be copied elsewhere. Budget cuts and staffing cuts in our prisons cannot continue."
Strangeways, Manchester, this afternoon. Prisoner protesting on the roof. https://t.co/4EyEzBuhcT

— Dean Kirby (@deankirby_) September 14, 2015
The Strangeways riot in 1990 lasted 25 days, the longest in British penal history. One prisoner was killed, a prison officer died from a heart attack and almost 200 other people were injured in a protest against a regime that included "slopping out" – emptying buckets used as latrines. The jail was refurbished at a cost of £90m.
A resulting report by Lord Woolf concluded that conditions inside had been "intolerable" and recommended major reform of the prison system. Lord Woolf warned earlier this year that inmates were again being kept in "conditions that we should no longer tolerate". One woman whose son is an inmate at Strangeways told The Independent: "I'm not surprised it has come to this. Conditions in there are appalling. My son has been in several prisons and he says this is the worst. I know they are there to be punished, but they are treated like animals. It's dirty, disgusting and overcrowded."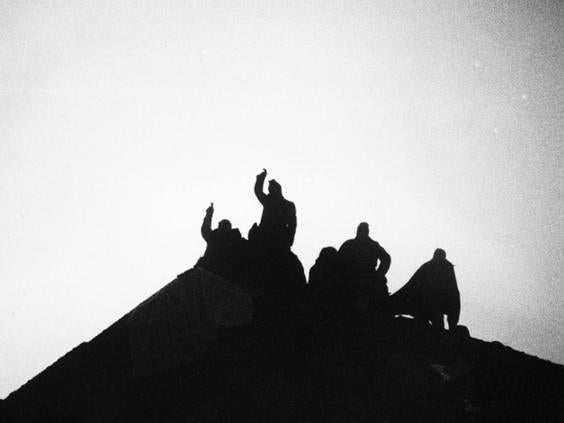 Ministry of Justice figures show that 1,098 prisoners were being held at HMP Manchester at the end of August – 133 more than it was built to hold. Inspectors who carried out an unannounced visit last October found it to be "one of the best inner-city  prisons". But they also said the number of self-inflicted deaths remained high.
A report from the Howard League for Penal Reform last October said the number of officers in public sector prisons in England and Wales had been cut by 41 per cent in less than four years, from more than 24,000 at the end of August 2010 to 14,170.
A Prison Service spokesman said that staff were negotiating with Horner to "safely resolve the situation".