Police have launched an international investigation after 35 stowaways were discovered yesterday "screaming and banging" inside a shipping container on a ship at Tilbury docks in Essex, where one man died.
Dozens more, suffering from severe dehydration and hypothermia, were taken to hospital after the 35 men, women and children were found on the ship, which had recently arrived from Belgium.
Following the man's death, Essex Police announced they were treating the incident as a homicide, and were liaising with the UK Border Agency and with law enforcement agencies in Belgium.
It is understood the stowaways, who are believed to originate from Afghanistan, were put inside the container nine days ago. According to a UK port security source, police have information that a second container with 12 people inside is still to be found.
Port officials made the discovery early yesterday morning after "screaming and banging" was heard from inside a container on a P&O vessel that had arrived at Tilbury docks on Friday night from the port of Zeebrugge. Police, as well as seven ambulances and two rapid-response vehicles, with paramedics, quickly arrived on the scene and declared it a "major incident", as officials from the UK Border Agency broke into the container.
The 35 "adults and children of both genders" found inside were taken to hospitals in Basildon and Southend in Essex, and to the Royal London Hospital in Whitechapel, east London. Two of the survivors were said to be in a "serious but not life-threatening" condition. Eleven adults and seven children were later described as "medically fit enough" to be released, a hospital spokeswoman said.
Daniel Gore of East of England Ambulance Service said the fatality occurred soon after medics had arrived at the Tilbury docks. Staff became aware of "screaming and banging", he said. "As a result, staff were alerted and immediately breached the container. The first crew arrived. The container was being opened. It was a very difficult scene. The gentleman was obviously very, very ill. We declared it a major incident very quickly."
To guard against infectious and contagious diseases, including Ebola, decontamination zones were quickly set up around the docks, which handle two million containers each year. Police were also on guard outside Basildon hospital.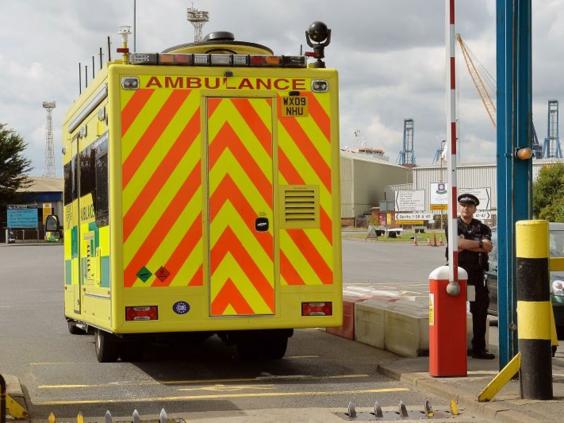 Superintendent Trevor Roe from Essex Police said other containers on the freighter Norstream were being searched to make sure there were no other people inside. The Norstream left the port of Zeebrugge in Belgium at 10pm on Friday and arrived at Tilbury at 6am on Saturday after an eight-hour crossing. The containers the stowaways were found inside are 40ft long, 8ft wide and have 8ft headroom. No containers are airtight, but the air supply is restricted.
"This is a humanitarian issue, and the welfare of these patients is a priority," he said. It is not known where the container, one of 64 aboard the P&O vessel, originated.
At a press conference, Supt Roe was asked if it would be difficult to track down the people behind the incident "who are likely in a country very far away".
He replied: "It will be a difficult investigation. We will try to find whoever was involved in this conspiracy to bring these people to this country. We want to bring these people to justice."
Officials are standing by to interview the stowaways at a reception centre after they are released from hospital. Police said that there were "language issues", and that interpreters would be brought in.
Belgian police say they believe the lorry which delivered the container to Zeebrugge has been identified through CCTV footage. They do not, however, have information yet about where it originated.
The South Basildon and East Thurrock MP Stephen Metcalfe described the incident as "tragic". He told the BBC: "The fact that so many people appear to have travelled so far and are so desperate to get into the UK – either on their own or being trafficked – is very sad." The Tory MP said it was important "to get to the root causes of what is motivating people to go to such extreme lengths to get into the UK", and to tackle people-trafficking.
According to the website MarineTraffic.com, the 20,000-ton, 180m Norstream was built in 1999 and is registered in The Netherlands. Yves Le Clef, the harbour master at the Port of Zeebrugge, said he had no information about the incident.
According to the UK Border Agency, the number of "clandestine illegal entry attempts" by people to enter the UK via ports in Belgium and France increased last year to 18,000 from about 11,000 in the previous 12 months.
Reuse content