Dumbledore, the seal who unexpectedly appeared in the middle of a field miles from the coast, has died.
The young male grey seal, whose appearance in a field in Merseyside more than 20 miles from the coast has never been explained, had been cared for by the RSPCA.
After he was rescued from the field, Dumbledore – as he was affectionately named – suffered from severe pneumonia, leaving him with no appetite.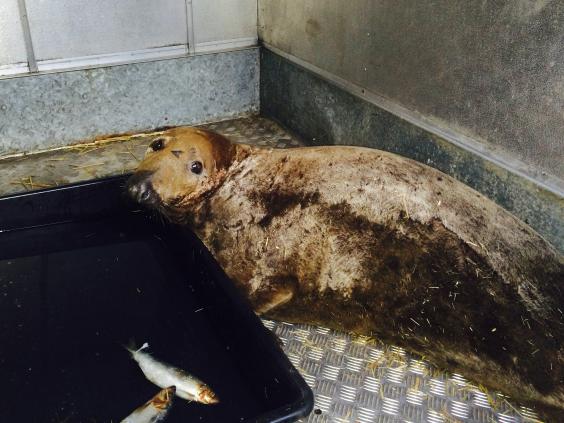 Staff named the creature after headmaster Albus Dumbledore in JK Rowlings' Harry Potter series. Shortly after his rescue, the manager of RSPCA East Winch Alison Charles said: "The big lad is now called Dumbeldore."
Despite the care of staff, the seal did not respond to antibiotics, and although x-rays revealed no trauma from injuries, his health continued to decline and he died on Saturday night, just 26 days after he was retrieved from the field.
An RSPCA spokesperson told The Independent that "despite all the highly-skilled care and attention" from staff at RSPCA's specialist seal facility in East Winch, Norfolk, the young seal "remained listless with no appetite."
"After 26 days in care and despite receiving highly skilled care his health was deteriorating fast and he died on Saturday night," they continued.
The spokesperson added: "The RSPCA is extremely proud of all its staff that worked so hard to care for Dumbledore and tried to help him on the road to recovery. Sadly wildlife rehabilitation is particularly challenging and, of all the species the wildlife centres take in, seals are one of the more difficult to rehabilitate."
Reuse content