Part of a road in central London is still closed due to an electrical fire burning underneath the pavement.
Around 5,000 people had to be evacuated from nearby buildings after smoke was seen pouring out of an inspection cover on Kingsway, Holborn, on 1 April at around 12.30pm.
London Fire Brigade tweeted to inform commuters that part of the Kingsway was still cordoned off while firefighters tried to keep the fire contained.
Part of #Kingsway is still cordoned off following the #HolbornFire. More information here http://t.co/tSJuIIExsP pic.twitter.com/YCQNCmJHS6

— London Fire Brigade (@LondonFire) April 2, 2015
A TfL spokesperson said: ''Due to the ongoing fire at Holborn local road closures are in place and customers are advised to check our real time travel feeds on Twitter and to check the TfL website for the latest travel information."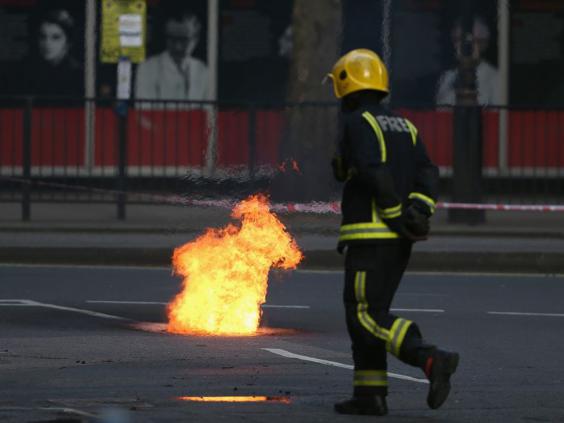 Onlookers described "crazy scenes" and "madness" as smoke rose so high in the air that it could be seen from the Shard skyscraper.
Massive fire in #HolbornFire taken out the whole block! pic.twitter.com/LGQ3uJFEKd

— Robert M Nielsen (@RobertMNielsen) April 1, 2015
London blackout - the view from Waterloo bridge. Large chunks totally in the dark! pic.twitter.com/AhPkGOeCp6

— Ziad Al-Hasso (@Blueskizid) April 1, 2015
London Fire Brigade (LFB) said the fire has been contained but has been "technically difficult" to tackle.
Commuters have been tweeting about the disruption to travel this morning, while others are at work or at home without electricity.
Bus got almost to Waterloo before gridlock. Hoping I'm imagining that I can smell #HolbornFire from here pic.twitter.com/8S7Tg3VUeT

— sumit paul-choudhury (@sumit) April 2, 2015
Not a fun commute around Holborn today. Everything is closed, rediverted or delayed. Upside: may be a record stepcount day.

— Marguerite Kenner (@LegalValkyrie) April 2, 2015
No internet again today since the Holborn fire started. This is how I shall be spending my morning… https://t.co/L5x3IDxJgd

— Jen (@twopinkpeonies) April 2, 2015
Holborn smells pretty smoky this morning

— Natasha jaswal (@natashajaswal) April 2, 2015
Still issues at #holborn and the @sainsburys is shut. Gutted no cheese twist this morning pic.twitter.com/ZKj5VYagTA

— Martin Roche (@Essex_Wiganer) April 2, 2015
Somerset House was still closed at 9.30am on 2 April, and Benedict Cumberbatch's appearance at Letters Live at the Freemasons' Hall was among the events called off on the evening on 1 April after the fire caused several power outages.
Taken from Waterloo Bridge - all dark in Covent Garden #holbornfire pic.twitter.com/ke07Dr9iUG

— Camilla St Aubyn (@BagsOfMill) April 2, 2015
Performances of West End shows including Mamma Mia at the Novello,The Lion King at the Lyceum, Beautiful at the Aldwych,Play That Goes Wrong at the Duchess, Charlie and the Choloate Factory at Drury Lane, Woman in Black at the Fortune, and Gypsy at the Savoy were cancelled according to London Theatre Direct.
UK Power Networks told the BBC around 1,000 customers were currently affected by the power cuts and they had restored power to 2,000.
Apologising to customers Matt Rudling, from UK Power Networks, said: "The gas is still burning under there and until we can gain access to that particular area we won't understand what's caused it and what we can do."
Reuse content