One in every three people born this year in the UK will eventually develop dementia, according to stark new research revealing the scale of what has been described as the country's "greatest medical challenge".
The report, commissioned by Alzheimer's Research UK, estimates 32% of people born in the UK in 2015 will suffer from the debilitating mental illness at some stage in their lives.
Carried out by researchers at the independent Office of Health Economics (OHE), it sparked warning of "a looming national health crisis" from campaigners, warning health services would struggle to deal with the increasing patient burden.
Dr Matthew Norton, head of policy at Alzheimer's Research UK, told the Independent: "The dementia related health services are creaking as it is, and we already have a crisis in social care. As rates increase it is only going to exert more pressure on an already troubled system."
Six ways to help reduce the risk of dementia
Six ways to help reduce the risk of dementia
1/6 Moderate, regular exercise

Last year, a study found that walking briskly for 30 to 40 minutes a day, three times a week, was all it took to "re-grow" structures of the brain linked with cognitive decline in later life. Researchers have also said statins, designed to help those with heart conditions, may play an additional role in protecting the brain from dementia.

Getty Images

2/6 Quit smoking

A review of studies relating smoking and dementia found that (when you remove studies funded by the tobacco industry) smokers have a significantly greater risk of dementia.

Getty

3/6 Protect your head

A variety of observational studies have shown that professional boxers and war veterans are at greater risk of dementia due to repeated concussion and traumatic head injuries.

Rex

4/6 Puzzles and crosswords

In 2010, studies suggested people who do puzzles and crosswords may stave off dementia for longer. However, the same study also found they may experience a more rapid decline once the disease sets in. Crosswords and Puzzles from The Independent can be solved here

Getty Images

5/6 A healthy lifestyle

Dr Laura Phillips of Alzheimer's Research UK says a healthy lifestyle is best for preventing dementia: "Eating a balanced, healthy diet, exercising regularly, not smoking, and keeping blood pressure and weight in check."

Getty

6/6 A Mediterranean diet

Research has suggested that a Mediterranean diet – rich in fish, fresh fruit and vegetables, whole grains, nuts and seeds – may reduce the risks of dementia.  However NHS Choices has rpeviously warned some of the media coverage of this diet may overstate its benefits.

Rex
There are currently 850,000 people with dementia in the UK, with numbers projected to rise to over one million by 2025, and double again to two million by 2051.
The latest findings – which uses mathematical formulae to combine life expectancy estimates with projections for the frequency of dementia at different ages – underscore the scale of the potential future crisis caused by an aging population.
The report, which was released to coincide with World Alzheimer's Day, said 37% of women and 27% of men born this year would eventually experience some form of dementia.
The eventual number could be even higher, as the report said its estimates are "potentially conservative" as they do not account for dementia cases which begin below the age of 60. 
Dr Norton added that "the only way to make a big difference to numbers" was to substantially increase the funding for dementia research, with cancer research currently attracting millions more in funding.
Previous research from Alzheimer's Research UK estimated that a treatment capable of delaying the onset of dementia by five years would reduce the number of dementia cases by a third.
There is currently no cure and only a handful of drugs available to treat the symptoms of Alzheimer's, with many patients reliant on unpaid family carers or long-term hospital admissions.
But in 2012/13, the UK spent £73.8 million on dementia research opposed to £502.8 million on cancer research, leaving dementia research "desperately underfunded" according to the Alzhiemer's Society.
"Dementia is our greatest medical challenge and if we are to beat it, we must invest in research to find new treatments and preventions," Dr Norton said.
Dementia, which currently affects one in six people over the age of 80, is caused by brain diseases, most commonly Alzheimer's, which result in the loss of brain cells and impair the brain's ability to function properly.
Cathy Davidson, diagnosed at 57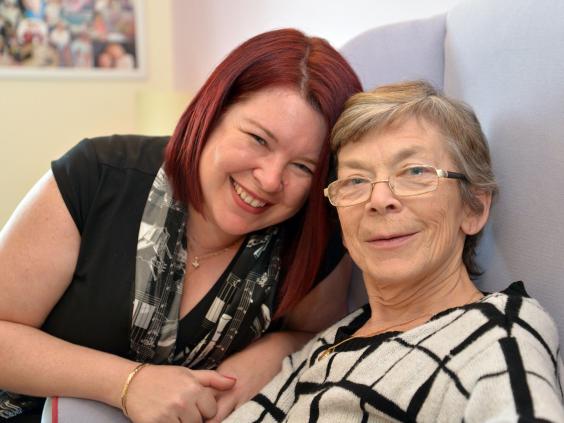 Amanda Franks, from Swindon, is a campaigner for Alzheimer's Research UK. Her mother Cathy Davidson was diagnosed with early-onset Alzheimer's six years ago.
"My mum was diagnosed at 57 – but she was showing symptoms for a few years before that.
At first we thought she was depressed, and then it became obvious there was something not quite right.
She started struggling with all sorts of things – we used to get sandwiches with meat on the outside, and she used to try and lift the curtains rather than draw them because she had forgotten how they worked.
Nobody with dementia follows the same path, so you don't know how it's going to go. It was harder at the halfway stage, because it used to upset her and she'd tell us 'I'm not stupid you know' when we tried to help her with things.
She went into care two years ago – her condition progressed to hallucinating, she thought things that were happening on the news were happening in the house and she occasionally became violent. It became a round the clock job caring for her for my dad.
I found it very, very hard to see my 60-year old mum in jeans and a jumper wandering around in an elderly people's home. It's hard for people who are hit by dementia so young, because their bodies are still active."
Reuse content