Asda has decided that "unmanned" donation points where customers pledge money or give food to charity will no longer be allowed in its supermarkets.
Charities and customers have reacted with dismay to a review which said all donation points will now need a representative standing with them - in a bid to be "fair and consistent" across its charities on the one hand, and to encourage larger donations through having a person to talk to on the other, the supermarket chain said.
And because this could result in some overcrowding between charities, these volunteers are being advised to come in perhaps "a few times a month" or just a couple of times a year to talk to customers.
One charity said the decision was "very disappointing", while a local councillor has said he hopes the supermarket giant will "reconsider" its decision.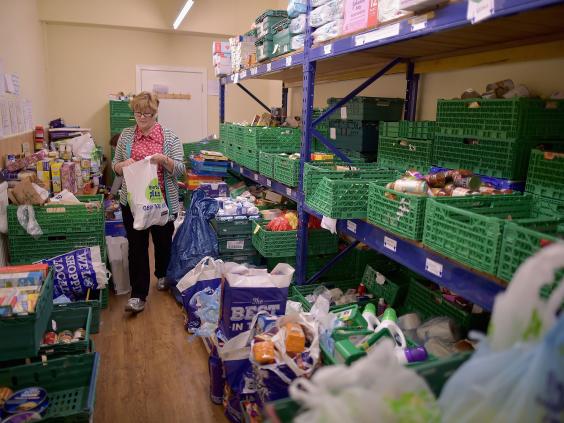 But Asda, which is owned by US retailer Walmart, has said the move is an attempt to make donations more effective and customers better informed about where their money is going.
"This is absolutely not about us stepping away from supporting food banks at all, if anything it's about improving the way we support local causes," said a spokesperson.
They added that "endless amounts of unmanned points" across the supermarket would not be effective.
Yet the decision has been met with disappointment by local people such as Chris Webb, who sits on Manchester City Council.
"I hope Asda reconsider their removal of food bank points in their stores. Food banks help so many in our communities," he tweeted.
Amanda Bloomfield, chief executive of the Gatehouse Food Bank in Suffolk,  told The Independent that food collections a couple of times a year - and finding volunteers who who stand there - was not a better deal for them.
"It's very disappointing for us. By having unmanned collections in the supermarket, it's very convenient for donators to drop stuff off if they want to," she said.
"We do have a drive for donation at high periods like Christmas, but having an unmanned trolley allows us to have a steady amount coming in."
The charity, which receives 15 per cent of its donations from its Asda space, also has an unmanned trolley in Waitrose, said Ms Bloomfield.
But Asda said the new policy allowed it to support community causes "fairly and consistently" and resulted in more effective donations.
"Collections for charities and good causes are very welcome in our stores, we just ask that volunteers are on hand to talk to customers and explain where their donations are going," the store said in a press release.
"We know this personal interaction helps to increase the amount of donations received."
An estimated million people used food banks in the UK in 2015, with use levels still at a record high, according to foodbank charity the Trussell Trust.
Reuse content