The head of one of the UK's most significant business groups has resigned with a parting shot at David Cameron in which he accuses the PM of sanctioning "highly irresponsible" scare stories.
John Longworth quit as director general of the British Chambers of Commerce after being suspended for announcing his support for the UK to leave European Union.
The BCC has officially adopted a neutral position ahead of the EU referendum on 23 June and Mr Longworth accepted his personal views were "likely to create confusion", the group's president Nora Senior said.
She insisted that "no politician or interest group" had any influence on the initial decision of the BCC's board to suspend Mr Longworth and there were "no external factors" in his decision to quit.
However, speaking to the Telegraph after he quit, Mr Longworth said: "It is highly irresponsible of the government of the country to be peddling hyperbole.
"It is alright for the campaign groups to do it because they are promoting a particular position.
"But the government has to be responsible. And the fact of the matter is that there is a chance that the country will vote to leave.
"If the government keeps peddling the line that it will be a disaster if we leave, which it actually won't be, they are going to put the country in a position where it will be damaged if we do."
Mr Longworth was previously suspended over comments he made suggesting Britain wold have better prospects if it left the EU.
He told the BCC's annual conference on Thursday the UK could have a "brighter economic future" outside the EU.
Members were told Mr Longworth had been temporarily suspended for breaching the groups neutrality.
What has the EU ever done for us?
What has the EU ever done for us?
1/7 1. It gives you freedom to live, work and retire anywhere in Europe

As a member of the EU, UK citizens benefit from freedom of movement across the continent. Considered one of the so-called four pillars of the European Union, this freedom allows all EU citizens to live, work and travel in other member states.

2/7 2. It sustains millions of jobs

A report by the Centre for Economics and Business Research, released in October 2015, suggested 3.1 million British jobs were linked to the UK's exports to the EU.

3/7 3. Your holiday is much easier - and safer

Freedom to travel is one of the most exercised benefits of EU membership, with Britons having made 31 million visits to the EU in 2014 alone. But a lot of the benefits of being an EU citizen are either taken for granted or go unnoticed.

4/7 4. It means you're less likely to get ripped off

Consumer protection is a key benefit of the EU's single market, and ensures members of the British public receive equal consumer rights when shopping anywhere in Europe.

5/7 5. It offers greater protection from terrorists, paedophiles, people traffickers and cyber-crime

Another example of a lesser-known advantage of EU membership is the benefit of cross-country coordination and cooperation in the fight against crime.

6/7 6. Our businesses depend on it

According to 71% of all members of the Confederation of British Influence (CBI), and 67 per cent of small and medium-sized enterprises (SMEs), the EU has had an overall positive impact on their business.

7/7 7. We have greater influence

Robin Niblett, Director of think-tank Chatham House, stated in a report published last year: "For a mid-sized country like the UK, which will never again be economically dominant either globally or regionally, and whose diplomatic and military resources are declining in relative terms, being a major player in a strong regional institution can offer a critical lever for international influence.
Mr Longworth has since said his comments were made in a personal capacity.
Ms Senior said on Sunday: "The British Chambers of Commerce is a non-partisan organisation, and as such, decided not to campaign for either side ahead of the European referendum on June 23 2016. Its neutrality in the referendum debate reflects the real divisions that exist in business communities across the UK.
"John Longworth and the BCC Board recognise that John's personal view on the referendum is likely to create confusion regarding the BCC's neutral stance going forward.
"In light of this, John has taken the decision to step down as director general and his resignation has been accepted by the board with effect from March 6 2016.
"No politician or interest group had any influence on the BCC Board decision to suspend Mr Longworth. His subsequent resignation was agreed mutually between Mr Longworth and the BCC Board, and there were no external factors involved.
"The only views taken into account were those of the BCC Board and the BCC's owners, the UK accredited Chamber Network.
Downing Street has denied putting pressure on the BCC to act following Mr Longworth's comments at the group's annual conference on Thursday.
Number 10 said it was "surprised" by Mr Longworth's views, saying it "regularly" speaks to business organisations. But a spokesman stressed "no pressure" was put on the BCC to suspend Mr Longworth.
His suspension was branded "scandalous" by Brexit-backing London mayor Boris Johnson, who claimed Mr Longworth had become a victim of Project Fear - the label used by Brexit campaigners to criticise the tactics used by David Cameron and his allies backing a Remain vote.
Mr Johnson said: "It is absolutely scandalous that John Longworth has been forced to step aside.
"This is a man who reached the conclusion - after long reflection and a lifetime's experience of business - that it would be better to vote Leave.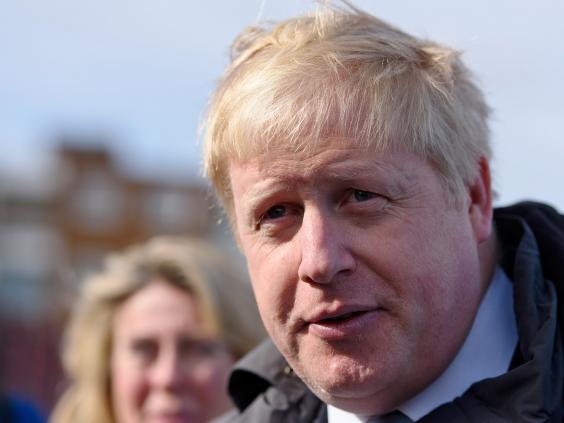 A statement from Ms Senior added: "All representatives of the BCC have the right to personal and political views on the key issues of the day. However, they are not expected to articulate these views while acting in their professional capacity, as their views could be misconstrued as representing the position of the organisation as a whole.
"The BCC will continue to use its position to reflect the varied views of the business communities it serves, articulate their concerns, and seek greater clarity and information from both sides.
"The Board would like to thank John for his significant contribution to the development of the BCC, and wish him well for the future.
"Adam Marshall will be carrying out the director general role on an interim basis until a permanent replacement is appointed."
A recent survey of the BCC found 60 per cent of its members would vote to stay in the EU, with 30 per cent voting to leave and 10 per cent undecided.
Additional reporting by Press Association