A blast of freezing Arctic air will hit Britain over the weekend, sending temperatures plummeting well below what we would usually expect in early January.
The Met Office said weeks of recent mild weather will give way to strong northerly winds over the coming days bringing snow and widespread frosts to areas still recovering from devastating floods.
With severe weather warnings still in place in the Grampian and Central, Tayside and Fife regions, the heavy rain that is already hitting southern England will move northwards and linger over areas where the ground is already saturated.
Speaking to The Independent, Met Office forecaster Emma Boorman said: "By the latter stage of the weekend and the beginning of next week we'll see the wind direction change to more of a northerly and that's going to be pulling in significantly colder air."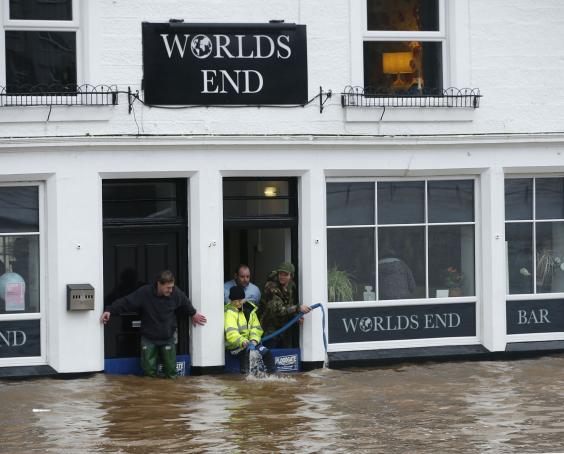 "We'll be looking at widespread frosts overnight and the chance of some snow too. Particularly over higher ground in parts of northern Britain," she added.
"The air will be coming down from the Arctic… that's what brings the colder weather during the winter months," Ms Boorman went on to say.
There will be more rainfall for flood-hit areas in northern England and southern Scotland as a band of rain currently sweeping through southern Britain and the Midlands slows down and intensifies as it reaches the northern border.
UK weather warnings
UK weather warnings
1/7 Winter weather

Two seafront walkers dodge an icy wave at Saltcoats Harbour in Saltcoats, Scotland on December 27, 2013. A yellow 'be aware' warning has been issued for many parts of Scotland as the country is affected by gale force winds and heavy rain

Jeff J Mitchell/Getty Images

2/7 Winter weather

A woman wraps up warm to fight the cold in London in 2013. A mixture of hail, snow, sleet and heavy showers is expected in Scotland and northwest England, the West Midlands and Northern Ireland

Getty

3/7 Winter weather

A motorcyclist tries to right his bike on the slippery road surface in London in 2004. The emergency services are advising motorists to be vigilant

Getty

4/7 Winter weather

A man is bombarded by sleet and hail on the Brighton seafront in 2013. The south of England is however expected to escape the brunt of the incoming bad weather

Getty

5/7 Winter weather

A woman wraps up against the wind and a blizzard of sea foam whipped up by the wind near Trearddur Bay in Anglesey, 2013. This year it is to be areas in south west of Wales that will see more "wintry" weather

Getty Images

6/7 Winter weather

Snow covers trees in the Parade Gardens in Bath last year. Heavy snow may bring widespread disruption to many parts of the UK

7/7 Winter weather

Snow and ice make getting around by vehicle difficult in the Yorkshire Dales in 2012. The tops of the moors will see more "wintry" weather on Monday night

John Giles/PA Wire
"We have one amber warning for parts of north eastern Scotland. That's associated with a band of rain that's moving to the north east today and in fact is already doing so. If you're in London it'll be raining at the moment so it's that rain moving up towards the north east," Ms Boorman said.
"That rain is going to linger in parts of northern Scotland, which is why we have an amber weather warning out, so there's potential there that any further rainfall could  exacerbate the [flooding] situation there," she added.
If the Arctic temperatures and heavy rain aren't enough, there is also the possibility of severe gales rocking parts of northern Britain.
"Today it's going to be windy everywhere and over parts of northern areas they could be gale-force for a time – perhaps even severe gales," Ms Boorman said.
Reuse content