The Brighton Pride parade has been rerouted by police after the discovery of a "suspect package" on the city's seafront.
Bomb disposal experts were sent to the scene and the area has been cordoned off, although police said there was no risk to the public.
A spokesperson for Sussex Police said the unidentified package was blown up by army bomb disposal experts in a controlled explosion after the start of the parade.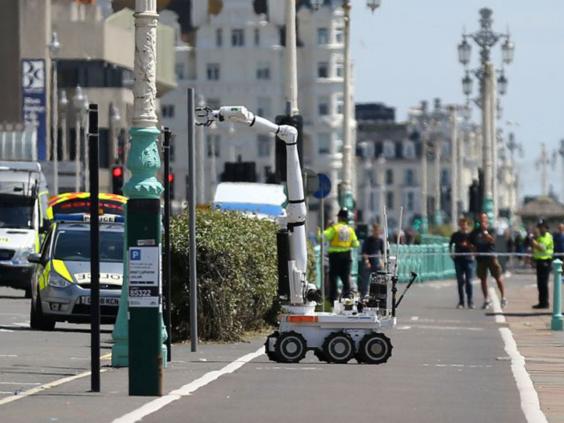 The alarm delayed the beginning of the annual event, which will see thousands of people gather to enjoy the parade and celebrations through Brighton and Hove.
Festivities were diverted down Lansdowne Place and Western Road as a precaution, before joining the original route at the clock tower.
Chief Superintendent Nev Kemp said: "We are working with Pride organisers to resolve the situation as quickly as possible and ensure the safety of those attending Pride celebration as well as those going about their daily business in the city."
The disruption came after organisers of the parade, which attracts around 160,000 performers and spectators every year, planned a new "high-profile" route for this year to begin near the city's peace statue.
"The Pride Community Parade is going back to its Pride roots in an exciting new high profile parade route for 2015," the official website said, while announcing the change.
LGBT rights across the globe
LGBT rights across the globe
1/7 Russia

Russia's antipathy towards homosexuality has been well established following the efforts of human rights campaigners. However, while it is legal to be homosexual, LGBT couples are offered no protections from discrimination. They are also actively discriminated against by a 2013 law criminalising LGBT "propaganda" allowing the arrest of numerous Russian LGBT activists. (Picture: Riot police hold an LGBT activist during a Moscow rall.)

AFP/Getty

2/7 Mauritania

Men who are found having sex with other men face stoning, while lesbians can be imprisoned, under Sharia law. However, the state has not reportedly executed anyone for this 'crime' since 1987. (Picture: Chinguetti Mosque, Mauritania.)

ALAMY

3/7 Saudi Arabia

Homosexuality and transgender is illegal and punishable by the death penalty, imprisonment, corporal punishment, whipping and chemical castration. (Picture: The emblem of Saudi Arabia above the embassy in London.)

Bruno Vincent/Getty Images

4/7 Yemen

The official position within the country is that there are no gays. LGBT inviduals, if discovered by the government, are likely to face intense pressure. Punishments range from flogging to the death penalty. (Picture: Yemen's southern port of Aden.)

Getty

5/7 Nigeria

Both male and female same-sex sexual activity is illegal and in some northern states punishable with death by stoning. This is not a policy enacted across the entire country, although there is a prevalent anti-LGBT agenda pushed by the government. In 2007 a Pew survey established that 97 per cent of the population felt that homosexuality should not be accepted. It is publishable by 14 years in prison. (Picture: The northern Nigerian town of Damasak.)

Reuters

6/7 Somalia

Homosexuality was established as a crime in 1888 and under new Somali Penal Code established in 1973 homosexual sex can be punishable by three years in prison. (Picture: Families use a boat to cross a flooded Shebelle River, in Jowhar.)

Reuters

7/7 Iraq

Although same-sex relationships have been decriminalised, much of the population still suffer from intense discrimination. Additionally, in some of the country over-run by the extremist organisation Isis, LGBT individuals can face death by stoning. (Picture: Purported Isis fighters in Iraq.)

Getty Images
"Starting at Hove Lawns the Pride Community Parade will make its way along King's Road, passing the peace statue where so many past Pride marches began and taking in the best of the city's seafront, ensuring an amazing view for both participants and spectators."
The two-day festival is widely acknowledged as the country's most popular LGBT event.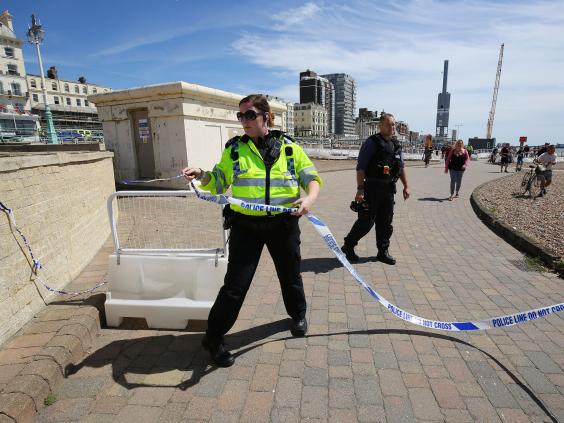 Acts including Fatboy Slim, Ella Henderson and The Human League will be performing and a candlelit sunset event is being held as a "unique celebration of love and life" and to remember friends and loved ones from the LGBT community.
Additional reporting by PA
Reuse content