"I had to join up and fight, what would I reply otherwise when my little boy asks me in the future: 'Daddy, what did you do when our country was invaded by the Russians?' Sometimes your life takes you on an unexpected path."
Amid the noise of gunfire, armoured cars and drones, Bogdan Yankovyy was reflecting on his role as a soldier in Ukraine's airborne forces. Before the war he was a lecturer in comparative Byzantine literature. Now he is being trained by British troops, in preparation for being sent to the east of the country where the conflict against Russian-backed separatists continues and intensifies despite a ceasefire.
The decision by the UK to send the trainers to Ukraine was controversial. Critics accused David Cameron of overreacting to accusations that Britain had been sidelined while German Chancellor Angela Merkel and François Hollande, the French President, brokered a peace deal between the separatists and the Kiev government in Minsk, the capital of Belarus.
Opponents of the training scheme claim that the presence of UK forces would provoke Vladimir Putin and also risked "mission creep" – being sucked into an internecine civil war and even a confrontation with Russian forces.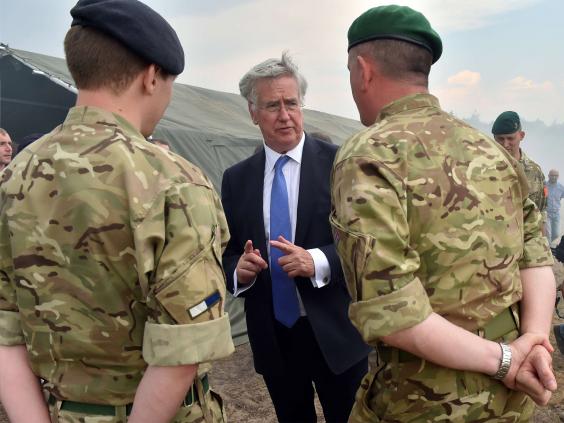 The number of Ukrainians being trained will be doubled to 2,000 by the end of the year, Michael Fallon, the Defence Secretary, announced during a visit to Ukraine this week. The training team, which has already increased from 38 to 75, is likely to be enlarged again after the Kiev government asked for three new programmes to be included.
The British Government rejects that its actions are provocative, pointing out the training is taking place far from the combat zone. There is also insistence that what was being undertaken was "non-lethal" training focusing on frontline medicine, how to counter IEDs (Improvised Explosive Devices), planning, communications and intelligence gathering.
However, it also includes "defending urban environment", and the exercise at the Teterivka base on 11 August witnessed by The Independent involved firefights and the use of armour. "As you can see, it is not completely defensive," Capt Jonathan Felton, of the Royal Marines, said. "But even if it's just defensive you can do a lot with these guys."
Ukraine crisis: A timeline of the conflict
Ukraine crisis: A timeline of the conflict
1/22 30 November 2013

Public support grows for the "Euromaidan" anti-government protesters in Kiev demonstrating against Yanukovych's refusal to sign the EU Association Agreement as images of them injured by police crackdown spread.

EPA

2/22 20 February 2014

Kiev sees its worst day of violence for almost 70 years as at least 88 people are killed in 48 hours, with uniformed snipers shooting at protesters from rooftops.

AFP/Getty Images

3/22 22 February 2014

Yanukovych flees the country after protest leaders and politicians agree to form a new government and hold elections. The imprisoned former Prime Minister, Yulia Tymoshenko, is freed from prison and protesters take control of Presidential administration buildings, including Mr Yanukovych's residence.

Genya Savilov/AFP/Getty Imageses

4/22 27 February 2014

Pro-Russian militias seize government buildings in Crimea and the new Ukrainian government vows to prevent the country breaking up as the Crimean Parliament sets a referendum on secession from Ukraine in May.

Sean Gallup/Getty Images

5/22 16 March 2014

Crimea votes overwhelmingly to secede from Ukraine and join Russia in a ballot condemned by the US and Europe as illegal. Russian troops had moved into the peninsula weeks before after pro-Russian separatists occupied buildings.

EPA

6/22 6 April 2014

Pro-Russian rebels seize government buildings in the eastern cities of Donetsk, Luhansk and Kharkiv, calling for a referendum on independence and claiming independent republic. Ukraine authorities regain control of Kharkiv buildings on 8 April after launching an "anti-terror operation" but the rest remain out of their control.

EPA/PHOTOMIG

7/22 7 June 2014

Petro Poroshenko is sworn in as Ukraine's president, calling on separatists to lay down their arms and end the fighting and later orders the creation of humanitarian corridors, since violated, to allow civilians to flee war zones.

Getty Images

8/22 27 June 2014

The EU signs an association agreement with Ukraine, along with Georgia and Moldova, eight months after protests over the abandonment of the deal sparked the crisis.

LOUISA GOULIAMAKI/AFP/Getty Images

9/22 17 July 2014

Malaysian Airlines flight MH17 is shot down over eastern Ukraine, killing all 298 people on board. Ukrainian intelligence officials claim it was hit by rebels using a Buk surface-to-air launcher in an apparent accident.

10/22 22 August 2014

A Russian aid convoy of more than 100 lorries enters eastern Ukraine and makes drop in rebel-controlled Luhansk without Government permission, sparking allegations of a "direct violation of international law".

Reuters/Alexander Demianchuk

11/22 29 August 2014

Nato releases satellite images appearing to show Russian soldiers, artillery and armoured vehicles engaged in military operations in eastern Ukraine.

Nato

12/22 8 September 2014

Russia warns that it could block flights through its airspace if the EU goes ahead with new sanctions over the ongoing crisis and conflict

EPA

13/22 17 September 2014

Despite the cease-fire and a law passed by the Ukrainian parliament on Tuesday granting greater autonomy to rebel-held parts of the east, civilian casualties continued to rise, adding to the estimated 3,000 people killed

Reuters

14/22 16 November 2014

The fragile ceasefire gives way to an increased wave of military activity as artillery fire continues to rock the eastern Ukraine's pro-Russian rebel bastion of Donetsk

Getty

15/22 26 December 2014

A new round of ceasefire talks, scheduled on neutral ground in the Belariusian capital Minsk, are called off

AFP/Getty

16/22 12 January 2015

Soldiers in Debaltseve were forced to prepare heavy defences around the city; despite a brief respite to the fighting in eastern Ukraine, hostilities in Donetsk resumed at a level not seen since September 2014

AFP/Getty

17/22 21 January 2015

13 people are killed during shelling of bus in the rebel-held city of Donetsk

Reuters

18/22 24 January 2015

Ten people were killed after pro-Russian separatists bombarded the east Ukrainian port city of Mariupol

AP

19/22 2 February 2015

There was a dangerous shift in tempo as rebels bolstered troop numbers against government forces

AFP/Getty

20/22 11 February 2015

European leaders meet in Minsk and agree on a ceasefire in eastern Ukraine beginning on February 14. From left to right: Belarus President Alexander Lukashenko, Russian President Vladimir Putin, German Chancellor Angela Merkel, France's President Francois Hollande and Ukrainian President Petro Poroshenko.

MAXIM MALINOVSKY | AFP | Getty Images

21/22 13 February 2015

Pro-Russian rebels in the city of Gorlivka, in the Donetsk region, fire missiles at Ukrainian forces in Debaltseve. Fighting continued in Debaltseve for a number of days after the Minsk ceasefire began.

ANDREY BORODULIN | AFP | Getty Images

22/22 18 February 2015

Ukrainian soldiers repair the bullet-shattered windshield of their truck as their withdraw from the strategic town of Debaltseve. Following intense shelling from pro-Russian rebels, Ukrainian forces began to leave the town in the early hours of February 18.

Brendan Hoffman | Getty Images
This includes bomb detection and extracting a force under attack. Getting out the wounded has become a major problem for the Ukrainians. The arrival of advanced anti-aircraft missiles from across the Russian borders to the rebels and the regular shooting down of planes and helicopters which followed has meant flights have become rare in the combat zone and evacuations take place by road.
"It could take them up to three days to get the injured to the hospital, that's a very long time; we are teaching them the methods needed to keep people alive in such conditions," Sgt Gaz Bradwell, a medic who served in Afghanistan, said. "In Helmand, we could use flights to get someone into the hospital in Bastion in 45 minutes."
Most of the British trainers have served in Afghanistan or Iraq, but the value of the experience they gained there, often in fierce combat, is not appreciated by all the Ukrainian recruits.
"We don't dwell on it much," Sgt-Major Steven Harrison said. "They definitely see Afghanistan and Iraq, rightly or wrongly, as peacekeeping missions."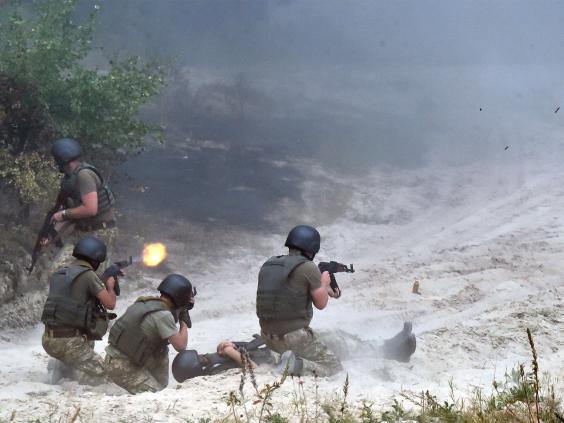 The British acknowledge that some tactics from Afghanistan and Iraq, such as prolonged operations on foot, cannot be undertaken in the Donbas due to the threat of heavy artillery and tanks. "It's a learning experience for us to study how the Russian-backed separatists operate. But to be frank, we don't think we are learning this to fight the Russians next," Capt Felton said.
To counter the Russian tactics, the Ukrainian military wants the West to give them heavy weapons, something not forthcoming for the time being. The issue was raised again during Mr Fallon's visit. When I asked the Deputy Defence Minister, Yuri Gusev, how he felt about the UK's refusal to supply such arms, he responded, "It's a difficult question", before disappearing rapidly.
Inefficiency and corruption in the Ukrainian military is one the reasons for the Western reticence over providing sophisticated weaponry. Following international pressure, an Office of Reform has been set up by the defence ministry in Kiev. Andriy Zagorodnyuk, the head of the programme, recalled: "I had volunteered to take part in the campaign in the east, it was bitterly cold in the winter and we had to burn logs to try and keep warm. We later discovered that there were thousands of heaters left in warehouses. This is inefficiency even at the most basic level. I fully admit that there are huge problems and we have to tackle them."
David Arakhamia, counsel to the ministry, added: "Corruption and vested interest has been endemic since the Communist times and so is the bureaucracy... We are carrying out reforms and we are seeking international, including British, help to do this."
At the Teterivka base, Mr Yankovyy was grateful for British help, but said it is up to Ukrainians to secure the country's future. "That is why we have volunteered. We will have no one to blame but ourselves if we don't make a stand and our country is dismembered." Meanwhile, he was enjoying the chance to hone his English. "But I also need to keep studying ancient Greek; I hope to return to Byzantine literature one day," he said.
Reuse content