When Suzanne and Helen opened the door of the cramped, box-like apartment in Albert Road, I didn't even notice the small, huddled figure on the sofa. It was only when Helen, one of the two people who look after Clare Hollingworth in her Hong Kong home, stood aside that I saw the very elderly lady in a red cardigan with thin hair and jutting jaw and heavy spectacles and realised that I was looking at the reporter who wrote the greatest scoop of the Second World War. 
Yes, in August of 1939, this crouched little woman – 104 years old, sightless now and moving only with the greatest difficulty around her tiny flat – boldly crossed the Polish-German frontier in a British diplomat's car and saw General Gerd von Rundstedt's Wehrmacht tanks, in their thousands, lined up to invade Poland.
There are some interviews that a journalist remembers – those that betray a politician's cruelty, a soldier's brutality, the courage of a doctor under fire, the kindness and dignity of a man or woman who have lost their family – but in this little home on the far side of the world, I was lost. How do you talk to a colleague who has been deprived of much of her memory, whose moments of extraordinary vision and bravery return only in occasional seconds of clarity and then bleakly disappear? Did she think, when she reported the German invasion of Poland, that the Nazis would win the war, I asked her? "No, I thought they'd lose the war," she answers emphatically. "Because they didn't care about people." As good a description of all fascist dictatorships, I suppose.
But then she confuses her father with a family doctor called Anderson – "a handsome man" – and announces that she wrote her last report only the day before we meet – I know the feeling well! – and makes it clear that she still thinks she is a working correspondent. "I've been lucky so far," she says. "I work hard." Yes, maybe luck is what it is all about, surviving as a correspondent. And Clare Hollingworth has been very, very lucky. She reported from Poland, Germany, Algeria, Beirut, India, Israel and China. "I enjoy action," she once told a radio interviewer. "I enjoy being in a plane when they're bombing something." 
But her greatest scoop remains her first. She borrowed the British consul's car, a Union flag fluttering on the bonnet, to drive over the still – just – peaceful frontier from Poland into Germany in August 1939, bought some batteries and wine at a local shop and, driving back, noticed that the wind lifted some vast hessian sacks in a valley below her – and revealed hundreds of Wehrmacht tanks lined up in battle order.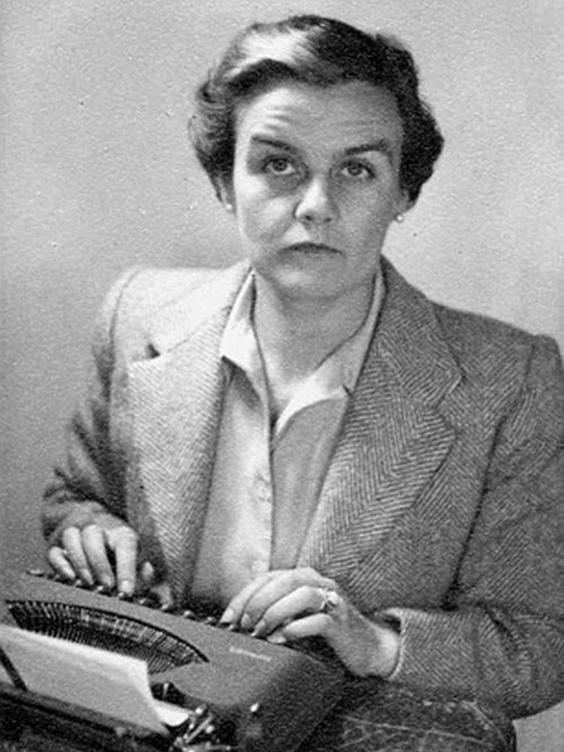 "The frontier is still closed to local traffic," she wrote. "Everywhere I saw signs of the most intense military activity. In the two miles between Hindenburg and Gleiwitz, I was passed by 65 military dispatch riders on motorcycles. The only cars to be seen were those belonging to the military."
"1,000 TANKS MASSED ON POLISH FRONTIER – TEN DIVISIONS REPORTED READY FOR SWIFT STROKE" was The Daily Telegraph's headline next morning. By then, Clare was back in her Polish hotel in Katowice and saw the first German tanks moving past her window. When she called the British embassy in Warsaw, a diplomat refused to believe her story – so she held the telephone out of her bedroom window so he could hear the sound of German tank tracks. 
When I ask her, all of 77 years later, whether the embassy really didn't believe the Germans had invaded, she thinks for a while. "They knew," she says. "Oh yes, they did." But the Telegraph's foreign desk was seemingly more sceptical. "They wanted London to be the place of power politics," she remarks, by which I think she means – and this is the problem when you talk to such an elderly soul, there have to be assumptions – that the desk thought they knew better than she did. She has written, long ago, of her problems with her employers. But did she know she had written the biggest scoop of the century? "I had a pretty good idea," the old lady beside me says. And she smiles and laughs a little and asks for a glass of wine.
Helen brings the wine – we have been joined by her great-nephew Patrick from Moscow and an American ex-journalist friend, Cathy Hilborn Feng – and gives the glass to her, half wine, half water, to sip. Patrick gestures to a grey filing cabinet by the window and pulls open one of the lower drawers. It is packed to the brim with unopened champagne bottles, gifts from the flock of journalists who have come, over the years, to celebrate Clare Hollingworth's endless birthdays – champagne to be enjoyed, no doubt, over the birthdays to come. Patrick takes care that her passport remains up to date – part of Clare's world in which a newspaper may still call on her for one final assignment.
World news in pictures
World news in pictures
1/30 27 May 2016

An aerial picture shows firefighters spraying foam at the engine of a Korean Air Lines plane after smoke rose from it at Haneda airport in Tokyo, Japan

Reuters

2/30 26 May 2016

A man walks his donkey and its load through flooded streets Beledweyne, north of Mogadishu. Hundreds of families have been forced out of their homes following flash floods in Beledweyne after torrential rains pounded the area in the last few days. The heavy rains led to the bursting of River Shabelle which caused massive floods in residential areas along the river

Getty Images

3/30 26 May 2016

A worker checks a mask of U.S. Republican presidential candidate Donald Trump at Jinhua Partytime Latex Art and Crafts Factory in Jinhua, China

Reuters

4/30 26 May 2016

Estonia's olympic team female marathon runners triplets (L-R) Leila, Liina and Lily Luik pose for a picture after a training session in Tartu

Reuters

5/30 25 May 2016

Lightning from a severe storm fills the sky behind a grain elevator in Bellevue, Kansas

AP

6/30 25 May 2016

Riot police stand guard behind a fire as refinery workers hold a blockade of the oil depot of Douchy-Les-Mines to protest against the government's proposed labour reforms

Getty

7/30 25 May 2016

Vehicles are stuck in a sinkhole near Ponte Vecchio. A sinkhole measuring about 200 meters long and seven meters wide opened up in central Florence

EPA

8/30 24 May 2016

Protesters picket outside the event site before Republican U.S. presidential candidate Donald Trump begins a rally with supporters in Albuquerque, New Mexico

Reuters

9/30 24 May 2016

An Indian policeman uses a baton to disperse demonstrators during a protest by government employees demanding their long pending arrears and a regularisation of their temporary jobs, according to protesters, in Srinagar

Reuters

10/30 23 May 2016

Confiscated rare and protected wildlife products such as these stuffed Sumatran tiger skins are burned and destroyed during a ceremony by government forestry and wildlife officials in Banda Aceh, Indonesia

Reuters

11/30 23 May 2016

A woman leads a school pupil away from tear gas and a burning barricade in Kibera slum, during a demonstration of opposition supporters protesting for a change of leadership ahead of a vote due next years in Nairobi

Getty Images

12/30 23 May 2016

A crane destroys over one million pirated music, movie and software CDs and DVDs in a campaign against piracy organised by the government in Algiers, Algeria

Reuters

13/30 23 May 2016

Shi'ite fighters forces launch a rocket towards Islamic State militants on the outskirts Falluja, Iraq

Reuters

14/30 22 May 2016

Yemenis take part in celebrations marking the 26th anniversary of Yemen's 1990 reunification in the capital Sanaa

Getty Images

15/30 22 May 2016

Indonesian soldiers carry resident's belongings as they aid in evacuation efforts from a village impacted by the Mount Sinabung eruption at Gamber Village in North Sumatra. At least six people were killed and two others were seriously wounded after the Mount Sinabung volcano in North Sumatra province of western Indonesia erupted

EPA

16/30 21 May 2016

Demonstrators clash with riot police in the surroundings of the Congress in Valparaiso, while Chilean President Michelle Bachelet delivers her annual message to the nation

Getty Images

17/30 21 May 2016

The Egyptian military spokesman released pictures of debris that the search teams found in the sea after the EgyptAir Airbus A320 crashed in the Mediterranean

Getty Images

18/30 21 May 2016

Sri Lankan flood victims push a trishaw through floodwaters in the Kolonnawa suburb of Colombo

Getty Images

19/30 20 May 2016

A protester write on the facade of the Ministry of Justice building with color spray during an anti-government protest in Skopje, in a series of protests dubbed Colourful Revolution. Crisis-hit Macedonia postponed elections due next month, after the European Union called on Skopje to delay the polls to ensure they could take place freely and fairly

Getty Images

20/30 20 May 2016

Members of the Ukrainian national guard "Azov" regiment and activists of the Azov civil corp take part in a protest against local elections in pro-Russian rebel-held areas of eastern Ukraine under the Minsk peace agreement, in Kiev

Reuters

21/30 19 May 2016

Families of passengers who were flying in an EgyptAir plane that vanished from radar en route from Paris to Cairo react as they wait outside a services hall at Cairo airport

Getty Images

22/30 18 May 2016

A man clashes with policemen during a protest against new emergency powers decreed this week by President Nicolas Maduro in Caracas. Public outrage was expected to spill onto the streets of Venezuela, with planned nationwide protests marking a new low point in Maduro's unpopular rule

Getty Images

23/30 18 May 2016

A police car explodes after being set on fire during an unauthorized counter-demonstration against police violence in Paris, as Police across France demonstrate today against the "anti-cop hatred" they say they have endured during a wave of anti-government protests since early March

Getty Images

24/30 18 May 2016

Sri Lankan military personnel take part in relief and rescue efforts following a landslide in the village of Bulathkohupitiya. Rescue workers recovered the bodies of 17 villagers buried in landslides in Sri Lanka after three days of torrential rain. The disaster hit two small villages in Kegalle, a mountainous area northeast of Colombo, and takes the overall death toll from flooding and landslides in recent days to 36

Getty Images

25/30 18 May 2016

A protester against visiting Zhang Dejiang, the chairman of China's National People's Congress, confronts police in Hong Kong

Reuters

26/30 18 May 2016

Chicks dyed to draw attention are offered for sale at a small poultry market in Jakarta, Indonesia

Reuters

27/30 17 May 2016

A man throws a fire extingusher at Parliamentary security behind a closed door after members of Julius Malema's Economic Freedom Fighters (EFF) were evicted from Parliament during President Jacob Zuma's question and answer session in Cape Town, South Africa

Reuters

28/30 17 May 2016

Supporters of Federal Alliance, a coalition of Madhes-based parties and other ethnic political parties and organizations, protest against the constitution near the Prime Minister's official residence in Kathmandu, Nepal

Reuters

29/30 17 May 2016

Members of a Sri Lankan Army rescue team carry a woman to safety through floodwaters in the suburb of Kaduwela in capital Colombo. Emergency workers in Sri Lanka found the bodies of a woman and two children killed in a landslide, taking the toll from two days of heavy rain to 11, with thousands more forced to flee their homes

Getty Images

30/30 16 May 2016

Protesters light flares and wave flags marching through a street, during an anti-government protest in Skopje, in series of protests dubbed "Colorful Revolution". Macedonia has been politically gridlocked for two years but the crisis rose a notch on 12 April when President Gjorge Ivanov halted a probe into more than 50 public figures suspected of involvement in corruption and a wire-tapping scandal. The move triggered street protests against Ivanov and the ruling party's leader, Nikola Gruevski. Fresh demonstrations drew several thousand, mostly young people who demanded Ivanov resignation

Getty Images
Her greatest post-war scoop came in 1963 when she was working for The Guardian and based in Beirut – "I loved it, a place that was really home," she tells me, "where you could go anywhere in a car and find your way, and I changed homes several times" – and heard that her colleague on The Economist and The Observer, Kim Philby, had defected to Moscow. His sudden absence from the Lebanon press corps had been noticed, but Clare prowled the harbour and was shown the Beirut port records which disclosed that a Soviet vessel had sailed without warning from Lebanon on the very day Philby disappeared. Frightened that they might be libelling Philby if they got the story wrong, The Guardian sat on the story – for three months!
On top of the champagne-filing cabinet, there is a photograph of Clare in a war correspondent's uniform, sitting with a British officer in a lounge room in Beirut – it must have been taken during the Second World War, since most of her pictures at this time show her in uniform – and I recognise the same type of large Lebanese wooden panel doors which connect the rooms in my own Beirut apartment today.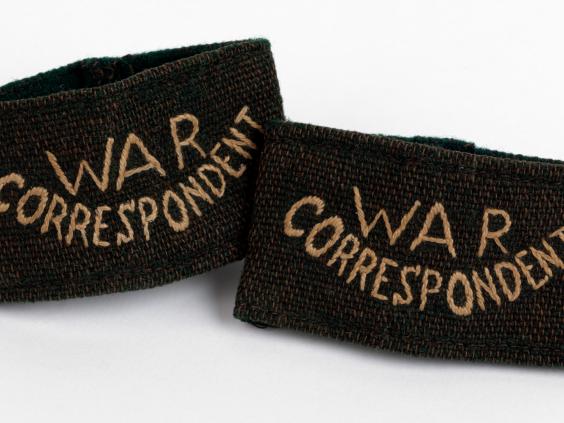 The British invaded Lebanon in 1941, defeating French Vichy troops. Alan Moorhead, one of the other greats among the war's correspondents, covered the same story. When I tell Clare that, at 104, she must have outlived all her colleagues – a world record for journalists – her memory reconnects perfectly. "It's quite incredible for me – 104!" she says.
That memory zooms towards her like a satellite in outer space, brushing planet Earth and total recall. Ask her why she chose to become a journalist and, quick as a flash, she replies: "People asked me to. I enjoyed it. It's good to be in charge of a lot of things. You get the point?" 
Did she mean that she liked both writing history and being read? "Both." And then the satellite swishes off to another planet and Clare is saying that she saw "the ruins" only yesterday – the ruins of 1939 Poland or the Roman ruins of Lebanon? – and that I'll be able to read her latest story in the paper tomorrow. On the wall is an old copy of the front page of the South China Morning Post, recording one of her birthdays.
Her friends occasionally take her, in good weather, 100 yards down Albert Road to the fine old Foreign Correspondents' Club – where she celebrated her 104th birthday in October – and where we later sit alone with Patrick and Cathy at "Clare's table", in a small corner dominated by photographs of the Vietnam war. Clare could sometimes misbehave a little, Cathy says, banging her cane on the floor for attention, shouting a little too loudly. But who can blame Clare? I spent our chat together, bellowing my questions into the veteran's right ear. My wife tells her she looked very well, and she replies: "You're flattering me." And when told that she does indeed look good, she says: "I feel it."
So there was only one question left for an Independent on Sunday correspondent. Did the future of newspapers lie in websites, in computers, I asked her? "Newspapers will all end up on computer," she replies, but this was a bad thing. Why? She thought for several seconds. "You have to feel the paper," she says. 
I think about this as the plane taking me back from Hong Kong to Beirut via Paris soars over Siberia that same night, and I wonder whether "scoops" mattered on websites.
And then, some hours later, our flight captain announced that we would soon pass over the Polish-German border. Stalin moved the Polish borders west. But those roads which Clare Hollingworth travelled in 1939 still exist. And somewhere a few miles away, in the pre-dawn darkness below me, 77 years ago, was the very spot where Clare saw Von Runstedt's legions about to launch the invasion that started the most titanic war in the history of the world. You can't take a scoop like that away from anyone.