After two months of living in limbo in Calais and half a day hanging inches from death, Ahmed Osman must have felt that his 3,000-mile journey from Eritrea to join his older brother Jamal on English soil had finally come to a happy end.
At some point on 23 July this year - most probably in the car park of a shopping centre in the French port popular with British holidaymakers wanting to stock up on cheap wine - the 17-year-old slid himself under a gold-painted coach belonging to a Norfolk-based transport company, D&H Harrod Ltd.
For the next 12 hours, the slight teenager clung on in an impossibly narrow cavity between the floor of the coach and its rear axle and drive shaft as it returned to England carrying a contingent of schoolchildren. All that stopped Ahmed from falling into the whirling machinery beneath him was the leather belt from around his trousers which he used to buckle himself to a metal beam on the chassis.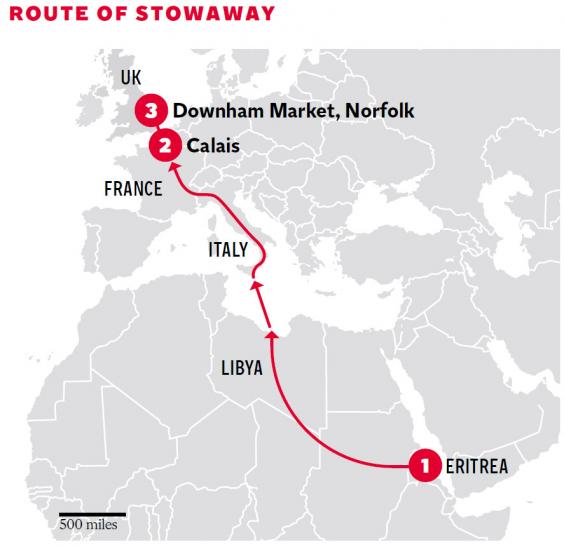 At 1.15am on 24 July, Ahmed began to crawl his way back out of his hiding place, slowly inching through the guts of the coach towards the floor of the D&H Harrod depot on a disused airfield outside the town of Downham Market and, ultimately, a reunion with his sibling.
Among his meagre possessions was the mobile phone which he must have intended to use to make the joyful call declaring that, after a three-month journey traversing the Sahara and the Mediterranean, he had arrived.
It was not to be.
The 90-minute standstill which Ahmed had interpreted as the end of his odyssey was in fact a break while the coach driver, Robert Evans, cleaned the vehicle after its three-day school trip to northern France ready for its next journey later that morning.
Mr Evans then climbed back into this driver's seat to complete his final task of the night - reversing the coach into position so it could be driven straight from the depot. After checking that his rear view mirrors and a dashboard-mounted camera were clear, he began the manoeuvre.
In a written account of the events of that warm, cloudless night, the coach driver with 38 years' experience said: "I am very familiar with how my coach feels when it is moving along the road. While reversing on this particular occasion, I felt a slight resistance. It was something that only lasted a brief moment.
"I thought perhaps the brakes had stuck on or perhaps the air was low in the tanks. I remember just looking at the gauges and thinking they seemed OK. It was only when I turned the coach that I saw the body lying in the yard."
In pictures: Global refugee crisis
In pictures: Global refugee crisis
1/41 Yemeni refugees

Yemeni refugees carry water to their tent at the Mazraq internally displaced people's camp in the northwestern province of Hajja

2/41 Yemeni refugees

A displaced man from Yemen's Saada province amid UNHCR tents at a camp set up by the United Nations High Commissioner for Refugees in Mazraq in Yemen's Hajja region, 360 kms northwest of Sanaa

3/41 Yemeni refugees

Yemeni refugees queue to get food aid at the Marzaq internally displaced people's camp in Harad in the northwestern province of Hajjah

4/41 Yemeni refugees

Displaced Yemenis from al-Jaachan Al-Ansin, a village in the province of Ibb, some 200km South-East of Sanaa, stand next to their tents in a makeshift refugee camp in Sanaa

5/41 Yemeni refugees

Yemeni refugees walk to a refugee camp in the southern Saudi province of Jizan after crossing the border from Yemen into Saudi Arabia

6/41 Syrian refugees

Syrian refugees arrive in Turkey at the Cilvegozu crossing gate of Reyhanli, in Hatay. The number of people driven from their homes by conflict and crisis has topped 50 million for the first time since World War II, with Syrians hardest hit, the UN refugee agency (UNCHR) said, in an annual report released on World Refugee Day

7/41 Syrian refugees

Syrian refugees walking among tents at Karkamis' refugee camp near the town of Gaziantep, south of Turkey

8/41 Sudanese refugees

South Sudanese refugees waiting for food in the Kule refugee camp near the Pagak Border Entry point in the Gambella Region, Ethiopia

9/41 African refugees

African refugees live homelessly at a temporary shelter beside a road on World Refugee Day in Sana'a, Yemen. The number of African refugees who have come to Yemen during the past few years has reached 750,000, most of them are Somalis

10/41 Iraqi refugees

An Iraqi refugee girl from Mosul stands outside her family's tent at Khazir refugee camp outside Irbil, 217 miles (350 kilometers) north of Baghdad, Iraq. The militants' capture of Iraq's cities of Mosul and Tikrit makes their dream of a new Islamic state look more realistic. It already controlled a swath of eastern Syria along the Euphrates River, with a spottier presence extending further west nearly to Aleppo, Syria's largest city. In Raqqa, the biggest city it holds in Syria, it imposes taxes, rebuilds bridges and enforces the law - its strict version of Shariah

11/41 Iraqi refugees

Refugees queue to register at a temporary camp in northern Iraq

Getty Images

12/41 Syrian refugees

A young Syrian refugee stands near jerry cans used to collect water at Al-Zaatri refugee camp in the Jordanian city of Mafraq, near the border with Syria. The United Nations hopes that political talks between the warring sides in Syria will clinch local ceasefires to allow vital food and medicines to reach millions of civilians

13/41 Syrian refugees

A child refugee from the northern province of Raqqa in Syria, reacts from the cold weather in a Syrian refugee camp beside the Lebanese border town of Arsal, in eastern Bekaa Valley

Reuters

14/41 Syrian refugees

Boys help their father remove snow in front of their tent in the Azaz refugee camp

15/41 Syrian refugees

A Syrian refugee family from Aleppo crosses the Bosphorus from Uskudar to the European side of Istanbul

16/41 Syrian refugees

A child refugee stands next to a home constructed using a billboard in the settlement of Qab Elias in the Bekaa Valley, Lebanon

PA

17/41 Syrian refugees

Refugee baby Rim in the settlement of Qab Elias in the Bekaa Valley, Lebanon

PA

18/41 African refugees

Refugees arriving at a camp near Bossangoa, 190 miles north of Bangui, the capital. Forty-one thousand people fled their homes following mass executions in the area

Juan Carlos Tomasi/Médecins Sans Frontières/Doctors Without Borders

19/41 Syrian refugees

Representatives of Syrian President Bashar al-Assad, a deeply divided opposition, world powers and regional bodies started a long-delayed peace conference aimed at bringing an end to a nearly three-year civil war

20/41 Iraqi refugees

A women and a girl wash at a tap at a temporary displacement camp set up next to a Kurdish checkpoint in Kalak. Thousands of people have fled Iraq's second city of Mosul after it was overrun by Isis (Islamic State of Iraq and Syria) militants. Many have been temporarily housed at various IDP (internally displaced persons) camps around the region including the area close to Erbil, as they hope to enter the safety of the nearby Kurdish region

21/41 Iraqi refugees

Families arrive at a Kurdish checkpoint next to a temporary displacement camp in Kalak

22/41 Iraqi refugees

An Iraqi refugee girl from Mosul stands outside her family's tent at Khazir refugee camp outside Irbil, 217 miles (350 kilometers) north of Baghdad, Iraq. Days after Iraq's second-largest city fell to Isis fighters, some Iraqis are already returning to Mosul, lured back by insurgents offering cheap gas and food, restoring power and water and removing traffic barricades

23/41 Iraqi refugees

A girl, who fled from the violence in Mosul, carries a case of water at a camp on the outskirts of Arbil in Iraq's Kurdistan region

24/41 Iraqi refugees

A displaced Iraqi woman washes her family's laundry as the children shower outside their tent at a temporary camp set up to shelter civilians fleeing violence in Iraq's northern Nineveh province in Aski kalak, 40 kms west of the Kurdish autonomous region's capital Arbil

25/41 Iraqi refugees

Iraqi refugees from Mosul arrive at Khazir refugee camp outside Irbil, 217 miles (350 kilometers) north of Baghdad

AP

26/41 Sudanese refugees

The international Red Cross said that the road from Bor to the nearby Awerial area 'is lined with thousands of people' waiting for boats so they could cross the Nile River and that the gathering of displaced 'is the largest single identified concentration of displaced people in the country so far'

27/41 Sudanese refugees

People unload the few belongings at Minkammen, that they were able to bring with them to the camps

28/41 Sudanese refugees

Thousands of exhausted civilians are crowding into the fishing village of Minkammen, a once-tiny riverbank settlement of a few thatch huts 25 kilometres (20 miles) southwest of Bor

29/41 Sudanese refugees

Many people had spent days hiding out in the bush outside Bor as gunmen battled for control of the town, which has exchanged hands three times in the conflict, and remains in rebel control

30/41 Sudanese refugees

A young boy pulls his suitcase of belongings as he walks to find a place to rest after getting off a river barge from Bor

31/41 Sudanese refugees

A displaced family camp under a tree providing partial shade from the midday sun

32/41 Sudanese refugees

A boy carries a fish, caught from the nearby Nile river, in a cardboard box on his head back to his relatives to eat

33/41 Sudanese refugees

A mother and her baby, one of the few to have a mosquito net, wake up in the morning after sleeping in the open

34/41 Sudanese refugees

Four-month old Haida Majzub was born in the Ajuong Thok refugee camp inside South Sudan. The camp, in northern Unity State, hosts thousands of refugees from the Nuba Mountains, located across the nearby border with Sudan

35/41 Sudanese refugees

A girl fills a container with muddy water in the Ajuong Thok Refugee Camp

36/41 Sudanese refugees

The clashes in South Sudan began when uniformed personnel opened fire at a meeting of the governing party, the Sudan People's Liberation Movement

37/41 Myanmar refugees

45 year old Dilbhar looks towards the camera as she stands in the Shamalapur Rohingya refugee settlement in Chittagong district. She escaped to Bangladesh from the Bodchara village in the Mondu district of Myanmar

38/41 Myanmar refugees

32 year old Mahada Khatum, 5 year old Hasan Sharif, and 9 year old Umma Kulsum sit outside their home in the Shamalapur Rohingya refugee settlement in Chittagong district. The family escaped violence and discrimination from the Zomgara Baharchara village in the Meherulla district of Myanmar

39/41 Myanmar refugees

Hamid and his daughter Rajama sit inside their home in the Shamalapur Rohingya refugee settlement in Chittagong district. They fled to Bangladesh from the Dhuachopara village in the Rachidhong district of Myanmar

40/41 Afghan refugees

Afghan children wait for relief supplies from the Muslim Hands United For The Needy during an aid distribution at a refugee camp on the outskirts of Kabul

41/41 Afghan refugees

Afghan people carry relief supplies received from the Muslim Hands United For The Needy during an aid distribution at a refugee camp on the outskirts of Kabul
The final horrifying moments of Ahmed's life were detailed in the clinical surroundings of a coroner's court in a short hearing on Monday attended by Jamal, who had come to learn what more he could of how a loved brother from his east African homeland came to be lying broken and in a pool of blood on the asphalt of an Second World War RAF bomber base in East Anglia.
The inquest heard that as the Volvo coach was being manoeuvred by Mr Evans, Ahmed most probably fell beneath the double rear wheels, suffering the awful head injuries which killed him instantly. The impact left bruising the pattern of the coach's tyres on the teenager's body.
In Calais, where some 2,300 migrants from the world's war zones are gathered at any one time hoping to smuggle, bribe or even sail their way across the Channel, the deaths of refugees falling from lorries or being struck on motorways has become a grimly regular occurrence.
The Independent has been told of at least 15 fatalities among migrants in the last year, many of them Eritreans and Ethiopians, as they take ever-increasing risks to secure a passage to a new life. The youngest was 16.
Deaths on this side of the Straits of Dover remain rare and, in the case of Ahmed, all the more despairing for the loss of a life so close to the end of a treacherous journey from as Eritrea, where years of war and a vicious authoritarian regime have caused hundreds of thousands to flee.
The United Nations last month reported a tripling to nearly 37,000 in the number of Eritreans entering Europe in the first 10 months of 2014.
Most, like Ahmed, will have paid traffickers some $3,000 (£1,900) for the journey across Africa and the journey, all too often in a leaking boat, across the Mediterranean to Italy, ending in the makeshift camps and squats of Calais from where seek to reach the questionable El Dorado of Britain.
It was a journey which Jamal, 20, made four years ago before successfully arriving in London and being granted asylum. When he received a message that his younger brother was also on his way across the Channel but heard nothing from him, he travelled to France, this time bearing a British passport, to find Ahmed.
The phonecall from Norfolk Police asking him to return home to identify the body of his brother came as he stood in a coach park in Boulogne, one of two places along with the Cité Europe shopping centre in Calais, where Ahmed probably smuggled himself onto the coach.
At Kings Lynn County Court, police investigators said no blame could be attached to the coach driver, Mr Evans.
PC Forbes Scott, a forensic accident investigator, said the void occupied by Ahmed was so narrow he himself could not physically enter it and Mr Evans could not have known of the stowaway's presence or seen him as he manoeuvred his vehicle. Checks on the vehicle at Calais by British border officials had also failed to find any sign of Ahmed hidden in the bowels of the coach.
Senior Norfolk coroner Jacqueline Lake, who recorded a verdict of accidental death, said what had happened was the "very tragic death of a very young man".
His brother, a softly spoken man, was too upset to talk after the proceedings but his questions to PC Scott during the hearing told the story of the grief he and his family have endured: "why did Ahmed wait until the last moment to come out?", "if he had shouted, could he have been heard by the driver?", and "did he lose his life immediately?".
The answers, such as the available evidence could show, were "we don't know", "no", and "yes, immediately".
Jamal left the court building holding a police evidence bag containing the entirety of his brother's worldly goods - a €50 note, his mobile phone and the buckle from his belt.
An Eritrean friend, who declined to be named, said: "We all come here for the same purpose - to leave behind a terrible war, a terrible place for somewhere safe where we can live with peace and respect. That is all we seek and, as you can see, we will take any risk to achieve it."
Reuse content