Female scientists have spearheaded an ironic Twitter campaign to mock Sir Tim Hunt's sexist comments about the need for single-sex laboratories.
The hashtag #DistractinglySexy is being used by women working in the fields of biology, archaeology, computer coding, chemistry and geology to show exactly what their jobs entail - and to demonstrate just how "distracting" they are while doing it.
The backlash follows remarks made by the eminent Nobel laureate at the World Conference of Science Journalists in South Korea on 9 June, in which he reportedly said: "Let me tell you about my trouble with girls.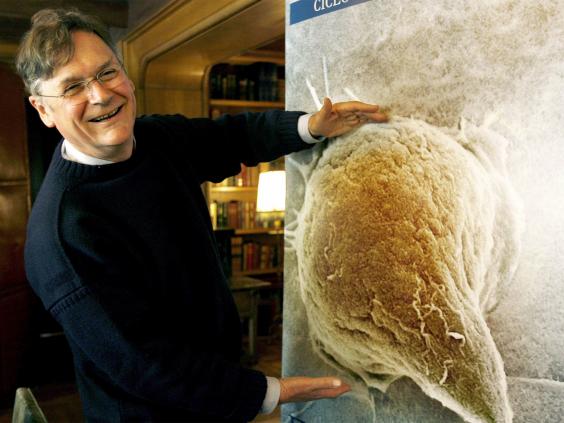 "Three things happen when they are in the lab: you fall in love with them, they fall in love with you, and when you criticise them they cry."
Sir Hunt has since resigned as a lecturer at University College London and apologised, telling the BBC it was "a very stupid thing to do in the presence of all those journalists".
Scores of scientists have now posted photographs of themselves online in lab coats, glasses and in exotic locations - like ditches - to poke fun at the idea that they are "tempting" male colleagues.
Later that day, I filled this Bronze Age ditch with my womanly archaeology tears #distractinglysexy pic.twitter.com/r8UTTCCqSg

; Becca (@BeccaPritchy) June 11, 2015
Danielle Spitzer, who is at the University of North Carolina at Chapel Hill (UNC) studying biology, women's studies and gender, posted a photo of herself covered in full, white lab attire, from her head to latex gloves and shoe-coverings.
She wrote: "It's just really hard working in a coed lab because I'm too distracting to the male scientists #distractinglysexy".
Lucie de Beauchamp, an engineer working in biotechnology, also tweeted an image of herself at work in a lab coat and latex gloves.
Still #distractinglysexy after a full day of cell culture. Didn't even cry this time, so proud! #HeyaTimHunt pic.twitter.com/RdAxxLJ1fY

; Lucie de Beauchamp (@lu_debeauchamp) June 11, 2015
Alba Hierro shared a shot of herself in front of her computer screen, with the message: "The worst thing is being so #distractinglysexy when I code..."
I will not say I haven't cried for my thesis but the worst thing is being so #distractinglysexy when I code... pic.twitter.com/OKRFA3FqE5

; Alba Hierro (@hierro34) June 11, 2015
Clementine Wallop shared an image of herself at work in a helmet, goggles and dayglo tabard.
Me at a #nickel mine, looking #distractinglysexy, no? I think it's the hat, or maybe the Dayglo tabard. pic.twitter.com/gpw5LlSqQz

; Clementine Wallop (@CWallop) June 11, 2015
Wildlife biologist and conservationist Sarah Durrant, tweeted an image of herself...holding animal droppings.
Nothing like a sample tube full of cheetah poop to make you #distractinglysexy pic.twitter.com/tdBTLRos4p

; Sarah Durant (@SarahMDurant) June 11, 2015
Some men got in on the act, too - with important changes to the workplace.
Following Sir Tim Hunt's useful advice I've updated the laboratory signage #distractinglysexy pic.twitter.com/GLswQjgk41

; Tom Bishop (@FliesInLakes) June 10, 2015
Others, such as virologist Elisabetta - and even the British Heart Foundation - had a more serious message, asking that women not be hit with criticism for daring to show their feelings.
#distractinglysexy I cried when #Ebola patients died or when got better.I have feelings & I deal w them.So should you pic.twitter.com/XYMh7ykT5o

; Elisabetta (@RunningPostdoc) June 11, 2015
Our work on 'Mending Broken Hearts' can be #distractinglysexy – but BHF researchers battle on… pic.twitter.com/rsIGQysORT

; BHF (@TheBHF) June 11, 2015
The ten most influential British women in science
The ten most influential British women in science
1/4 Caroline Herschel (1750-1848)

"As an assistant to her brother, a royal astronomer, Herschel discovered eight comets and catalogued star clusters. She was the first woman scientist to receive a salary and was awarded many honours."

2/4 Mary Somerville (1780-1872)

"The Scottish scientist was only the second woman to receive recognition in the UK for her scientific experiments, which were on magnetism. Her popular renditions of the French astronomer Laplace's book Traité de Mécanique Céleste made her famous."

3/4 Mary Anning (1799-1847)

"The daughter of poor Dis- senters, the palaeontologist made a number of important finds in Lyme Regis, including the first correctly identified ichthyosaur skeleton and the first two plesiosaur skeletons ever found. She also discovered important fish fossils."

4/4 Dorothy Hodgkin (1910-1994)

"Hodgkin discovered the structure of penicillin and of vitamin B12. She was awarded the Nobel prize for her work, and was made a member of the Order of Merit. She devoted much of her later life to championing scientists in developing countries."
Reuse content