Violent scenes have broken out in Dover between far-right protesters and anti-fascists from across the country, after the groups had organised opposing demonstrations over immigration.
A rally headed by the Kent Anti-Racism Network was completed peacefully this morning. But hundreds of extra police were drafted in this afternoon as a second protest led by right-wing groups, led by the South East Alliance, the East Kent English Patriots and the North West Infidels, threatened to get out of control.
#Dover Livestream  pic.twitter.com/rOevVea58b

— Robert (@RoCk2It) January 30, 2016
Far-right groups made a speech about "third world scum", with one speaker claiming Jeremy Corbyn "hates everything British.. and is destroying Britain", according to The Mirror.
Diane Abbott, Labour MP for Hackney North and Stoke Newington, is among those who have travelled to Dover to join the anti-fascist protest.
The city has been the scene of an ongoing standoff between anti-fascists and right-wing groups led by a resurgent National Front. A similar "anti-immigration" protest in September 2015 headed by the National Front saw skirmishes between groups resulting in a few injuries to both members of the public and police officers.
Before the protests had even begun, one man was arrested and a number of coaches were damaged, with a smashed windscreen and swastika graffiti – allegedly drawn with blood – as the protesters stopped at the same motorway services in Maidstone on the way.
Far right and anti-fascists clash in Dover, January, 2016
Far right and anti-fascists clash in Dover, January, 2016
1/6 Dover

Police separate anti-fascists and right-wing protesters

PA

2/6 Dover

Right-wing protesters and anti-fascist demonstrators clash

PA

3/6 Dover

Anti-fascists break through police lines

PA

4/6 Dover

Far-right protesters march on the streets of Dover

PA

5/6 Dover

Diane Abbott MP speaks to anti-fascists in Dover

PA

6/6 Dover

Police hold back far-right demonstrators

PA
Bridget Chapman, chairman of Kent Anti Racism Network, told KentOnline: "We're here today because there's been a big demonstration called by fascists. It's about the fourth time in a year they've had a far-right demonstration.
"The people of Dover are sick and tired of their town being used to spread a message of hate. We're here to firmly reject that message of hate.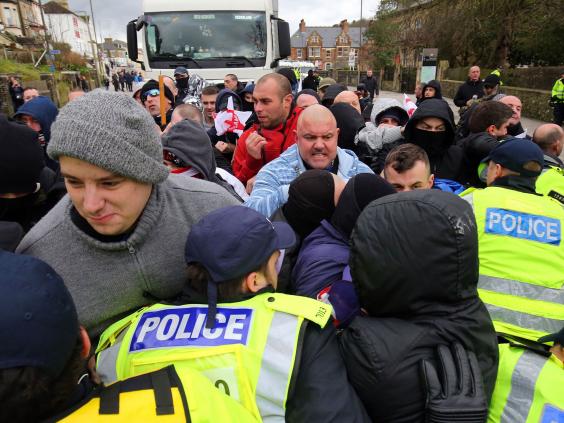 "We want to very peacefully and responsibly say to the fascists that they are not welcome in our town."
Anindya Bhattacharyya, 44, from Whitechapel in east London, who was travelling with the anti-fascist group, told the Guardian: "The service station staff bolted the doors and through the windows we could see a large group of fascists. They were wearing Combat 18 T-shirts and one had an Enoch Powell T-shirt."
oh look, our coach has been "decorated" too. #Dover pic.twitter.com/bVfrVtIGEA

— bat020 (@bat020) January 30, 2016
"They were running at the anti-fascist demonstrators and there was some argy-bargy, things were chucked back and forth. And then the anti-fascists went back to their coaches and the group of fascists basically tooled up with bits of wood and bins.
"They attacked one of our coaches and smashed up the windows and one of them came and daubed a swastika in blood on the side of one of the coaches."
UPDATE: Pictures show carnage at junction 8 as coaches are smashed. Thank you @bat020 https://t.co/pQiugOAJZG pic.twitter.com/bNUxwtUNdI

— Suz Elvey (@SuzElvey) January 30, 2016
A spokesman for Kent Police said: "We were called at 10.51pm to a report of a disturbance at the junction 8 services on the M20. A number of coaches have been damaged in the incident and officers are currently at the scene carrying out inquiries. One man has been arrested on suspicion of possessing an offensive weapon."
Roads have been shut off and bus services severely affected as a result of the clashes.