British families are on course to spend £40bn more than they earn this year, fuelling fears that the country's economic growth is based on soaring levels of debt and could easily collapse.
The forecast by the independent Office for Budget Responsibility (OBR) led to warnings that the UK could be heading towards a credit crunch similar to that of 2008 because of unsustainable levels of borrowing and household spending.
Five years ago UK households were firmly in the black, running a surplus of £70bn as Britons tightened their belts in the wake of the financial crash and put money aside to save.
But the new OBR figures show households are now deeply in the red, as growing economic confidence has led to a national spending spree.
Seema Malhotra, the shadow Chief Secretary to the Treasury, said: "George Osborne is relying on millions of British families going further into debt to hit his growth targets. This is risky behaviour from a Chancellor whose policy decisions are hurting not helping British families. Alarm bells should be ringing. There is a real risk that millions of families will face serious hardship if interest rates start to rise."
UK news in pictures
UK news in pictures
1/30 29 June 2016

Spectators with umbrellas struggle against strong wind as stormy weather delays play at Wimbledon

REUTERS

2/30 28 June 2016

A couple kiss outside the Houses of Parliament during a protest aimed at showing London's solidarity with the European Union following the recent EU referendum

REUTERS

3/30 28 June 2016

Queen Elizabeth II & Prince Philip, Duke Of Edinburgh attend the unveiling of the Robert Quigg VC memorial statue in Bushmills village, Northern Ireland

Getty Images

4/30 27 June 2016

Opposition Labour party leader Jeremy Corbyn leaves after addressing a gathering of supporters demonstrating in Parliament Square, in central London

REUTERS

5/30 26 June 2016

A man dressed as Boris Johnson and Donald Trump prepare to take part in a tomato fight at the Glastonbury Festival 2016 at Worthy Farm

Getty Images

6/30 26 June 2016

People walk over Westminster Bridge wrapped in Union flags in central London. Britain's opposition Labour party plunged into turmoil and the prospect of Scottish independence drew closer, ahead of a showdown with EU leaders over the country's seismic vote to leave the bloc

AFP/Getty Images

7/30 25 June 2016

People pay tribute to the victims of the Orlando nightclub shooting as they take part in the annual Pride London Parade which highlights issues of the gay, lesbian and transgender community, in London

REUTERS

8/30 25 June 2016

Scotland's First Minister and Leader of the Scottish National Party (SNP), Nicola Sturgeon, addresses the media after holding an emergency Cabinet meeting at Bute House in Edinburgh, following the pro-Brexit result of the UK's EU referendum vote

AFP/Getty Images

9/30 24 June 2016

A man carries a EU flag, after Britain voted to leave the European Union, outside Downing Street in London

10/30 23 June 2016

AFP/Getty Images

11/30 22 June 2016

British Prime Minister David Cameron poses for a photograph after addressing pro-EU "Vote Remain" supporters at rally in Bristol, whilst campaigning to avoid a Brexit, ahead of the 23 June EU referendum

AFP/Getty Images

12/30 21 June 2016

Scottish Conservative leader Ruth Davidson (left) and Mayor of London Sadiq Khan speak during the EU debate at Wembley Arena in London

Getty Images

13/30 20 June 2016

A full moon rises behind Glastonbury Tor as people gather to celebrate the summer solstice in Somerse

Getty Images

14/30 19 June 2016

Hot air balloons took to the air as part of the annual Lord Mayor's Hot Air Balloon Regatta, a charity event in aid of the Lord Mayor's Fund, in London

Getty Images

15/30 19 June 2016

Liberal Democrats leader Tim Farron (C) poses with supporters after arriving in the Liberal Democrat Vote Remain campaign bus, campaigning to avoid a Brexit in the EU referendum, during a launch event in east London

AFP/Getty Images

16/30 18 June 2016

A man lights a flare among pro-refugee activists rallying outside the French Embassy in central London, during a protest after most of an aid convoy of vehicles organised by campaign groups heading to northern France were turned back at the French frontier at the port of Dover

AFP/Getty Images

17/30 17 June 2016

Prime Minister David Cameron and Labour Leader Jeremy Corbyn arrive to pay their respects at the scene where Jo Cox was shot in Birstall

Getty Images

18/30 16 June 2016

Floral tributes and candles are placed by a picture of slain Labour MP Jo Cox at a vigil in Parliament square in London. Cox died after a shock daylight street attack, throwing campaigning for the referendum on Britain's membership of the European Union into disarray just a week before the crucial vote

AFP

19/30 15 June 2016

Boats from the 'Fishing for Leave' campaign group join a flotilla along the Thames River in London. The flotilla organised by members of the Fishing for Leave group, who are campaigning to leave the European Union ahead of the referendum on the 23 of June, was countered by boats representing the 'In' campaign

Getty Images

20/30 14 June 2016

A general view of the Tate Modern's new Switch House in London. The Tate Modern art gallery has unveiled its new Switch House building designed by architects Herzog & de Meuron

Getty

21/30 13 June 2016

Labour Leader Jeremy Corbyn (C) and Deputy Labour Leader Tom Watson (R) attend a vigil for the victims of the Orlando nightclub shooting, outside the Admiral Duncan pub on Old Compton Street in Soho, London

Getty Images

22/30 12 June 2016

A pigeon flies ahead of Britain's Queen Elizabeth and Prince Philip, and Princes William, Harry and Kate Duchess of Cambridge behind as they wave to guests attending the Patron's Lunch on the Mall, an event to mark her 90th birthday, in London

REUTERS

23/30 11 June 2016

A Guardsman faints at Horseguards Parade for the annual Trooping the Colour ceremony in central London

REUTERS

24/30 10 June 2016

The national service of thanksgiving for the 90th birthday of Britain's Queen Elizabeth II at St Paul's Cathedral in London, which is also the Duke of Edinburgh's 95th birthday

Getty Images

25/30 9 June 2016

Princess Anne, Princess Royal attends the Founders Day Parade at The Royal Hospital Chelsea in London

Getty Images

26/30 8 June 2016

Two women walk barefoot through heavy rain in Westminster in London. The Met Office has issued flood alerts for parts of the south east of England as torrential rain hit parts of the country

Getty Images

27/30 7 June 2016

An Osprey catches two Rainbow Trout at Rothiemurchus in Kincraig, Scotland. Ospreys migrate each spring from Africa and nest in tall pine trees around the Aviemore area, the raptor was hunted to the point of extinction in the Victorian era, their migratory habits eventually brought them back to Scotland with the first successful breeding pair being recorded in 1954

Getty

28/30 6 June 2016

David Cameron speaks at a Remain in the EU campaign event at the Oval cricket ground in London

Getty Images

29/30 5 June 2016

Original participants take part in Japanese artist Koki Tanaka's recreation of the 1985 youth training scheme protest as part of the Liverpool Biennial. The 1985 protest saw 10,000 UK school children take to the street to protest against the Conservative government's controversial youth training Scheme

Getty Images

30/30 4 June 2016

Troops parade along The Mall after the Colonel's Review in London

Getty Images
The former Business Secretary Sir Vince Cable, who warned in The Independent last month of the dangers of excessive household debt, said: "We're back on the treadmill of growth being sustained by personal borrowing. Much of it is against an inflating housing stock.
"Taken together with other indicators like the very weak external deficit position, it suggests we're getting back to the old and unhappily discredited forms of economic growth."
The soaring amount of annual borrowing – equivalent to around £1,500 per family – emerged in the fine print of OBR calculations released alongside Mr Osborne's Autumn Statement last month. The Chancellor used the occasion to announce he was able to scrap plans to cut tax credits and spending on police forces because of Britain's improving financial position, but Labour said the new figures proved he was depending on families going deeper into debt to enable his figures to add up.
The OBR statistics showed households spent £68.9bn less than they earned in 2009-10. The figure fell to £67bn in 2010-11, £35.7bn in 2011-12 and £27bn in 2012-13. The following year Britain's families went into the red to the tune of £12.4bn, rising to £29.4bn in 2014-15.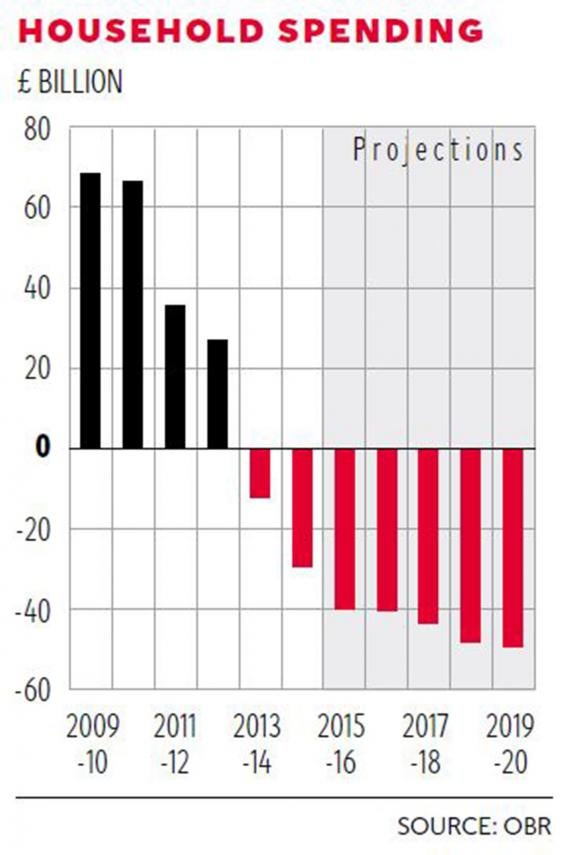 The OBR projects that households will spend £40bn more than they earn this year (2015-16), increasing to £40.4bn in 2016-17, £43.9bn in 2017-18, £48.6bn in 2018-19 and £49.5bn in 2019-20. Total household borrowing is set to reach £222bn over the lifetime of this parliament.
Ms Malhotra added: "Of course families need access to credit and the ability to borrow to invest for the future. George Osborne should be seeking to rebalance the economy away from an over-reliance on borrowing and debt.
"Labour is clear about the need for a strong and sustainable economic recovery. Osborne's short-term political decisions risk real long-term damage to the finances of millions of British families and the nation's economy."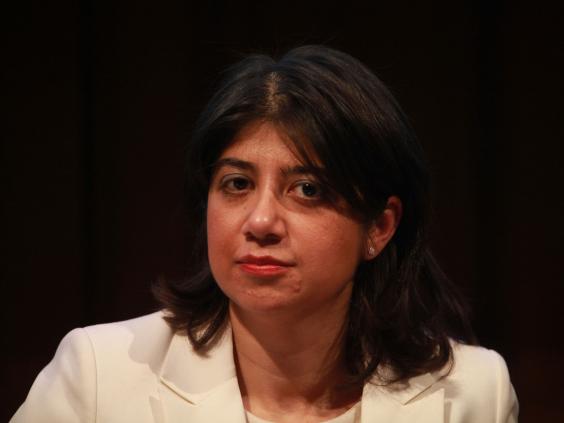 Meanwhile, the OBR predicts that Britain's household debt-to-income ratio will reach 163 per cent in 2020-21, which is close to the 168.2 per cent level ahead of last decade's economic emergency.
Citizens Advice said it dealt with 149,000 cases in England and Wales last year of people with problems over credit or charge card bills; 133,000 instances of people unable to repay personal loans and 60,000 cases of people asking for help with large overdrafts.
Gillian Guy, chief executive of Citizens Advice, said: "A rise in household borrowing could lead to an increase in unmanageable debt further down the line." She added: "Increasingly younger people are finding it difficult to keep on top of their finances with over a fifth more young people now seeking debt help compared to the previous year."
The figures follow a Bank of England study which found that the average mortgage debt in Britain rose from £83,000 in 2014 to £85,000 this year. Unsecured debt, which includes credit card charges, personal loans, student loans and utility bills, stands at round £8,000 per household.
The bank's chief economist, Andy Haldane, has warned that consumer credit had been "picking up at a rate of knots". It has hinted that it could raise interest rates to reduce the risk of a credit bubble.
A Treasury spokeswoman said: "The economy is recovering and confidence is returning, but while household debt is still below its pre-crisis peak we're determined to avoid repeating the mistakes of the past. That's why we've created the independent Financial Policy Committee within the Bank of England which ensures risks across the financial system are quickly identified, monitored and effectively addressed."