Student Yashika Bageerathi is due to be deported to Mauritius alone on Mother's Day despite a campaign to keep her in the UK supported by more than 144,000 people.
The 19-year-old's friends are in a last-ditch attempt to ask flight operator Air Mauritius not to let her board the flight due to take off from Heathrow at 5pm on Sunday.
She has been given plane tickets by the Home Office and told to leave the UK on Sunday or "removal may be enforced", according to a spokesman for Yashika's school in Enfield, north London.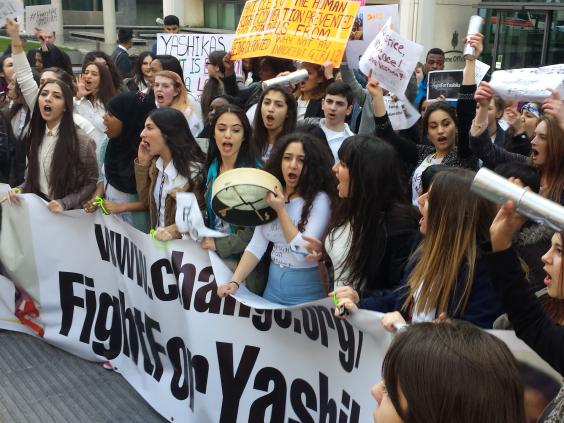 Hopes were raised when British Airways appeared to refuse to allow her on board a flight from Gatwick Airport on Tuesday.
Lynne Dawes, headteacher of the Oasis Hadley Academy, said she and a group of students would make their plea to the Mauritian High Commission.
She added: "We're absolutely horrified because it's only Yashika.
"Our argument is still the same: not to send her back by herself. We're just really concerned and we're trying to do what we can to help.
"We're really worried about Yashika. She's really upset, as is her whole family."
Her mother and two siblings will be left in Britain.
David Burrowes, MP for Enfield Southgate, said on Twitter that he had not heard back from the Home Office despite making official representations on Monday and Wednesday, condemning the move as "out of order and wrong".
The Conservative politician has previously said the student cannot leave until the minister responds to him.
The teenager came to the UK with her mother, sister and brother in 2012 to escape a relative who was physically abusive and claimed asylum in the summer of 2013, although all four now face deportation.
Yashika is still detained at Yarl's Wood Immigration Removal Centre where she has been since 19 March.
Speaking from the centre, she told The Independent of the incident that forced her and her family to flee, when a drug dealer entered her home drunk and "tried to rape me".
"I refused to open the house door, it was just me and my younger siblings at home. He broke it down and came in, started hitting my sister and me, and tore my clothes. My mum came home from work before he could do anything."
She added the man "says he has people waiting at the airport for us to come back".
As part of the asylumn process, Yashika was required to sign on at the Home Office every week since her arrival.
Now she is over 18, however, her case has been separated from her other family members.
She was predicted to get an A* in maths and French A-levels, and a B in chemistry. She has university offers at all five of her choices, including scholarships at Newcastle and Queen Mary's.
Air Mauritius said it would not comment on individual passengers and the Home Office has repeatedly refused to discuss the case.
On Thursday, Home Secretary Theresa May told Sky News it would not be appropriate to "interfere" with the case.
Ms May said: "Yashika's two claims to appeal against the decision on her asylum claims have been dealt with by the judges, they've been looked at by the judges and I don't think it's appropriate for a politician to interfere in that legal process."
She said the plight of the teenager had gone through the "proper process" and she would not be stepping in to prevent her deportation.
Additional reporting by Press Association