The blaze that ripped through three cooling towers at the Didcot B Power Station could see the plant operating at a decreased capacity for up to two weeks.
A spokesperson for nPower, which owns the plant, said: "One bank of cooling towers has been unaffected which means the station can still operate but it could take a week or two before the plant is fully operational."
The Power Station generates up to 1,360 MWe of electricity, creating enough electricity to power a million homes, raising questions about the possibility of blackouts for those served by the plant's energy resources as people prepare for winter.
But the department of Energy and Climate Change has declared that "the lights will not go out this winter".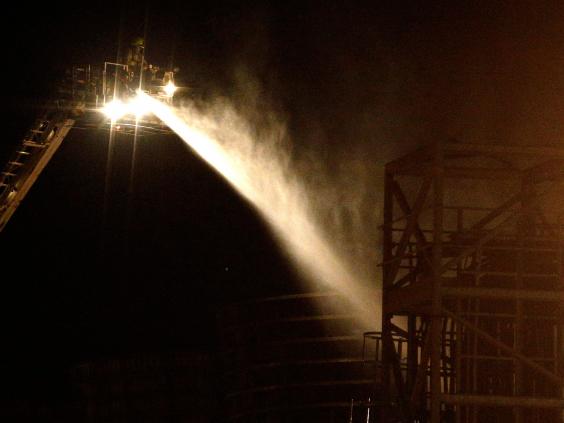 A spokesperson said: "Up and down the country there are power stations on standby that can start pumping out power when needed, and the Government has given National rid the extra powers it needs to ensure there is enough electricity to keep the lights."
The department said there have been some "unexpected closures" over the past few months but claimed the National Grid is buying some extra energy supply to "make up for any shortfall".
Scores of fire-fighters battled to bring the blaze under control last night, and firemen were still spraying water on "hots pots" on Monday morning.
More than 25 fire engines and other specialist vehicles rushed to the power station in Oxfordshire on Sunday night as the orange flames from the fire stretched into the night's sky.
Thames Valley Police South and Vale, neighbouring fire services and the National Police Air Service were also called in to help with the blaze, which was eventually brought under control.
The power station's owners said no one was injured in the fire.
The power station has been shut down after last night's blaze, but Energy Secretary Ed Davey said he has been "reassured" by National Grid that there is "no risk" to people's energy supplies.
It opened in 1997 as is one of a new generation of highly efficient, natural gas powered stations that uses the latest generating technology to produce electricity.
"My priority is to understand the cause of the fire and get the affected unit back generating electricity as soon as it's safe to do so," he said.
Chief fire officer of the Oxfordshire Fire Service Dave Etheridge said the service works closely with the management of Didcot B's site and together carry out safety exercises regularly to prepare for any serious incidents.
"What they did very quickly was to shut down the site so it stops supplying electricity to National Grid," he told Sky News.
The power station's owner, RWE npower, said that no one was injured during the fire, but that it was "too early to say" how much damage had been caused by the blaze.
 It is unclear how the fire started, but officials have ruled out arson or terrorism.
Additional reporting by PA
Reuse content