The damaging impact of gentrification on some of the poorest people in the country has been highlighted by a new analysis of the latest official statistics on deprived areas in England.
People living in the bottom ten per cent in terms of relative deprivation are being pushed out of their homes and communities, with a dramatic change in the demographics of London within the past decade.
New maps produced by Dr Alasdair Rae, an expert on urban deprivation based at the University of Sheffield, indicate a significant shift of poor communities out from the centre of the capital. 
Based on data released by the Department of Communities and Local Government last month, they show how many inner city boroughs have seen a marked decrease in the number of areas classed as the least deprived in the past decade. 
The list includes Barking and Dagenham, Hackney, Tower Hamlets, Lambeth, Camden, Greenwich, Haringey, Islington, and Newham.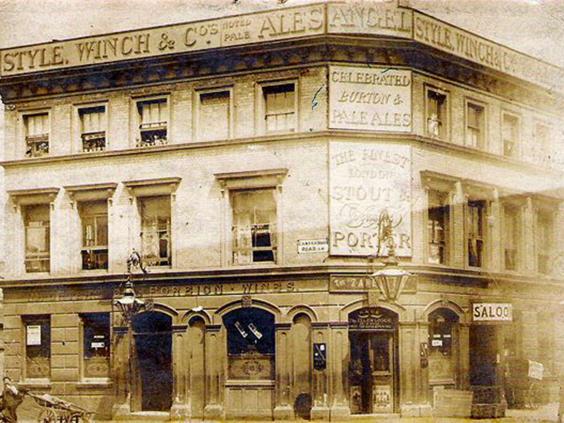 Measures of deprivation are based on 37 indicators on areas ranging from income and employment to health and education. 
London's share of the most deprived neighbourhoods in England has almost halved in the past decade, from 462 in 2004 to 274 in 2015, according to Dr Rae. This shows the "apparent dispersal of London's poorest residents over little more than a decade," he said.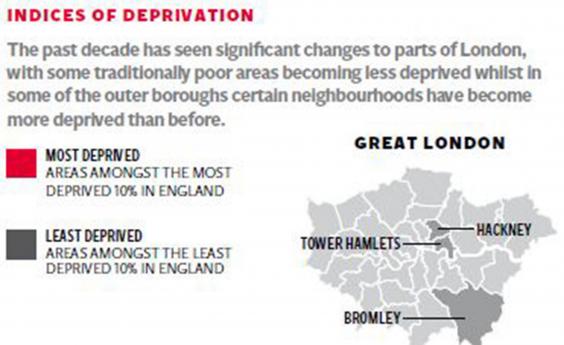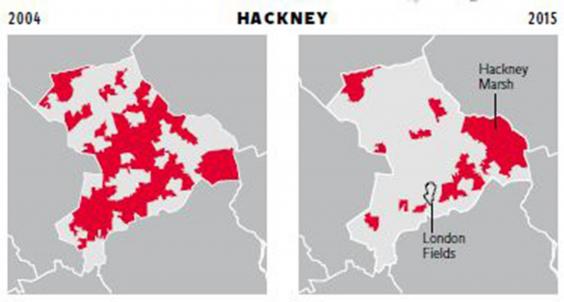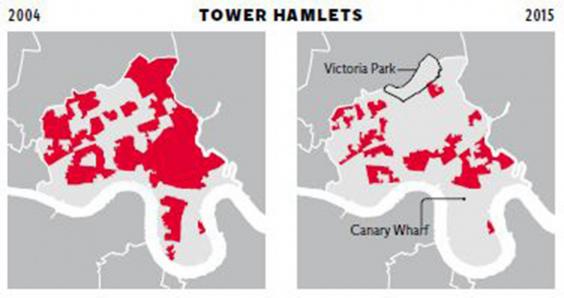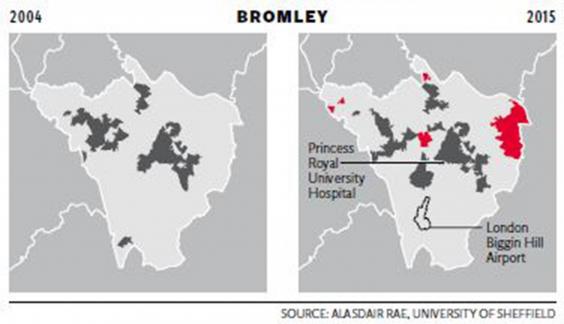 Growing gentrification in London has resulted in Tower Hamlets, Hackney, Newham, and Haringey no longer being among the poorest 20 areas in England. A number of outer London boroughs which did not have any areas classed at least deprived in 2004 now have places which fall into this category. These include Barnet, Bromley, Havering, Redbridge, Sutton and Wandsworth.
"I would say that all of the evidence points to the fact that poorer people are having to move out of inner London boroughs due to housing costs," Dr Rae commented.
The average price of a house in London stands at more than half a million pounds. Government plans to help people get onto the property ladder with starter homes have been criticised by campaigners, with research by Shelter finding that the homes would be unaffordable for people on the national living wage, and even those on average salaries would find it hard to afford them in most areas of London. 
Celebrity hipsters
Celebrity hipsters
1/23 Celebrity hipsters

Shia Labeouf

Getty

2/23 Celebrity hipsters

Jared Leto

Getty

3/23 Celebrity hipsters

Kristen Stewart

4/23 Celebrity hipsters

Agyness Deyn

Getty Images

5/23 Celebrity hipsters

Alexa Chung

REX FEATURES

6/23 Celebrity hipsters

Robert Pattinson

Getty Images

7/23 Celebrity hipsters

Mischa Barton

Getty Images

8/23 Celebrity hipsters

Russell Brand

Getty

9/23 Celebrity hipsters

Mary Kate and Ashley Olsen

10/23 Celebrity hipsters

Actress Chloe Sevigny

AFP PHOTO /TIMOTHY A. CLARY

11/23 Celebrity hipsters

James Franco

Getty Images

12/23 Celebrity hipsters

Sienna Miller

Getty Images

13/23 Celebrity hipsters

Kate Moss and Johnny Depp, together in 1994

14/23 Celebrity hipsters

Kate Moss

getty images

15/23 Celebrity hipsters

Lena Dunham

Getty Images

16/23 Celebrity hipsters

Michael Cera

Getty Images

17/23 Celebrity hipsters

Peter Doherty

18/23 Celebrity hipsters

Cara Delevingne

Rex Features

19/23 Celebrity hipsters

Keira Knightley

AP

20/23 Celebrity hipsters

Johnny Depp

21/23 Celebrity hipsters

Ashton Kutcher

22/23 Celebrity hipsters

Carey Mulligan and Marcus Mumford

23/23 Celebrity hipsters

Harry Styles

PA
And growing resentment over the lack of affordable housing, with traditionally poorer parts of London becoming gentrified by middle-class families seeking to buy their own homes, has provoked a series of protests in Camden, Brixton, and Brick Lane in recent months.
There's no easy solution to dealing with the problem, said Dr Rae. "But building more affordable homes, developing a genuine anti-poverty strategy for inner cities, and recognising the uneven impacts of austerity across the country would be a start," he added.
In a statement, a Government spokesperson said: "We are ensuring that every part of Britain benefits from a growing economy," and added: "Our affordable housebuilding efforts have exceeded ambitions and delivered more than 260,000 affordable homes."
But Frances O'Grady, general secretary of the Trades Union Congress, commented: "Increases in house prices and rents in London have massively outstripped any increase in peoples' pay packets. With rising housing costs coming at the same time as cuts to in-work benefits too many low income families cannot afford to live in London at all."
And Alison Garnham, chief executive of the Child Poverty Action Group, warned: "In the capital working and non-working families are struggling with a toxic combination of high housing and childcare costs and low pay." She added: "Unless there is action to tackle these root causes of poverty London could be put beyond the reach of families on modest incomes.  At worst, the city will be home only to the wealthy and childless and families living in or close to destitution."
Government index: The UK's most deprived areas
In contrast to London, the pattern of deprivation in the rest of England remains largely unchanged. The Government records data on more than 32,000 local communities, and the places with the highest proportion of deprived neighbourhoods remain in the north of England. They include Hull, Knowsley, Liverpool, Manchester, and Middlesbrough. Deprived areas tend to be concentrated in large cities and coastal towns, but pockets of deprivation exist in every part of the country, and the Jaywick area of Clacton on Sea, Essex, is the most deprived local area in England, according to the latest statistics.
Reuse content