Nearly a million men, women and children are set to become homeless by 2020 unless the Government takes action to address a crisis described by Labour as a "test of our basic humanity".
Speaking ahead of this week's Budget – which The Independent on Sunday can reveal will include a package of measures to tackle homelessness – the shadow housing minister John Healey said the soaring numbers should "shake the Chancellor from his complacency".
According to a broader definition of homelessness used by charities, 275,000 families in England were affected last year – up from 200,000 in 2010. Labour pointed out that if the numbers continue to rise at the current rate, there will be more than 391,000 homeless families by 2020/21.
The latest estimate for rough-sleepers, who are not included in the homelessness statistics, found there were 3,659 individuals on the streets of England on one night in the autumn last year – double the number in 2010.
Assuming homeless families are the same size as the average household, this means that in five years' time more than 950,000 people will be living in hostels and B&Bs, sleeping on the sofas of friends, sleeping rough or otherwise without a home of their own, if the trend persists.
The Treasury refused to comment about the Budget, but one well-placed charity source said they believed Mr Osborne could be "about to do something incredibly good" to address homelessness. "We are incredibly nervous but excited," the insider added.
However Labour listed a string of government policies and other factors since 2010 that it said had contributed to the problem. 
UK news in pictures
UK news in pictures
1/30

A man carries a EU flag, after Britain voted to leave the European Union, outside Downing Street in London

REUTERS

2/30 23 June 2016

AFP/Getty Images

3/30 22 June 2016

British Prime Minister David Cameron poses for a photograph after addressing pro-EU "Vote Remain" supporters at rally in Bristol, whilst campaigning to avoid a Brexit, ahead of the 23 June EU referendum

AFP/Getty Images

4/30 21 June 2016

Scottish Conservative leader Ruth Davidson (left) and Mayor of London Sadiq Khan speak during the EU debate at Wembley Arena in London

Getty Images

5/30 20 June 2016

A full moon rises behind Glastonbury Tor as people gather to celebrate the summer solstice in Somerse

Getty Images

6/30 19 June 2016

Hot air balloons took to the air as part of the annual Lord Mayor's Hot Air Balloon Regatta, a charity event in aid of the Lord Mayor's Fund, in London

Getty Images

7/30 19 June 2016

Liberal Democrats leader Tim Farron (C) poses with supporters after arriving in the Liberal Democrat Vote Remain campaign bus, campaigning to avoid a Brexit in the EU referendum, during a launch event in east London

AFP/Getty Images

8/30 18 June 2016

A man lights a flare among pro-refugee activists rallying outside the French Embassy in central London, during a protest after most of an aid convoy of vehicles organised by campaign groups heading to northern France were turned back at the French frontier at the port of Dover

AFP/Getty Images

9/30 17 June 2016

Prime Minister David Cameron and Labour Leader Jeremy Corbyn arrive to pay their respects at the scene where Jo Cox was shot in Birstall

Getty Images

10/30 16 June 2016

Floral tributes and candles are placed by a picture of slain Labour MP Jo Cox at a vigil in Parliament square in London. Cox died after a shock daylight street attack, throwing campaigning for the referendum on Britain's membership of the European Union into disarray just a week before the crucial vote

AFP

11/30 15 June 2016

Boats from the 'Fishing for Leave' campaign group join a flotilla along the Thames River in London. The flotilla organised by members of the Fishing for Leave group, who are campaigning to leave the European Union ahead of the referendum on the 23 of June, was countered by boats representing the 'In' campaign

Getty Images

12/30 14 June 2016

A general view of the Tate Modern's new Switch House in London. The Tate Modern art gallery has unveiled its new Switch House building designed by architects Herzog & de Meuron

Getty

13/30 13 June 2016

Labour Leader Jeremy Corbyn (C) and Deputy Labour Leader Tom Watson (R) attend a vigil for the victims of the Orlando nightclub shooting, outside the Admiral Duncan pub on Old Compton Street in Soho, London

Getty Images

14/30 12 June 2016

A pigeon flies ahead of Britain's Queen Elizabeth and Prince Philip, and Princes William, Harry and Kate Duchess of Cambridge behind as they wave to guests attending the Patron's Lunch on the Mall, an event to mark her 90th birthday, in London

REUTERS

15/30 11 June 2016

A Guardsman faints at Horseguards Parade for the annual Trooping the Colour ceremony in central London

REUTERS

16/30 10 June 2016

The national service of thanksgiving for the 90th birthday of Britain's Queen Elizabeth II at St Paul's Cathedral in London, which is also the Duke of Edinburgh's 95th birthday

Getty Images

17/30 9 June 2016

Princess Anne, Princess Royal attends the Founders Day Parade at The Royal Hospital Chelsea in London

Getty Images

18/30 8 June 2016

Two women walk barefoot through heavy rain in Westminster in London. The Met Office has issued flood alerts for parts of the south east of England as torrential rain hit parts of the country

Getty Images

19/30 7 June 2016

An Osprey catches two Rainbow Trout at Rothiemurchus in Kincraig, Scotland. Ospreys migrate each spring from Africa and nest in tall pine trees around the Aviemore area, the raptor was hunted to the point of extinction in the Victorian era, their migratory habits eventually brought them back to Scotland with the first successful breeding pair being recorded in 1954

Getty

20/30 6 June 2016

David Cameron speaks at a Remain in the EU campaign event at the Oval cricket ground in London

Getty Images

21/30 5 June 2016

Original participants take part in Japanese artist Koki Tanaka's recreation of the 1985 youth training scheme protest as part of the Liverpool Biennial. The 1985 protest saw 10,000 UK school children take to the street to protest against the Conservative government's controversial youth training Scheme

Getty Images

22/30 4 June 2016

Troops parade along The Mall after the Colonel's Review in London

Getty Images

23/30 3 June 2016

Large scale recreation of Dutch flower painting 'A Still Life of flowers in a Wan-Li Vase' by Ambrosius Bosschaert made out of real flowers is seen outside National Gallery in London

Rex

24/30 2 June 2016

Final preparations are made for the RHS Rose Show in London. The RHS London Rose Show runs from June 3-4 at RHS Lawrence Hall in Westminster

Getty Images

25/30 1 June 2016

Sheep are judged on the opening day of the Royal Bath and West Show in Shepton Mallet. The result of the EU referendum is likely to be closely watched by members of the farming community as the UKs membership of the European Union has long been a contentious issue for the farming industry

Getty Images

26/30 31 May 2016

German President Joachim Gauck (C), British Premier David Cameron (L) and Princess Anne, Princess Royal attend the 100th anniversary commemorations for the Battle of Jutland at the Lyness cemetery in Lyness, Scotland

Getty Images

27/30 30 May 2016

People enjoy the fine weather as they gather on the beach at Sennen Cove in Cornwall

Getty Images

28/30 29 May 2016

K, Moses Adams (South Africa), performs a noseblunt slide during the Red Bull Hold The Line competition at The Royal Albert Hall in London

Getty Images

29/30 28 May 2016

Princess Anne, Princess Royal and Vice Admiral Sir Tim Laurence attend a service at a war graves cemetery to mark the Battle of Jutland in South Queensferry, Scotland. The events begin a weekend of commemoration leading up to the anniversary on 31 May and 1 June to mark the centenary of the largest naval battle of World War One where more than 6,000 Britons and 2,500 Germans died in the Battle of Jutland

Getty Images

30/30 27 May 2016

Leader of Britain's opposition Labour Party, Jeremy Corybn, arrives to deliver a speech on the merits of Britain remaining in the European Union, in Doncaster

Getty Images
These include cuts of £5bn to housing benefit support over the last five years, such the bedroom tax, and 45 per cent cuts to financial support for homelessness services. Private sector rents are expected to rise by a 16.5 per cent over the next five years, while the number of council houses has fallen by more than 100,000 since 2010.
Labour also said that over the next five years housing benefit cuts would total nearly £11bn, while council budgets would face 7 per cent cuts, further reducing their ability to help.
Mr Healey said: "This spiralling scale of homelessness shames us all when Britain is one of the richest countries in the world. It is a test of our basic humanity. It should shake the Chancellor from his complacency about the growing homeless crisis and shock him into action. The homeless figures hide personal stories of hurt and hopelessness; thousands of people whose ordinary lives have fallen apart from illness, debt, family break-up, addiction or redundancy."
He pointed to Wales, where the Labour administration has introduced a statutory duty requiring councils to take steps to prevent homelessness. In 2014-15, there were more than 14,100 people without a home, down from 15,800 the previous year. 
In Scotland, the number of people applying to be treated as homeless has also fallen, from more than 15,100 in the second quarter of 2010 to about 8,100 in the same period of last year. 
The homelessness charity Crisis produced a report in January, which found there were 275,000 cases of homeless families in 2014/15 in England.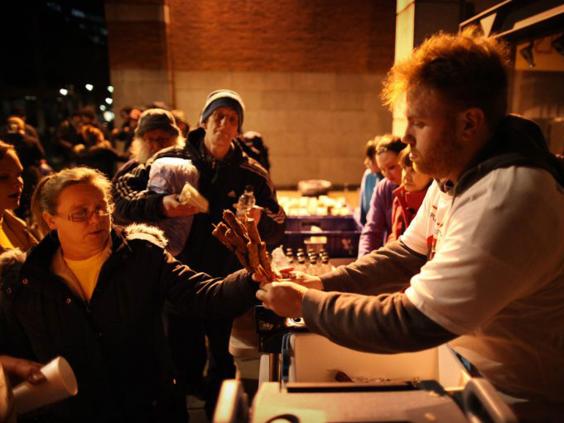 It warned: "With recent policy decisions leaving major question marks hanging over the future supply of, and access to, social and affordable rented housing, coupled with deep cuts in welfare that are making access to both rental sectors increasingly difficult for low income households, the question 'who will house the poorest?' is becoming an increasingly urgent one."
Councillor Peter Box, the Local Government Association's spokesman for housing, said there was a "desperate" need for more affordable housing. "As the housing crisis intensifies, councils are facing real difficulties in finding emergency care for all homeless people and to expand the range of accommodation for homeless people, particularly those who are young, vulnerable, or with families," he said.
 Angela Barratt, who runs Street Support Salford and Manchester, painted a shambolic picture of the help on offer to people without a home. She said: "It's really an emergency situation because it's just getting worse and worse. The Government needs to put an action plan into place."
A government source did not dispute the figures, but cautioned that "the data in this area is not the best". 
A spokesman for the Department for Communities and Local Government said: "Homelessness is less than half its peak in 2003, but one person without a home is one too many.  That's why we have increased central government funding to tackle homelessness over the next four years to £139m, and protected homelessness prevention funding for local authorities at £315m by 2019-20.