More than a quarter of a million people in England are homeless, with Westminster named as the country's worst hotspot according to analysis from Shelter.
The charity, releasing figures to mark its 50th anniversary on Thursday, calculated that there are almost 255,000 people with no permanent home across the country.
Shelter's homelessness figures include the numbers of people living in hostels and other types of temporary accommodation, as well as those sleeping rough on England's streets.
It said homelessness "hotspots" across England can be found in Brighton, Birmingham, Slough, Bristol, Coventry, Reading and Manchester, as well as in parts of London.
In Brighton and Hove, one in 69 people are homeless, according to Shelter's estimates. This figure was calculated from the charity's findings that 78 people were sleeping rough in Brighton and Hove and a further 4,017 were living in temporary accommodation, making a total of 4,095.
In Birmingham, Shelter calculated that one in 119 people have no permanent home. Shelter found that in Birmingham, 9,524 people were living in temporary accommodation and another 36 were rough sleeping, making the total number of people it categorised as homeless 9,560.
Shelter said in Westminster in central London, one in 25 has no permanent home, making this area England's top homelessness hotspot.
In Westminster, it found that 7,794 people were living in temporary accommodation and another 265 were sleeping rough, making a total of 8,059 people without a permanent home.
A Department for Communities and Local Government (DCLG) spokesman said of Shelter's findings: "We do not recognise these figures.
"The actual level of homelessness is less than half the 2003 peak. However, we know that one person without a home is one too many.
"That is why the Government is investing over £500 million during the course of this parliament to tackle homelessness. This includes protecting £315 million for local authority homelessness prevention funding, and £149 million central government funding."
The causes of homelessness
The causes of homelessness
1/7 Family Breakdown

Relationship breakdown, usually between young people and their parents or step-parents, is a major cause of youth homelessness. Around six in ten young people who come to Centrepoint say they had to leave home because of arguments, relationship breakdown or being told to leave. Many have experienced long-term problems at home, often involving violence, leaving them without the family support networks that most of us take for granted

2/7 Complex needs

Young people who come to Centrepoint face a range of different and complex problems. More than a third have a mental health issue, such as depression and anxiety, another third need to tackle issues with substance misuse. A similar proportion also need to improve their physical health. These problems often overlap, making it more difficult for young people to access help and increasing the chances of them becoming homeless

Getty Images/iStockphoto

3/7 Deprivation

Young people's chances of having to leave home are higher in areas of high deprivation and poor prospects for employment and education. Many of those who experience long spells of poverty can get into problem debt, which makes it harder for them to access housing

Getty Images/iStockphoto

4/7 Gang Crime

Homeless young people are often affected by gang-related problems. In some cases, it becomes too dangerous to stay in their local area meaning they can end up homeless. One in six young people at Centrepoint have been involved in or affected by gang crime

Getty Images/iStockphoto

5/7 Exclusion From School

Not being in education can make it much more difficult for young people to access help with problems at home or health problems. Missing out on formal education can also make it more difficult for them to move into work

Getty Images/iStockphoto

6/7 Leaving Care

Almost a quarter of young people at Centrepoint have been in care. They often have little choice but to deal with the challenges and responsibilities of living independently at a young age. Traumas faced in their early lives make care leavers some of the most vulnerable young people in our communities, with higher chances of poor outcomes in education, employment and housing. Their additional needs mean they require a higher level of support to maintain their accommodation

Getty Images/iStockphoto

7/7 Refugees

Around 13 per cent of young people at Centrepoint are refugees or have leave to remain, meaning it isn't safe to return home. This includes young people who come to the UK as unaccompanied minors, fleeing violence or persecution in their own country. After being granted asylum, young people sometimes find themselves with nowhere to go and can end up homeless

Getty Images/iStockphoto
The findings were calculated by Shelter after looking at figures from sources including government data and information from social services obtained following a freedom of information request.
Children and adults were included in the calculations, which Shelter described as conservative. The findings did not include "hidden" homelessness, such as people staying with friends.
Shelter's chief executive Campbell Robb said: "Shelter's founding shone a light on hidden homelessness in the sixties slums. But while those troubled times have faded into memory, 50 years on, a modern-day housing crisis is tightening its grip on our country.
"We all face the consequences when so many in our country grow up without a place to call home. It breaks up communities and wreaks havoc on family life.
"For the sake of future generations, we must pull together to end this crisis and refuse to rest until every child has a place to call home."
Support The Independent's Homeless Helpline Christmas Appeal
Shelter highlighted the case of a woman named Mandie who was renting a flat in Luton with her two daughters, but after being made redundant, she fell behind on the rent and was evicted.
She said: "We stayed in a hotel for months and now we're in temporary accommodation. I don't know where we'll end up next, or when we'll be able to have a home to call our own.
"This year, my daughters agreed to cancel Christmas. They're normally hyped about it, but I think they're trying to take the pressure off me. The only thing they asked for was whether we could still have a turkey dinner."
Shelter's co-founder Des Wilson said: "It would be pleasing if Shelter were able to take time to celebrate its 50th year, but, as this report shows, it is too aware of what still has to be done.
"I hope the country will respond to its urgent rallying call with the same combination of anger and compassion with which it supported our work all those years ago."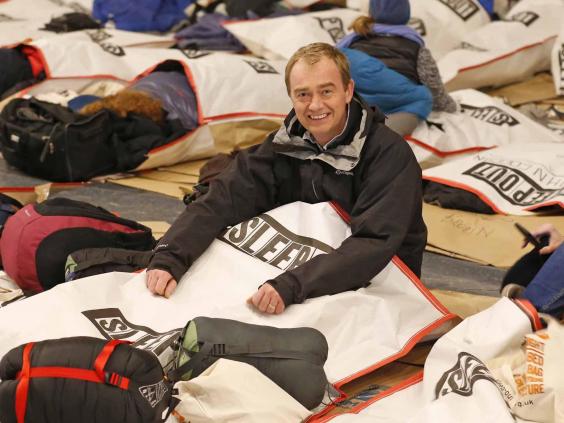 The 50 homelessness hotspots across England, according to Shelter's calculations, with the number of people living in temporary accommodation followed by the number of people sleeping rough and the rate of people who are homeless per head of the population.
1. Westminster, London: 7,794, 265, 1/25
2. Newham, London: 12,218, 28, 1/27
3. Haringey, London: 9,447, 22, 1/28
4. Kensington and Chelsea, London: 4,550, 24, 1/30
5. Brent, London: 10,527, 55, 1/33
6. Hackney, London: 7,754, 20, 1/34
7. Enfield, London: 9,278, 7, 1/35
8. Tower Hamlets, London: 7,335, 12, 1/37
9. Waltham Forest, London: 7,239, 33, 1/38
10. Barking and Dagenham, London: 5,167, 20, 1/40
11. Barnet, London: 7,719, 21, 1/48
12. Redbridge, London: 6,094, 43, 1/48
13. Croydon, London: 7,716, 51, 1/49
14. Lewisham, London: 5,772, 9, 1/50
15. Ealing, London: 6,892, 31, 1/53
16. Hammersmith and Fulham, London: 3,488, 5, 1/53
17. Lambeth, London: 5,529, 27, 1/57
18. Luton, East of England: 3,405, 53, 1/63
19. Southwark, London: 4,310, 32, 1/69
20. Brighton and Hove, South East: 4,017, 78, 1/69
21. Hounslow, London: 3,516, 27, 1/80
22. Wandsworth, London: 3,964, 23, 1/81
23. Bromley, London: 3,996, 4, 1/82
24. Harrow, London: 2,960, 6, 1/86
25. City of London, London: 38, 48, 1/91
26. Kingston upon Thames, London: 1,784, 14, 1/93
27. Islington, London: 2,247, 9, 1/95
28. Birmingham, West Midlands: 9,524, 36, 1/119
29. Havering, London: 1,939, 10, 1/128
30. Bexley, London: 1,856, 6, 1/129
31. Broxbourne, South East: 732, 0,1/135
32. Hillingdon, London: 2,023, 36, 1/146
33. Watford, South East: 642, 12, 1/152
34. Camden, London: 1,338, 15, 1/160
35. Slough, South East: 891, 17, 1/164
36. Harlow, East of England: 518, 15, 1/169
37. Reading, South East: 995, 16, 1/170
38. Basildon, East of England: 1,026, 13, 1/179
39. Sutton, London: 1,105, 6, 1/180
40. Epsom and Ewell, South East: 418, 6, 1/186
41. Crawley, South East: 561, 33, 1/189
42. Dacorum, South East: 774, 4, 1/193
43. Bristol, City of, South West: 2,185, 97, 1/199
44. Gosport, South East: 415, 4, 1/199
45. Coventry, West Midlands: 1,677, 9, 1/204
46. Greenwich, London: 1,283, 14, 1/207
47. Richmond upon Thames, London: 799, 11, 1/238
48. Chelmsford, East of England: 701, 12, 1/242
49. Colchester, East of England: 751, 9, 1/246
50. Manchester, North West: 1,930, 70, 1/266
PA
Reuse content