As householders across the UK continue the great flood clean-up, many are battling with insurance companies. Some are discovering that they now face an insurance "double whammy" – especially if they live in one of the areas covered by the new fracking licences announced by the Government before Christmas.
Many of the UK's best known insurance companies will not insure against fracking-related damage, an investigation by The Independent on Sunday and the campaign group Spinwatch has found.
This could include contamination caused by polluted water from a fracking site being spread during exceptional flood events and could also include groundwater contamination from underground fracking operations. Companies representing two thirds of the UK insurance market will not insure against damage caused as a result of fracking, or else have exemptions covering potential pollution of water from the controversial technique. This means tens of thousands of people will find it difficult to insure themselves against fracking-related damage to their property or land. 
One in five of the 150 new fracking sites announced have been designated as having a significant risk of flooding and some flooded over the past month.
Top domestic insurers were approached by a test consumer saying they lived within five miles of a proposed fracking well in Ryedale, North Yorkshire, where Third Energy has applied to frack. The application could be decided by North Yorkshire County Councillors next month, as the council is under pressure from the Government to fast-track shale gas exploitation.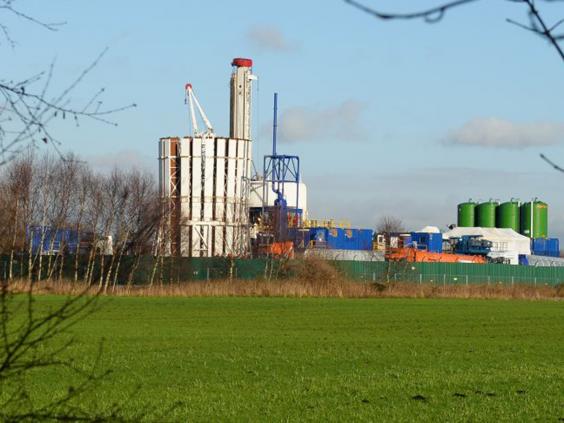 Insurers were asked whether they would provide cover against fracking-related damage, as well as contamination of water supplies. They were also asked if premiums would increase. Most declined to comment about increased premiums but some acknowledged that where there had been a high rate of claims then premiums will generally rise.
The UK's biggest domestic insurer, Direct Line, said although "subsidence and earthquake caused by fracking are covered as they are insured risks", there is "no cover for contamination caused by fracking as contamination is a general exclusion of our policy". 
Lloyds Banking Group, the UK's second largest insurer, confirmed that policyholders "would be protected against major perils – ground movement, earthquake and explosion". It was therefore "likely we might offer assistance if affected by similar damage". However, asked what the insurers meant by "likely", Lloyds declined to reply. It also pointed out that "for a claim to be successful, you would have to be able to prove that fracking is the actual cause of the damage".  
Experts warn this will be a high hurdle to overcome for most households, as potential water contamination problems could occur thousands of feet below ground or on the surface during flooding
UK news in pictures
UK news in pictures
1/18 23 June 2017

British Prime Minister Theresa May addresses a news conference at the EU summit in Brussels, Belgium, June 23, 2017

Reuters

2/18 22 June 2017

Cosplay fans (L-R) George Massingham, Abbey Forbes and Karolina Goralik travel by tube dressed in Harry Potter themed costumes, after a visit to one the literary franchise's movie filming locations at Leadenhall Market in London, Britain

Reuters

3/18 22 June 2017

Racegoers cheer on their horse on Ladies Day at the Royal Ascot horse racing meet, in Ascot, west of London

Getty

4/18 21 June 2017

A reveller walks among the tipi tents at the Glastonbury Festival of Music and Performing Arts on Worthy Farm near the village of Pilton in Somerset, South West England

Getty

5/18 20 June 2017

A police officer lays some flowers passed over by a member of the public, close to Finsbury Park Mosque in north London, after one man died and eight people were taken to hospital and a person arrested after a rental van struck pedestrian

PA

6/18

The Borough Market bell is seen in Borough Market in central London following its re-opening after the June 3 terror attack

Getty Images

7/18

Two women embrace in Borough Market, which officially re-opens today following the recent attack, in central London

REUTERS/Hannah McKay

8/18

Mayor of London Sadiq Khan attends the re-opening of Borough market in central London following the June 3 terror attack

Getty Images

9/18

People walk through Borough Market in central London following its re-opening after the June 3 terror attack

Getty Images

10/18

News Corp CEO Rupert Murdoch, with one of his daughters, visit Borough Market, which officially re-opened today following the recent attack

REUTERS

11/18

A woman reacts in front of a wall of messages in Borough Market, which officially re-opened today following the recent attack, in central London

REUTERS/Hannah Mckay

12/18

Vivenne Westwood walks the runway at the Vivenne Westwood show during the London Fashion Week Men's June 2017 collections

Getty Images

13/18

Millwall fan and London Bridge hero Roy Larner on 'Good Morning Britain'

Rex

14/18

Richard Arnold, Roy Larner, Piers Morgan and Susanna Reid on 'Good Morning Britain'

Rex

15/18 11 June 2017

England players celebrate after defeating Venezuela 1-0 to win the final of the FIFA U-20 World Cup Korea 2017 at Suwon World Cup Stadium in Suwon, South Korea

AP

16/18 11 June 2017

England players celebrate with the trophy after the final match of the FIFA U-20 World Cup 2017 between Venezuela and England at Suwon World Cup Stadium in Suwon, South Korea

EPA

17/18 11 June 2017

Great Britain's Alistair Brownlee celebrates winning the Elite Men Columbia Threadneedle World Triathlon Leeds

Danny Lawson/PA Wire

18/18 11 June 2017

Two men drink beer outside the Southwark Tavern which reopened for business today next to an entrance to Borough Market which remains closed in London

Getty Images
More Th>n said it would not cover contamination or earthquakes caused by fracking; and Axa replied that water contamination "would not be covered by home insurance; you would need to contact your water supplier". Both Allianz and Nationwide said they would not cover contamination either.
Other companies outlined exemption clauses; Aviva said: "In the event of pollution or contamination … our policies contain a general exclusion of loss, damage or liability by pollution or contamination unless due to sudden and unexpected accident."
LV= said that although it would cover fracking, "If the damage was caused by poor workmanship of [fracking] contractors, this would not be covered."
Among those who would insure against the controversial technique, Legal & General said: "There is no exclusion in our policy wording for any loss or damage caused by fracking."
The shale gas industry and the Government admit that insurance is a problem. Last year Ken Cronin, head of UK Onshore Oil and gas, the industry trade body, conceded that it was an "area of concern". 
A Defra report published last year admitted that fracking could cause nearby house prices to fall by up to 7 per cent and create a risk of environmental damage.
 It also warned that leakage of waste fluids could affect human health through polluted water, and that properties located within a five-mile radius of a fracking operation "may also incur an additional cost of insurance, to cover losses in case of explosion on the site".
Reuse content