The exit checks that come into effect at UK borders next month have been slammed by one of Britain's largest transport operators. Eurotunnel, which runs car-carrying trains between Folkestone and Calais, has also revealed that most car drivers and passengers will not have their documents checked. The Home Office has agreed to limited screening, to avoid the risks that traffic could tail back onto the M20 motorway and that holidaymakers would have to queue for hours.
The firm's public affairs director, John Keefe, told The Independent: "The government should be looking at smarter ways of operating these checks. Much more attention should be paid to the flow of people through borders, rather than using something like exit checks to effectively slow the passage of people through borders and thereby limit tourism and trade.'
Exit checks were abandoned in 1998, when it was felt the £3m a year that they cost could be better spent elsewhere. But as part of the wider immigration debate - and in particular the wish to know about overstaying non-EU citizens - the coalition agreed to re-introduce the checks during the life of this parliament. They take effect on 8 April.
Most people who leave the UK do so by air, and for them the process will barely be noticed. Airlines already collect passenger data in advance of each flight, and will simply pass on the details to the Home Office. Travellers on Eurostar passenger trains to the Continent will face encounter more bureaucracy - at present there is no routine reconciliation between the name on the ticket and the individual's passport.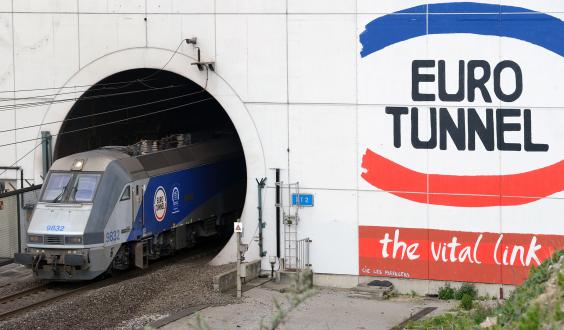 The main problem is with people who are leaving in vehicles - on ferries to the Continent, and Eurotunnel from Folkestone to Calais. Systems are designed to process cars - using number-plate recognition - rather than checking individual travel documents. On a peak summer day, 12,000 cars leave from Folkestone on Eurotunnel, with a similar number sailing from Dover on ferries. Each car may carry as many as nine passengers.
"There was a lack of understanding in the early stages about how different a vehicle-based system is compared to an airline, where we're talking about one seat, one person, one booking," said Mr Keefe. "The vehicle system really does have a different element to it, which is the multiplication."
The Independent has learned that from 1 April, every driver and passenger travelling on the Eurotunnel car-carrying service from Folkestone to Calais will have to provide, in advance, their name, date of birth, passport number and expiry date - or face being turned away. Eurotunnel is bringing in checks a week early to try to solve any teething problems. But only vehicles with declared passengers from outside the European Economic Area are sure to be stopped for an examination of travel documents - of the rest, one in five will be selected randomly for a check.
In pictures: English Heritage Train Stations
At a Downing Street press briefing last week, the prime minister's official spokesman said that it was right that exit checks were being implemented and that holidaymakers should check with their travel operators for latest travel advice.
P&O Ferries, which is the biggest operator from Dover to Calais and also sails from Hull to Belgium and Holland, is telling passengers: "We'll be checking passports or national identity cards when checking in for our tourist services at Dover. In order to speed up check-in make please sure you have your passport or national identity card to hand."
Additional research by Eddie Millett
Reuse content