Jack the Ripper was a 23-year-old Polish immigrant called Aaron Kosminski, according to an author claiming to have exposed the serial killer's true identity using DNA evidence.
Russell Edwards, who describes himself as an "armchair detective", believes he has identified the Victorian murderer for the first time after more than 120 years of mystery.
He said Kosminski, who died in an asylum, was "definitely, categorically and absolutely" the man behind the grisly killing spree in 1888 in Whitechapel.
Police had identified Kosminski as a suspect, Mr Edwards said, but never had enough evidence to bring him to trial.
Chief Inspector Donald Swanson, who led the investigation, recorded a suspect named "Kosminski" in contemporary notes, saying he was a low-class Polish Jew and had family living in Whitechapel.
The notes, donated by his descendants to Scotland Yard's Crime Museum in 2006, included a memorandum from Assistant Chief Constable Sir Melville Macnaghten saying Kosminski "had a great hatred of women…with strong homicidal tendencies".
A Jewish immigrant from Poland, he fled persecution in his homeland while it was under Russian control and came with his family to England in 1881, living in Mile End, east London.
His occupation was listed in workhouse documents as a barber in Whitechapel but he was later admitted to a string of lunatic asylums, where he died in 1899 after contracting gangrene in his leg.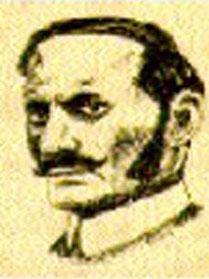 There were anti-Semitic protests at the time of the Ripper murderers after a disputed message written on a wall in Goulston Street, near where two bodies had been found, believed to be from the killer identifying himself as Jewish.
The message was washed off amid fears of anti-Semitic riots and its authenticity has been disputed ever since.
A blood-stained shawl belonging to one of the Ripper's victims bought at an auction in Bury St Edmunds, Suffolk, in 2007 was used as the basis for the research.
As well as being soaked in her blood, it was found to have traces of semen thought to belong to the killer.
Mr Edwards said: "I've got the only piece of forensic evidence in the whole history of the case.
"I've spent 14 years working on it, and we have definitively solved the mystery of who Jack the Ripper was.
"Only non-believers that want to perpetuate the myth will doubt. This is it now - we have unmasked him."
Jack the Ripper murdered at least five women, slashing their throats, removing internal organs and leaving their mutilated bodied in darkened alleyways.
Mr Edwards, 48, from Barnet, north London, was "captivated" by the murder mystery and had been investigating it in his spare time but thought it could never been solved until he saw the shawl for sale.
It was found by the body of Catherine Eddowes, one of the Ripper's victims.
Hers was one of the earliest murders definitively attributed to "Jack", in August 1888.
Her body was found in Mitre Square in the City of London, with the throat cut, abdomen ripped open and the left kidney and part of the womb removed.
With the help of Jari Louhelainen, an expert in molecular biology, Mr Edwards used pioneering techniques to analyse DNA from the shawl over three-and-a-half years.
"When we discovered the truth it was the most amazing feeling of my entire life," he said.
The shawl had been taken from the scene by acting Sergeant Amos Simpson, who was on duty the night of Eddowes's death and wanted it for his wife.
She was reportedly horrified at the macabre gift and never wore it.
It was stored away and passed down through the generations, never washed, until it came to the auction.
Mr Edwards, who said he was partly inspired to take up the search after watching From Hell, a film about the Ripper murders starring Johnny Depp, has published his findings in a book called Naming Jack the Ripper.
The evidence presented has not, however, been universally accepted as definitive proof.
Professor Sir Alec Jeffreys, the man who invented the DNA fingerprint technique 30 years ago, described it as an "interesting but remarkable claim that needs to be subjected to peer review, with detailed analysis of the provenance of the shawl and the nature of the claimed DNA match with the perpetrator's descendants and its power of discrimination; no actual evidence has yet been provided".
It will be available from publishers by Sidgwick & Jackson on Tuesday.
Additional reporting by PA
Reuse content