The row dubbed 'traingate' involving Jeremy Corbyn and Richard Branson's Virgin Trains has intensified after CCTV footage emerged appearing to contradict initial claims that the Labour leader was forced to sit on the floor on a service from London to Newcastle because there were no free seats. 
Mr Corbyn turned down a first class upgrade on the journey on August 11 as he made his way to a debate with leadership challenger Owen Smith. Since then, Virgin disputed Mr Corbyn's version of events, while the Labour leader has stuck to his guns.
This is how events unfolded. 
11 August, 11:00am: Train leaves King's Cross in London
11:10am: CCTV captures Jeremy Corbyn walking past unreserved empty seats in carriage H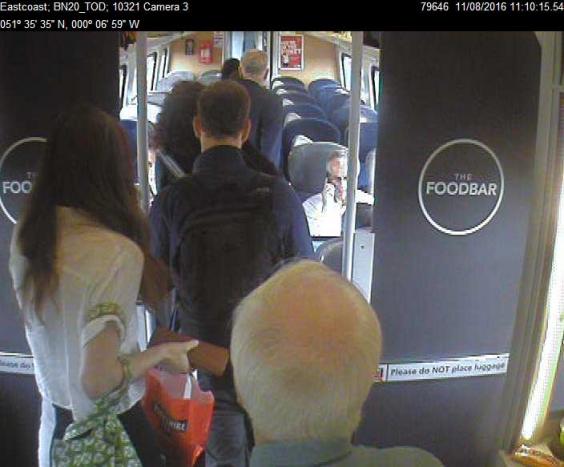 11:11am: One minute later, footage shows Mr Corybn walking past empty but reserved seats in carriage F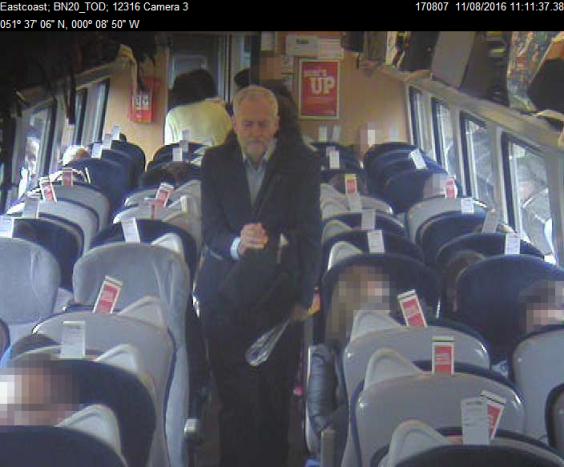 11:30am: Mr Corbyn takes a seat on the floor to record footage for a documentary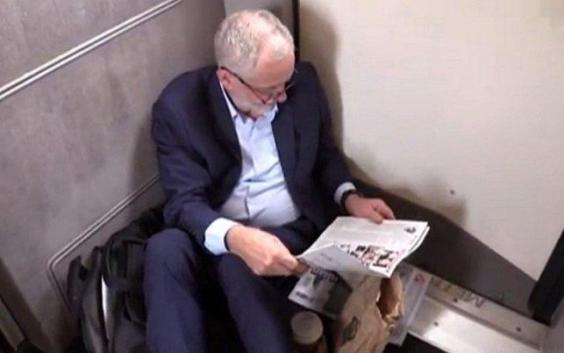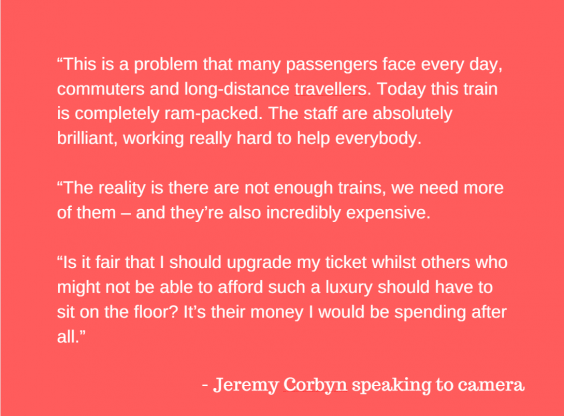 11:46am: Mr Corbyn is then captured on CCTV returning to carriage H and taking a seat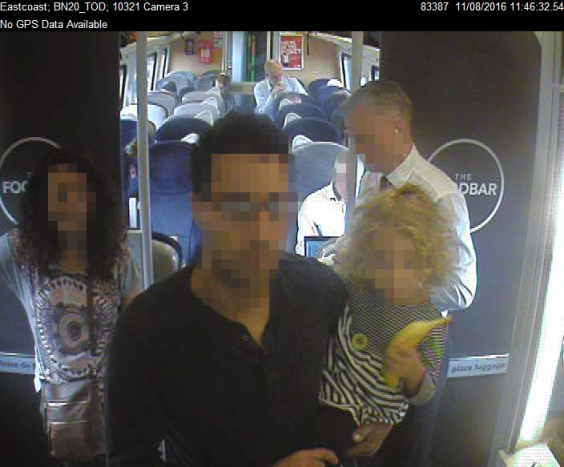 12:50am: The train arrives at York, its first stop
The film was made by freelance filmmaker Yannis Mendez as the Labour leader made his way to Newcastle for a debate with his political rival Owen Smith. It was made public on 16 August.
One passenger called Ellen, who also had no seat, said at the time: "It was a surprise to see him there, but it was refreshing. It made me realise that it shouldn't be a surprise to see a politician travelling alongside average commuters. They should be on the same level as the general public."
Mr Corbyn has been praised for refusing first class upgrade and sitting on floor: 
But some were suspicious: 
On 23 August, Virgin Trains release a statement calling out Jeremy Corbyn's claims train was "ram-packed".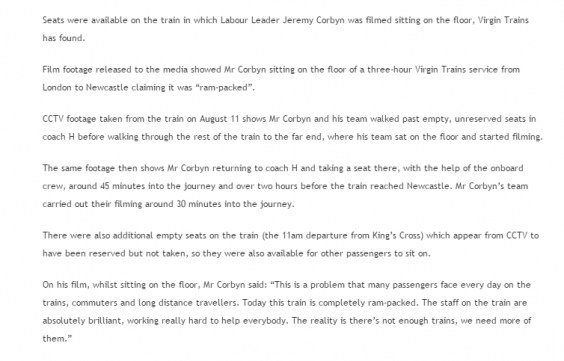 A Virgin Trains spokesperson said: "We have to take issue with the idea that Mr Corbyn wasn't able to be seated on the service, as this clearly wasn't the case. We'd encourage Jeremy to book ahead next time he travels with us, both to reserve a seat and to ensure he gets our lowest fares, and we look forward to welcoming him onboard again."
Richard Branson then tweeted about the incident
But passengers have disputed Virgin's claims - insisting the train was extremely busy.
One passenger, Keren Harrison, posted a picture of herself on the train with Mr Corbyn and gave an account of events that contradicted the company's version.
She said: "I was on said train and it was very busy!" she said. "He got seat about 45 mins in when staff started shuffling people around!"
Later the same day: Mr Corbyn's press team issue the following statement: "When Jeremy boarded the train he was unable to find unreserved seats, so he sat with other passengers in the corridor who were also unable to find a seat. 
"Later in the journey, seats became available after a family were upgraded to first class, and Jeremy and the team he was travelling with were offered the seats by a very helpful member of staff.
"Passengers across Britain will have been in similar situations on overcrowded, expensive trains. That is why our policy to bring the trains back into public ownership, as part of a plan to rebuild and transform Britain, is so popular with passengers and rail workers."
And today Mr Corbyn was asked at a press conference why CCTV showed him walking past unreserved seats. 
He said: "Yes I did walk through the train, yes I did look for two empty seats together so I could sit down with my wife to talk to her. 
"That wasn't possible. And so I went to the end of the train.  The train manager, who was a very nice gentleman, came along and we had a chat about the problems of over-crowding and regulations on the train and he said he would see what he could do – after he'd already offered me an upgrade to first class which I'd declined – he then very kindly did find some seats and after 42 minutes I went back through the train to the seats that he'd allocated.
"We sat down there and we then conducted a lot of preparatory work for our visit to Newcastle."
Mr Corbyn is then pressed on why he thought Richard Branson had sought to raise the issue.
He responds: "I'm very pleased that Richard Branson has been able to break off from his holiday to take this issue as seriously with the importance it obviously deserves.
"I hope he's very well aware of our policy which is that train operating companies should become part of the public realm not the private sector."