A doctor who was part of a study on links between staffing and deaths in the NHS has accused the Government of "continually misrepresenting" the findings to support its push to change junior contracts.
Dr Peter Holt, a vascular surgeon at St George's University of London, said he had written to Jeremy Hunt, the Health Select Committee and shadow Health Secretary Heidi Alexander raising his objection.
In a post on the Junior Doctors contract forum Facebook group, he wrote that the research published in December "could never have shown that higher staffing on weekends reduced mortality".
"We did not have staffing levels by day of the week but aggregated data over a time period, so we didn't even investigate this," he added.
"The data have been continually misrepresented. I have put this in writing to the Secretary of State, Heidi Alexander and Health Select Committee. 
"I have asked the latter for a minuted retraction of the way in which the evidence is being used and acknowledgement of this. No replies so far."
The paper, published in the British Journal of Anaesthesia, analysed data involving nearly 295,000 patients to find that fewer patients die after emergency surgery in hospitals that have more doctors and nurses.
It indicated a direct link between the numbers of doctors, nurses and senior clinicians working in a hospital and the patient's chances of survival. 
Researchers found that the likelihood of death was 11 per cent higher where the patients was admitted to hospital at the weekend while the likelihood of death was seven per cent higher in trusts with the lowest numbers of nurses per bed.
In a press release marking the publication, Dr Holt was quoted as saying: "This is the first analysis on this scale for emergency general surgical admissions examining the associations between the numbers of senior doctors, junior doctors and nurses per hospital bed and patient survival rates. 
"Although we have not demonstrated causation, we believe the findings should form an important part of the debate over disparities in staffing levels and resource provision between NHS Trusts."
The study could be one of eight cited by Mr Hunt as evidence of higher weekend mortality rate, as he announced plans to enforce controversial changes to junior doctors' contracts in the House of Commons on Thursday.
"Six of those say staffing levels are a factor that needs to be investigated,"  he added.  
"Professor Sir Bruce Keogh describes the status quo as 'an avoidable weekend effect which if addressed could save lives' and has set out the 10 clinical standards necessary to remedy this.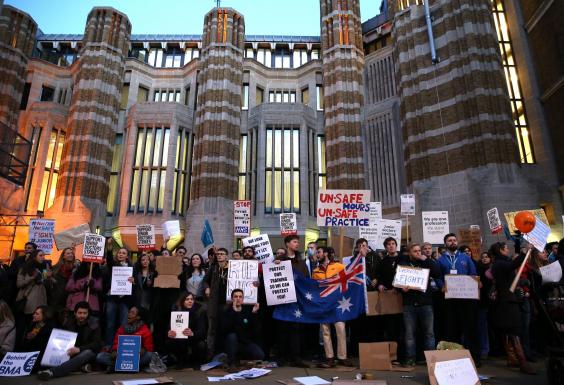 "Today we are taking one important step necessary to make this possible."
The new terms, which will come into force for junior doctors in England this August, classify Saturday as a normal working day and extend "social" hours to cut those awarded extra pay.
They have been the subject of two strikes by junior doctors with the British Medical Association union so far and have seen huge opposition from NHS employees.
Concern has been raised over the Government's use of several scientific studies to support its move towards a "seven-day NHS".
Fiona Godlee, editor of the British Medical Journal, wrote to Mr Hunt with concerns he had "misrepresented" another study on weekend mortality and inferred that the deaths were avoidable, when the research did not make that clear. 
In pictures: Junior doctors protests in UK
In pictures: Junior doctors protests in UK
1/10

20,000 Junior Doctors marched through central London in protest at the new contract changes the government is trying to impose which they say will be unfair and unsafe

2/10

Junior doctors protest in London

3/10

4 year old Cassius takes part in a demonstration in Westminster, in support of junior doctors over changes to NHS contracts, London

4/10

Protest over proposed changes to junior doctors' contracts, Leeds

5/10

Junior doctors and NHS staff protesting against the health service cuts and the proposed contract changes offered by the government outside Parliament

6/10

Junior doctors and NHS staff protesting against the health service cuts and the proposed contract changes offered by the government outside Parliament

7/10

Over 5000 junior doctors rallied in Waterloo place, before marching through Whitehall and onto Parliament Square, in opposition to Jeremy Hunt's new working conditions for doctors

8/10

Demonstrators listen to speeches in Waterloo Place during the 'Let's Save the NHS' rally and protest march by junior doctors

9/10

Junior doctors marched in London to highlight their plight

10/10

A protester at a demonstration in support of junior doctors in London
Research carried out by two paediatricians last year also alleged that the Health Secretary's comments claiming that people were more likely to die if they attend hospital at weekends were also responsible for mortality rates.
In a letter to the BMJ, they identified a "Hunt effect" causing people to delay seeking treatment until a weekday despite being ill because of concerns sparked by the Conservative MP's statements.
Two deaths were reported as a result of the delay and a third of people suffered "long-term, irreversible morbidity" in surveyed cases involving intensive care, surgery, psychiatry, medicine, child health and obstetrics and gynaecology.
The Department of Health has not yet replied to the Independent's request for a comment on Dr Holt's complaint.
"There is clear independent clinical evidence that standards of care are not uniform across the week and this Government makes no apology for tackling the problem to make sure all patients receive the same high quality care seven days a week," a spokesperson previously said.