Security measures protecting the Prime Minister and the Royal Family have been called into question, after it was a revealed a legal loophole allows civilian drones to fly over sensitive sites across the country.
The loophole in Civil Aviation Authority (CAA) rules means that despite obvious security concerns, it is legal to operate an unmanned aerial vehicle over numerous Government and royal sites, including the Prime Minister's country retreat at Chequers and the Balmoral and Sandringham estates.
Security experts reacted with alarm to the loophole last night amid suggestions that criminals and terrorists could use drone technology to launch an attack or gain vital information on the movements of the Prime Minister or Royal Family.
There have been repeated calls for more drone regulation in recent months after suggestions terrorists could use drones to deliver explosive devices, disperse chemical or biological weapons or even spray and ignite flammable liquids.
Buildings not covered by Civil Aviation Authority rules
Buildings not covered by Civil Aviation Authority rules
1/6 Balmoral Castle

One of the residences of the Royal Family in Royal Deeside, Aberdeenshire

Getty Images

2/6 Chequers

The country house near Ellesborough in Buckinghamshire, a private retreat of the Prime Minister

AFP/Getty Images

3/6 Chevening House

Large country house in Sevenoaks, Kent, is an official residence of the Foreign Secretary

Getty Images

4/6 Dorneywood

The house in Buckinghamshire used as a grace-and-favour home by the Chancellor George Osborne

AFP/Getty Images

5/6 Sandringham House

The Grade II*-listed country house in Norfolk is a private retreat for the Queen

AFP/Getty Images

6/6 GCHQ

Headquarters of the intelligence and security organisation, known as 'The Doughnut', in Cheltenham

AFP/Getty
Most recently, these concerns were raised in a report produced by Sir David Omand the former head of Britain's surveillance agency GCHQ. However, The Independent has established that drone flights are still permitted over several royal homes, including Highgrove House, the country home of the Prince of Wales, as well as the grace-and-favour homes used by the Deputy Prime Minister and Foreign Secretary.
More worryingly for the security services, drone flights are also permitted over GCHQ in Cheltenham, from where Britain's surveillance agencies monitor global signals traffic.
Last night, Admiral Lord West, a former Labour security minister and senior Royal Navy officer, said the loophole was a "great concern" and that the Government should "take action urgently".
CAA rules do ban drones from congested urban areas, nuclear power plants, military sites, high-security prisons and airports, while elsewhere they must remain at least 50m away from any person, building or vehicle and are not allowed to go above 122m in attitude. However there have been calls for rules to be toughened and this week a House of Lords report called for "geo-fencing" to hardwire "no-fly" zones into drones.
Professor David H Dunn, head of Political Science at Birmingham University, who contributed to Sir Omand's report last year, said that the "rapidly expanding" availability of drones posed a "major security risk". "The danger is twofold. Firstly, criminals and terrorists could use drone technology as lookouts to observe the Prime Minister or the Royal Family, giving them real-time intelligence on where to strike. The Prime Minister's protection is based on the concept of security by seclusion, loitering drones take that away.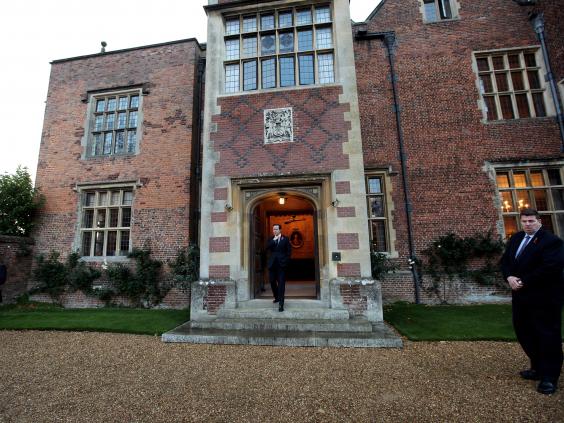 "Then there's the risk that terrorists could use a drone to deploy a weapon and that could be as simple as spray a vapour of petroleum then igniting it to devastating effect. Police are not geared up for that and drones are almost untraceable."
His concern was echoed by Professor Anthony Glees, from the Centre for Security and Intelligence Studies, who said he was particularly shocked that drone flights were permitted over GCHQ. He said: "It's surprising that at a time of considerable security anxiety we should continue to operate our national communications centre as if we were living in the peaceful days after the Cold War. Even a small incident there could be massively disruptive."
The risk from drone was put in sharp focus this week after French police said they were considering deploying radio-jamming devices and water cannon to protest sensitive sites after 60 illegal flights over nuclear submarine bases, nuclear power plants and the Elysée Palace.
In Britain, the CAA is currently investigating four serious breaches of existing drone regulation. It will not confirm the nature of the breaches, however it is understood at least one relates to flights over central London reported last month, while another is thought to relate to an incident last July when a drone flew within 6m of an Airbus A320 as it landed at Heathrow Airport.
A spokesman for the Metropolitan Police Service said that it "works with the CAA and other policing partners to ensure that there is a cohesive and proportionate response to the negligent, malicious or reckless use of unmanned aerial vehicles". "When an allegation of crime involving a UAV is made, it will be thoroughly investigated."
Reuse content