Dramatic increases in fly-tipping and the number of fast food outlets combined with a lack of action by the Government have contributed to littering becoming "endemic" in England, according to a report published today.
Tougher littering fines should be considered to ease the huge financial burden of the clean-up operation, the report by a committee of MPs suggested. Littering costs taxpayers up to £850 million a year in England, but the standard on-the-spot fine is only £80.
Ministers should urgently introduce a national litter strategy to deal with the problem before struggling local councils become overwhelmed, the Communities and Local Government Committee recommended.
Fly-tipping and fast food litter have both jumped by 20 per cent in the past year, the report said, while the overall level of rubbish on England's streets has "hardly improved" in more than a decade. Chewing gum and cigarettes are the most frequently littered items.
"England is a litter-ridden country compared to most of Europe, North America and Japan," the report stated. "The failure to make a noticeable improvement in litter levels in the last 12 years points to a lack of vigour, if not complacency, within Government over the past decade."
The Labour MP Clive Betts, who chaired the committee, said litter was now "endemic" in England and that councils had spent hundreds of millions of pounds "fighting a losing battle" against the problem. "Litter is a blight on many of our communities and the public are rightly disgusted when they see discarded fast food packaging, cigarettes, and chewing gum strewn across our streets," he added.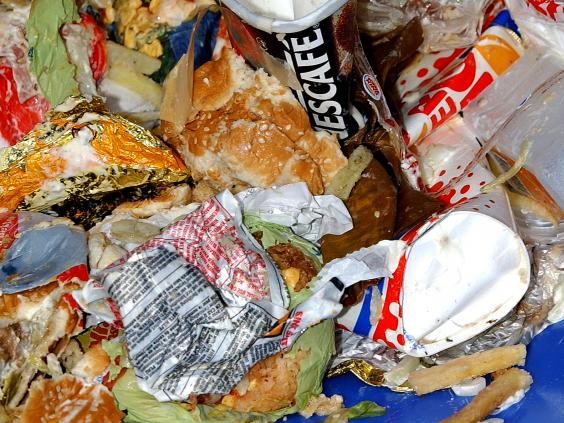 Fly-tipping has seen a "significant upsurge" in the last year, the report said, with 852,000 recorded incidents but only 2,000 convictions in the courts. The cost to local councils in 2013/14 stood at £45.5m, a 24 per cent increase on the previous year. Giving evidence to MPs, some councils said the introduction of charges for the collection of household waste may lie behind the rise.
An increase in the number of fast food outlets may also be contributing to littering, the MPs said, calling for the creation of new laws to force all shops and restaurants to tidy the area around their premises. The fast food industry should also put reminders on packaging to remind consumers to dispose of litter responsibly, they said.
The committee concentrated on litter in England as it is a devolved issue in Scotland, Wales and Northern Ireland. Scotland is the only part of the UK with its own litter strategy.
Jeremy Paxman, the BBC broadcaster and supporter of the Clean Up Britain campaign, told The Independent "serious behavioural change" was needed. "This country is in a disgusting state," he said. "We need to get to a point, I think, where dropping litter is as socially unacceptable as drink driving or smoking in the workplace."
He added: "I don't think people are deliberately fouling their own nest – I think they just don't appreciate what the consequences of dropping litter are. If we don't do something now, there's going to be a really serious, long lasting problem which cannot be reversed. We'll be handing on the country to our children and grandchildren and inviting them to live in basically a rubbish tip."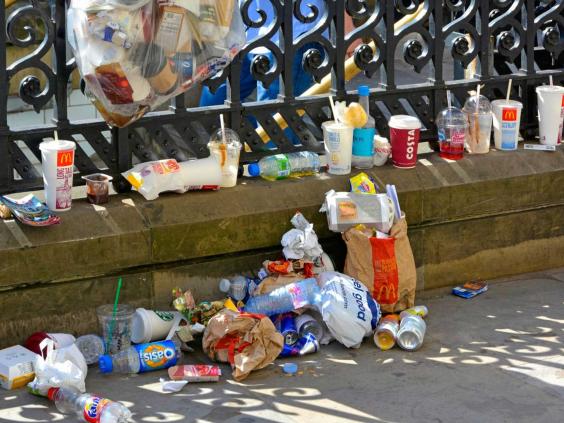 The MPs said they had "deliberated at length" about calling for the introduction of a 5p tax on chewing gum, which is both difficult and expensive to clean off pavements and walls. They stopped short of recommending the measure, instead giving manufacturers 12 months to prove they are contributing to the clean-up bill.
However, the committee said the Treasury should give councils a portion of any increase in tobacco taxes to cover the cost of clearing up cigarette-related litter. It also called on tobacco manufacturers to provide free portable ashtrays so smokers would be less tempted to throw their cigarette ends on the street.
Kirstie Allsopp, the television presenter and ambassador for Keep Britain Tidy, said it was "economically suicidal" to ignore littering as it may seriously harm the country's image. "We are a tiny, tiny island which relies enormously on tourism," she told The Independent. "There's something so self-destructive about allowing our country to look like this."
She added that "every single child" should be sent on a litter pick at least once a year to educate them about the issue. "If you involve children in picking up litter, they don't go on to drop litter," she said.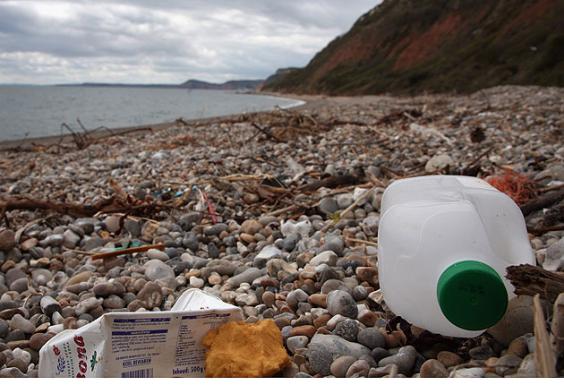 David Sedaris, the American author and humourist, told the committee in January that he spent "between three and eight hours a day picking up rubbish on the side of the road" near his home in West Sussex.
He argued that littering was far worse in Britain than in other countries, suggesting it was a "cultural" problem. He also suggested that poorer people were more likely to litter. "Maybe people are thinking, 'I don't get to live here,' and so maybe they are throwing things out the window as a way of saying, 'Screw you people who live here. I know this will upset you'," he said.
Phil Barton, the chief executive of Keep Britain Tidy, said: "We have only scratched the surface when it comes to understanding the real cost of littering to our society. It is time for those in power to step up and take a lead. We know that people value and want to live in clean and tidy places – it is time for the Government to recognise this and take action."
Local Government Minister Kris Hopkins said it was "up to everyone to clean up the litter scourge, including asking industry to play a part where appropriate".
"We are abolishing backdoor tip taxes and have supported weekly bin collections to help stop fly tipping and bin blight," he added. "We have funded projects through councils, Clean Up Britain and Keep Britain Tidy to help find local solutions to littering. And we are organising a huge Community Clear Up Day across the country next Saturday 21 March which I urge everyone to join in with."
Rubbish: in numbers
20% increase in fly-tipping in  the past year
20% increase in fast-food litter  in the past year
35.2% of total litter consists of smokers' materials
26% of total litter consists  of chewing gum
16% of total litter consists of food packaging and food
£717m-£850m - Estimated annual cost to  local authorities of clearing up litter
£56m - Estimated annual cost of clearing up chewing gum
852,000 - Incidents of fly-tipping dealt with by local authorities in 2012/13
5,500 - People convicted in magistrates' courts of littering in 2013
£140 - Average fine
Reuse content