More than 300,000 homes in London are at risk of flooding from the Thames and the capital's numerous other rivers, according to a new report.
Groundsure, an environmental risk consultancy, used Environment Agency and census data to calculate the places most in danger of damage.
Hammersmith and Fulham was found to be the worst borough for potential flooding, with almost 60,000 homes – 60 per cent of the borough – at risk.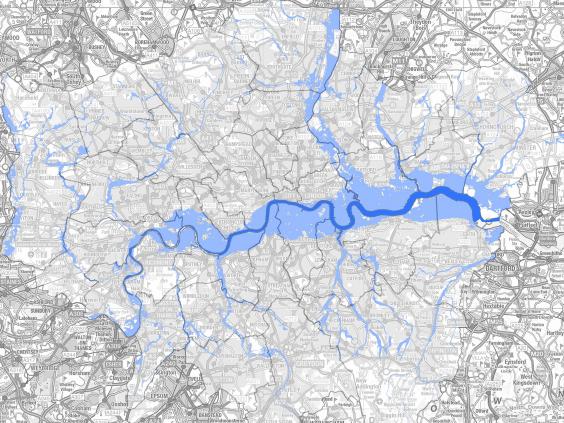 Parts of other boroughs north of the Thames were also found to be in danger, including Newham, Tower Hamlets and Barking and Dagenham.
Along the south bank of the river, Southwark, Greenwich, Richmond upon Thames, Wandsworth, Bexley and Lewisham were deemed to have the highest percentage of properties at risk.
Dan Montagnani, the managing director at Groundsure urged anyone buying a home to consider the history of flooding in the area, from groundwater and sewers as well as rivers.
In pictures: Aerial shots of flooding along the River Thames
In pictures: Aerial shots of flooding along the River Thames
1/20 Floods UK

Flood water covers a children's playground in Laleham

2/20 Floods UK

The Thorpe Park Resort is surrounded by higher than usual water levels

3/20 Floods UK

Properties near to the river Thames are inundated with flood water in Wraysbury

4/20 Floods UK

A damaged cruse boat lies against a wier in the river Thames after flooding in Runnymede

5/20 Floods UK

People cross flooded ground in Runnymede

6/20 Floods UK

Timothy Arrow looks up from his garden next to the flooded river Thames in Chertsey

7/20 Floods UK

The fire brigade pump flood water from the Abbey Fields caravan park in Chertsey

8/20 Floods UK

River Thames flood water surrounds a house in Wargrave

9/20 Floods UK

Housing near the river Thames has suffered a week of flooding after the river burst it's banks in Wargrave

10/20 Floods UK

A flooded house in Wargrave

11/20 Floods UK

Cars, boats, trucks and tractors are submerged in flood water near Datchet

12/20 Floods UK

Debris is seen submerged in flood water near Datchet

13/20 Floods UK

Flood water surrounds houses near Walton on Thames

14/20 Floods UK

Floods near Walton on Thames

15/20 Floods UK

A caravan park is inundated with flood water in Hurley

16/20 Floods UK

Houses on an island on the river Thames are inundated with flood water in Shepperton

17/20 Floods UK

A man walks through a flooded garden with sandbags as others build a flood defences in Wraysbury

18/20 Floods UK

A four wheel drive car drives through flood water in Laleham

19/20 Floods UK

A recently constructed wall of flood defences is seen in Staines-Upon-Thames

20/20 Floods UK

Flood water surrounds the M3 motorway near Chertsey
"We all remember the human stories from flooding that everybody wants to avoid," he said. "Insurance is essential but it can't replace those precious photos or months of disruption while your home dries out."
The Government's new "Flood Re" agreement with the insurance industry is coming into effect of 1 April to give homeowners in at-risk areas the opportunity to protect their properties.
It will cap annual premiums for an estimated 350,000 households to make insurance affordable and compensation for flood damage will come from a central pool of money.
But several types of buildings are excluded from the scheme, including anything built after 2009, leasehold properties, commercial premises and B&Bs, Groundsure said.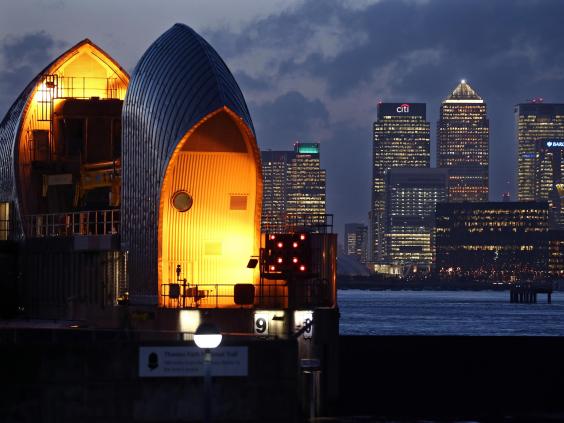 The Thames Barrier was constructed to protect London in the 1980s – three decades after more than 300 people were killed by the North Sea flood of 1953.
It stops high tides and storm surges moving in from the sea and can also ease fluvial flooding from upstream during periods of heavy rain.
Last year set a record for the number of times the barrier was shut at 48 times, compared to just four in 2013.
It failed to stop homes along the Thames being submerged in January 2014 after months of severe winter storms across the country, leaving residents in Twickenham wading to work.
Reuse content