London mayoral hopeful Tessa Jowell has released research that reveals that London has the highest public transport fares in the world, when compared with other global cities.
London beat the other top 20 cities in the world, such as New York, Paris and Hong Kong, to claim the dubious title.
A Zone 1-6 Tube ticket in London at a peak time costs travellers £5.10. Using this long journey as a benchmark, the research found that tickets in London are more than twice the price of almost every city in the top 20 - excluding Washington DC, where the equivalent single fare is £3.79.
Putting it in comparison, the research found that this London ticket is four times the cost of a comparable fare in Paris, three times more than New York, and ten times more expensive than Moscow.
In pictures: Tube strike in London
In pictures: Tube strike in London
1/11 London

People queue for a bus at Stratford station

2/11 London

Commuters queue for buses during a tube strike at Victoria Station

3/11 London

Commuters queue for buses during a tube strike at Victoria Station

4/11 London

Commuters wait to board a train to Kings Cross at Finsbury Park overground station

5/11 London

Union members hold a picket outside Kings Cross Underground station, as commuters and tourists face a day of travel chaos because of a strike which has closed the underground

6/11 London

Thousands of bicycles are locked in a bike rack at Paddington Station. Commuters are having to find alternative methods of travel as the London Underground trains are not running due to a strike

7/11 London

Commuters board a train to Moorgate at Finsbury Park overground station

8/11 London

People wait for buses close to Brixton Underground station

9/11 Lodnon

Police watch as people queue for a bus near Stratford station

10/11 London

People queue at an entrance to Oxford Circus station, as workers try to get home before a strike by Underground workers closes the capital's entire Tube system

11/11 Lodnon

RMT union members gather outside Paddington Station as the union starts a 24 hour strike on the London Underground
Ms Jowell, who is campaigning to be chosen as the Labour party's candidate for London Mayor, said: "More affordable public transport is important for many interconnected reasons. It's time Londoners are given a break from ever-rising prices."
If she becomes Mayor, Jowell intends to freeze fares, introduce a flat Tube fare of £2.30 everywhere on weekends, and introduce one hour bus tickets, which will allow passengers to pay for one ticket that they can use on any bus for an hour.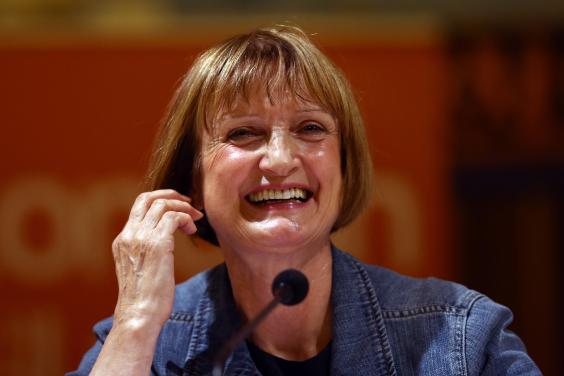 Zone 6 is the outer reaches of London, and this fare is not representative of more typical journeys within central London and between the inner zones.
However, even more common fares are still some of the most expensive in the world. A Zone 1-3 peak single ticket, a fairly common commuting route, is £3.30 -  more than double the price of a Paris Metro ticket or a New York subway ticket.
Reuse content