The first protester to take the plunge and lower her bottom to ankle-level over the face of another, consenting, adult before the Palace of Westminster yesterday gave her name as Lady S.
She had travelled from Brighton with Mr D, upon whose face she sat, to protest along with a hundred or so others – some latex-clad, some wielding sex toys – against new legislation censoring certain sex acts in online pornography.
Face-sitting, deemed dangerous and potentially lethal, is one of them. To emphasise the risk, Mr D wore a snorkel. With slightly impaired speech, he made it known he was on the front line of a battle for civil liberties.
"Although some of the media will try and make this an issue about pornography, I actually think it's the symptom of a much deeper problem," he said.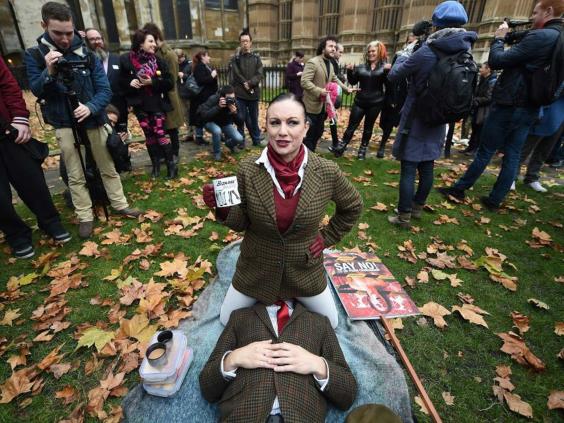 A bank of photographers – three, four-deep – quickly descended to capture the couple's demonstration against the Audiovisual Media Services Regulations 2014.
Coming into effect on 1 December, the legislation bans a litany of acts in British-made, paid-for porn – including aggressive whipping, female ejaculation and verbal abuse.
"I liked it when you leant backwards," shouted one photographer, snapping feverishly. Lady S – resplendent in leopard-print leggings, and a red, fur-trimmed jacket – whipped her leg around into a position colloquially known as "reverse cowgirl" to face Westminster Abbey.
Face-sitting protest in pictures
Face-sitting protest in pictures
1/9 Face-sitting protest

The demonstration was against recent legislation passed by the government

PA

2/9 Face-sitting protest

One of the protesters

EPA

3/9 Face-sitting protest

Another activists outside Palace of Westminster yesterday

EPA

4/9 Face-sitting protest

Protesters at the face-sitting demo

Rex

5/9 Face-sitting protest

PA

6/9 Face-sitting protest

Christopher Hooton

7/9 Face-sitting protest

Protesters at the face-sitting demo

EPA

8/9 Face-sitting protest

Christopher Hooton

9/9 Face-sitting protest

Christopher Hooton
Whether or not, under the law being protested against, the photographers and cameramen were acting illegally was a point of discussion amongst onlookers. Fortunately, the obscenity lawyer Miles Jackman was on hand to clarify. "No, the activity is legal, but representations of the activity may not be legal," he explained. "If there is any public nudity, it may be a separate offence."
His position on the legislation was clear. "What is ridiculous is that our laws are criminalising the representation of activities that are legal to perform. If it's legal to do it, why can't it be watched?" he said. "This is, without a doubt, the first step in a concerted campaign for internet censorship and control by the state."
A Department for Culture, Media and Sport spokesman – not present at the protest – defended the amendment as necessary to equalise the nature of paid-for online pornography with that sold in sex shops. "The legislation provides the same level of protection to the online world that exists on the high street in relation to the sale of physical DVDs," he said. The protest culminated with a record attempt at the largest mass face-sit.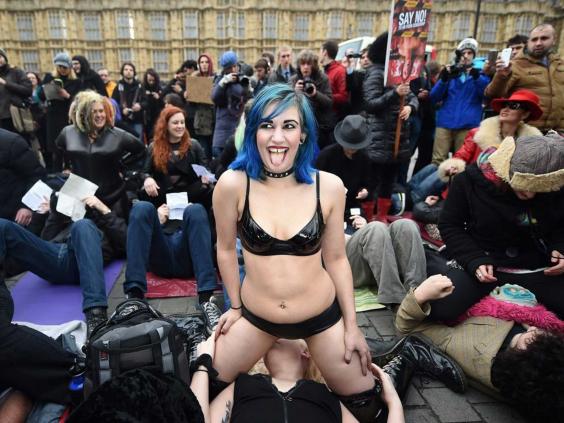 While 30 or so couples took their positions, lyric sheets were handed out and, with organiser, and sex worker of the year, Charlotte Rose conducting, the protesters broke into a rendition of Monty Python's "Sit On My Face".
As people rerobed, and camping mats were rerolled, Ms Rose remained defiant, saying: "They haven't seen the last of us".
Reuse content