George Osborne's boast that Britain's recovery is "motoring ahead" fails to acknowledge that the rate at which the nation is recovering from recession is the slowest since records began, it is claimed.
An analysis of government statistics carried out by the TUC reveals that the current speed of recovery is considerably slower than the economic bounce-back that followed the UK's eight worst recessions dating back to 1830.
On Tuesday, figures released by the Office for National Statistics showed that the economy grew by 0.7 per cent in the last quarter and that GDP per head reached £6,715 – close to the level it was at in 2008 before the start of the financial crisis. The Chancellor responded by saying Britain is "motoring ahead, with our economy producing as much per person as ever before".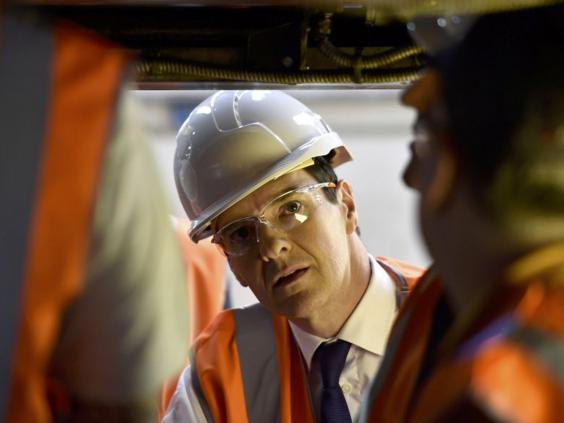 Yet the actual pace at which the economy is growing, in terms of GDP per person, is far worse than that achieved in the aftermath of other major recessions in the UK since the early 19th century, according to the TUC analysis. In the five years since the global recession began in 2009, the UK's rate of growth has been just 6.1 per cent. Set against the five-year periods that followed each of the eight worst recessions in Britain since 1830, this is the slowest recovery on record. For instance, the rate at which GDP rose after the recessions of the 1970s and 1980s was 11.4 per cent and 15.5 per cent respectively. Recovery from the cataclysmic depression in the 1930s was more than three times faster – with GDP per person rising by 21 per cent.
Frances O'Grady, the TUC general secretary, said: "We are stuck in a culture of low expectations for the economy. And while it suits the Chancellor to get an easy ride for his shoddy record, it's not good for the rest of us. Six years on from the recession, our economy should be doing much better by now. It has never taken us so long to recover from a major recession before."
Although the service sector is growing, manufacturing is below its pre-recession level and falling and productivity across the economy has barely grown since 2010, according to the TUC.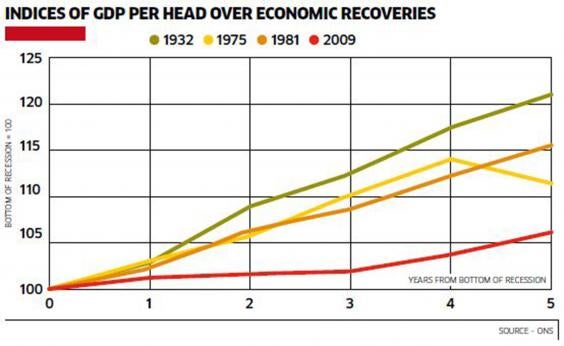 "We can't continue with an economy becoming even more unbalanced than it was before the recession. We need a new plan for productivity and growth, because the current one is failing to deliver across the whole economy. We need more investment in infrastructure, innovation and skills, instead of rushing into another round of severe cuts that will damage public services and put growth at risk," Ms O'Grady added.
Top economists echoed the TUC's concerns yesterday. Oxford University's Professor Simon Wren-Lewis, a member of the panel of economic experts at the Office for Budget Responsibility, said: "Anyone who continues to describe what is happening in the UK as a 'strong recovery' either has not bothered to look at the data, or is being deliberately deceptive."
Growth in recent years has been "anaemic", according to University College London's Professor Stephen Machin, and research director at the Centre for Economic Performance.  "The productivity growth has been pretty lacklustre, and we are getting closer to the pre-downturn levels but it's taken a lot longer than the previous two recessions, so I'm not sure that [motoring ahead] is the right phrase to be using."
In a statement, a Treasury spokesperson said: "The latest GDP figures show a Britain that is pulling ahead."  But they admitted: "The Great Recession [the 2009 meltdown] was the most damaging financial downturn in generations and while the Government's long-term plan has already laid the foundations for a stronger economy there is still more to do."
Reuse content