A school in Cornwall has been evacuated after gale force winds caused severe damage to its roof, as Storm Imogen continues to batter Britain.
Children and staff were evacuated from Cape Cornwall School in St Jude after winds, described as a "proper gale", caused structural damage to the building.
John Perry, from Cornwalll Council, told the Cornishman: "The decision has been taken to close the school today to ensure the safety of the students and staff."
Two children, aged five and seven, suffered serious leg injuries when the stone garden wall fell on them on Monday morning in the Worcestershire village of Bretforton near Evesham.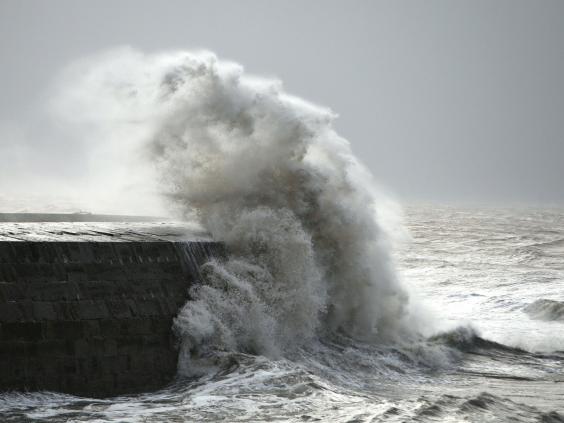 Emergency services were called out at 8.55am to the B4035, the main road through the village, and firefighters pulled the pair from the rubble.
In Bognor Regis a man in his 70s suffered a broken leg and his dog was killed when a 5ft garden wall blew on to them. A spokesman for South East Coast Ambulance Service said: "The man, who suffered suspected fractures to his leg - what seems like a double leg break - was fully conscious while he was being treated and was taken as a priority to St Richard's Hospital."
In Bristol a man in his 40s was injured after trees fell onto a three-storey block of flats. One tree crashed through the roof of the building in St Annes and into the man's flat, Avon Fire and Rescue Service said. He was treated at the scene for a minor head injury.
An RSPCA inspector has also gone missing after attending the rescue of dozens of sea birds at a beach in Cornwall during the storm. Inspector Mike Reid, 54, has not been seen since he was called to a wildlife rescue on rocks at Porthchapel Beach, near Penzance, on Sunday afternoon.
In Wales, Aberystwyth's sea front has been closed, while in Bridgend shoppers were ushered away from several town centre streets by police because of fallen roof tiles.
Shocking picture of #stormimogen overwhelming Porthleven in Cornwall. Stay safe pic.twitter.com/tvbS7cOEWE

— Wave Project (@WaveProject) February 8, 2016
Bit blowy out. #stormimogen arriving on Brighton beach. pic.twitter.com/CQpe4lNwQw

— Finn Hopson (@FinnHop) February 8, 2016
Southern England and south Wales are expected to face the full-force of the severe gusts, which have already reached 96mph at The Needles off the Isle of White.
Along the south coast, gales blew consistently at 40 mph throughout the night, with gusts of over 70mph in Cornwall.  
A trampoline's been blown into the road at Helston on Clodgey Way #StormImogen pic.twitter.com/8xgsQPDlJu

— BBC Radio Cornwall (@BBCCornwall) February 8, 2016
Spectacular overtopping at High tide St Mary's Scilly this morning. #StormImogen

(pic D Sherris, thanks) pic.twitter.com/o2hSFjIk5D

— Colin Taylor (@ScillySergeant) February 8, 2016
Wave height of 19.1m has been recorded off the coast of St Ives #StormImogen

— Met Office (@metoffice) February 8, 2016
Around 5,000 homes are without power across the Midlands, South-west and Wales, while rail passengers travelling in southern England have been warned of major disruption for much of the day.
Almost 300 Environment Agency flood warnings are in place across the UK, with 509 warnings calling for "immediate action".
In the South-west and Wales, some areas are expected to see up to more than 40mm of rain on Monday.
Trains are unable to run on parts of the Cambrian line due to flood water being above a safe level #StormImogen pic.twitter.com/BciODIHWXW

— Arriva Trains Wales (@ArrivaTW) February 8, 2016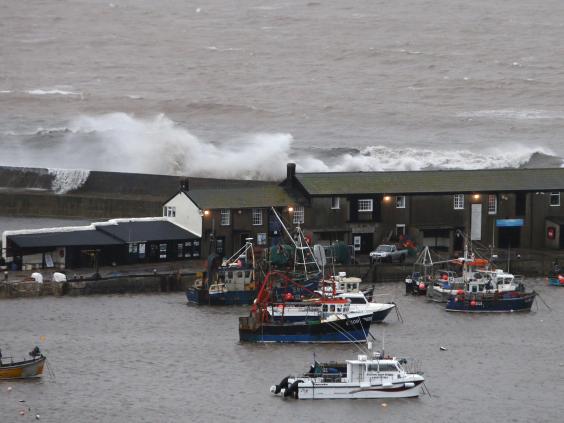 Fourteen-metre swells are expected in the Channel as the sea state could reach "phenomenal" - the highest level on the World Meteorological Scale. Waves measuring almost 20m have been recorded off the coast of St Ives.
Stormy seas are also affecting ferry services, with the Port of Denver temporarily closed overnight due to high winds and strong sea swells. DFDS and P&O ferries between Dover and Calais are affected, while services from Liverpool to Dublin and from Newhaven to Dieppe are cancelled.
There are major delays and cancellations on Brittany Ferries crossing between south coast ports and northern France. Journeys between the UK and Spain will also be disrupted.
Gatwick airport has warned flights may face disruption. A spokesman said: "Due to air traffic restriction due to adverse weather, some flights may be subject to delay. Passengers are advised to check the status of their flight with their airline."
Highways England has shut the Severn Bridge on the M48 to all vehicles and a stretch of the A35 bypass at Dorchester due to flooding.
Very high winds gusting 50knots if you're near the coast please take extra care #StormImogen pic.twitter.com/Uz1sX1zuT3

— Newhaven NCI (@NCINewhaven) February 8, 2016
The view from the all-weather lifeboat during a hail storm this morning whilst out on exercise #StormImogen pic.twitter.com/zO38J2fEOz

— RNLI Salcombe (@RNLISalcombe) February 7, 2016
The Met Office has issued amber "be prepared" wind warnings for Wales, the south west, the south coast and London and south-east England.
Forecaster Emma Sillitoe said the winds may be some of the worst so far this winter, and may near gusts of 105mph recorded last month in Shetland, Scotland.
Ms Sillitoe said: "We are looking to see gusts of 60-70mph quite widely, hitting the south west, Devon and Cornwall and moving across southern central parts towards London through the day. It is going to be picking up towards 70mph around lunchtime in London.
"We have seen 96mph at the Needles off the Isle of Wight and gusts to 80mph are likely, especially along northern coasts of Devon and Cornwall and along the Bristol Channel as well."
Additional reporting by Press Association