The boomerang generation, so called for returning to the family home after only a brief spell away, is growing at a faster rate than ever as young adults are being priced out of independence, according to official figures.
Record numbers of people in their 20s and 30s are now living with their parents as unemployment, soaring house prices and the rising cost of living make it harder than ever to fly the nest. The recession has also accelerated this change, with the number of 20- to 34-year-olds staying in the parental home soaring by 38 per cent in a decade to 3.35 million, according to the Office for National Statistics (ONS).
The phenomenon is most common among men – one in three of whom now live at home in their 20s and early 30s. This shift has pushed the number of men still living with parents past two million for the first time since records began 18 years ago.
Overall, more than a quarter of young adults lived in the parental home last year, the ONS figures show.
The rapid change means Britain may be on the brink of a cultural shift where families live together for up to a decade longer. This could bring the UK in line with parts of the Continent, where it has long been more common for adults to stay on in the family home.
Even in countries where staying at home in adulthood is already common, the recession has been making it more widespread.
In Spain, 55 per cent of 25- to 29-year-olds now live at home. In Italy, 60 per cent of 18- to 34-year-olds stay with parents, up from almost 50 per cent in 1983.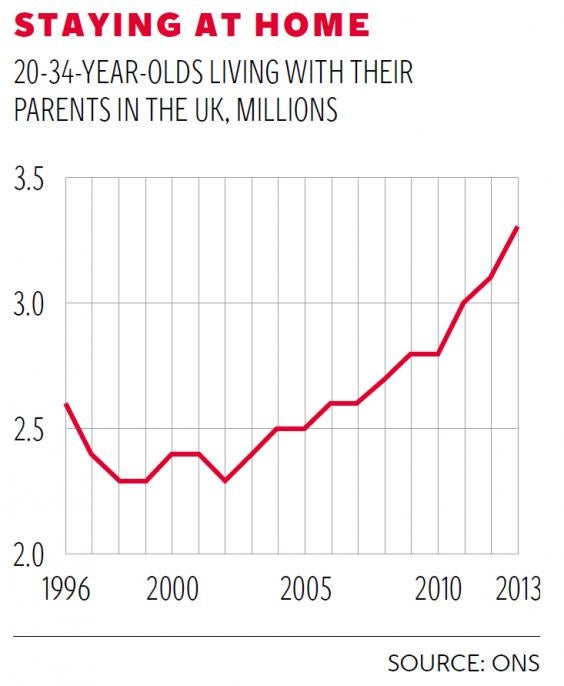 Young adults have been hit hardest by unemployment and those living with parents in Britain are more than twice as likely to be unemployed than those who do not.
In the second quarter of 2013, almost one in five economically active 18 to 24-year-olds was unemployed.
Citizens Advice chief executive, Gillian Guy, said: "Young people have been hit hard by the recession. Since the start of the downturn Citizens Advice Bureaux have seen a 53 per cent increase the number of young people seeking help.
"The challenges of finding work and affordable housing go hand in hand and are especially tough for young people trying to enter the job market. Since 2007, the number of people aged 17 to 24 seeking our advice on rent arrears to housing associations has gone up 56 per cent, while the number needing help on Jobseeker's Allowance has more than doubled."
Living in the parental home is most common among those in their early 20s, almost half of whom do so. It also applies to 8 per cent of 30- to 34-year-olds, however, that rate rises to 10 per cent among men in that age bracket.
The surge in young adults living with their parents also coincides with a sharp increase in house prices in relation to the level of average income for someone trying to get their first foothold on the property ladder.
In 1996, the average price paid by a first-time buyer for a property was 2.7 times their annual income, according to the ONS. But first-time buyers now face having to pay a price for a home which equates to 4.4 times their annual income. Forcing them to  stretch out their borrowing even further, or turn for help to the "Bank of Mum and Dad" in order to build a more viable deposit.
Campbell Robb, chief executive of the housing charity Shelter, said: "These startling figures provide yet more evidence of the dramatic impact the crippling cost of housing is having on our children and their parents.
"Sadly, these figures won't be a surprise to the thousands of hard-working young people still living in their childhood bedroom. Our research shows close to half of parents believe their children will never be able to afford a stable home, despite working hard and saving," Mr Robb added.
There are several factors which make men more likely to stay at home. On average, women form partnerships with older men, meaning 600,000 more of them are cohabiting by their early 30s.
When relationships end, women are more likely to take the caring responsibilities for children, while the men leave the home. Last year, there were 589,000 more women than men as lone parents in their own household. Women are also more likely to go in to higher education than men, often moving out to do so.
Under one roof: Keeping it in the family
Danny Cousins, 21, is a network manager at Garden Fields primary school in St Albans, Hertfordshire. He is living in Luton with his retired father, Mick, 66, while saving for a deposit on a house
Danny says "I would be kicking myself in the teeth if I was renting; I don't have to pay my dad housekeeping so I can save more money at home and hopefully move out sooner.
"It doesn't bother me at all. It's only a one-bedroom flat so I sleep on a permanent sofa bed, but I've got simple needs and I don't spend much time there anyway.
"Now that I'm older and more mature, my dad and I are more like mates than father and son and we help each other out. I think he appreciates the company too, as he doesn't see my other brothers as often.
"We have a fairly easy going relationship and it's never a problem for my friends to stay over.
"Now that I'm in a secure job, I'll be saving up plenty of money over the next year and intend to buy, possibly on the Help to Buy scheme."
Mick says "I'm absolutely fine with Danny living at home. It's much easier for him to save while he's here; if he had to pay for food, rent and council tax, he would have no wages left to save.
"There are no frustrations and he comes and goes as he pleases; he's old enough and ugly enough to do what he wants to."
Reuse content